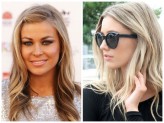 Ash blonde hair – the best Summer Choice of 2020
Every year and every season has a new style everyone is trying to get on the trending train with. For the summer of 2017, people are going with the simple ash blonde hair.
Is Ash blonde hair for you?
This beautiful colour has many different styles and shades that you can try. Since it has so many variations, of course this style is for you! All the styles, haircuts and dye shades you can find, will make you book an appointment at your salon right now.
Simplicity Is In
With summer being hot and all that, maintaining your hair always has its downsides; which is what is making this colour so popular. By being more muted of a tone, you do not have to constantly dye to keep the shade. This shade can also be used to dye your hair blonde, step by step without destroying it with bleaching.
Ash blonde hair is really simple to get, with many haircuts and shades to choose from. Having the summer feel is what this colour does, by making you a hip rock star!