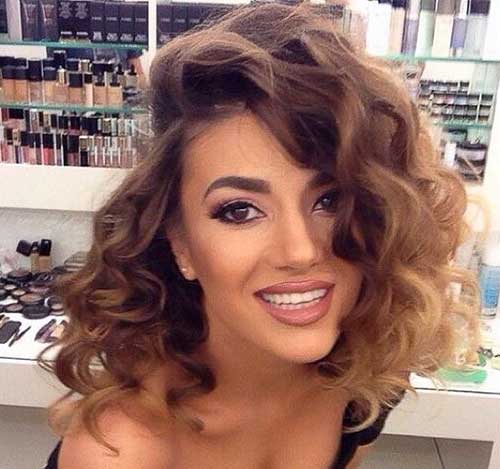 20 Best Short Ombre Hairstyles for 2020
#1 Beach Style Wavy Ombre
In case you've just returned from summer vacation back to the office and the memories of the beach, sand and waves are still fresh, you can change your style a little bit so that it would serve as a fine reminder of the rest time. The ombre of this type creates an effect of the hair which tips were lightened up by the sun rays, while the soft waves will remind you of the ocean.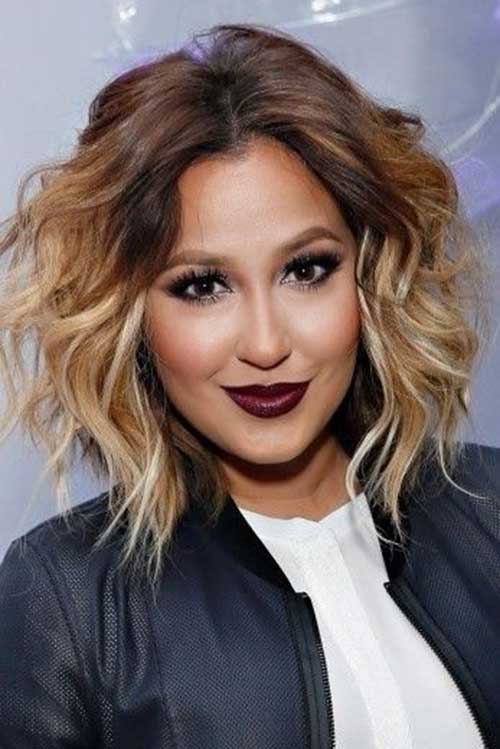 #2 Straight Shiny Frame
The ladies with straight hair can stop being envious of the owners of wavy and curly hairs. You don't need such hair anymore to create a glance-stopping effect. If you upgrade your hair with the balayage and organize it in layers, you will obtain a superb hairdo and overall stunning impression. So if you are not satisfied with a standard color – use ombre to attract attention to your persona.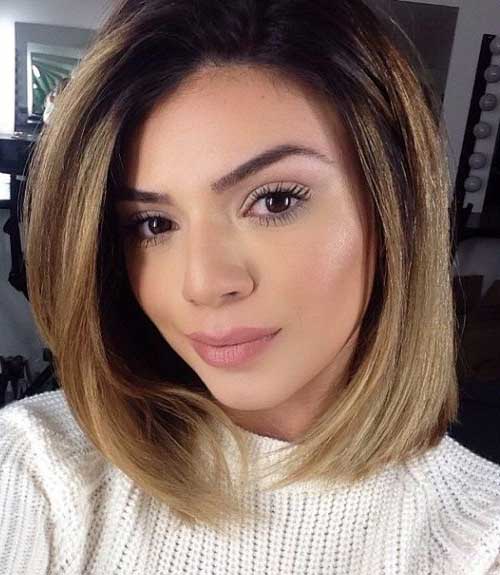 #3 Bright Fiery Locks
The red color looks absolutely amazing when it is combined with dark hues of brown and especially black color. The ombre looks as if your hair was kissed with a red dusk sun. Moreover, if it is twisted in spirals it will be even more gorgeous and attractive as it will definitely resemble the moving flame tongues the moment when the wind starts blowing.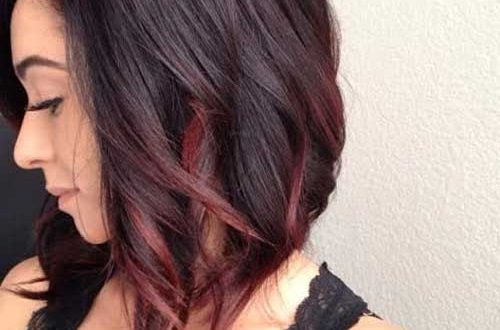 #4 Frost on the Waves
Although ombre is one of the hottest trends in this season, you can look really cool with this ombre. If you like the image of the snow queen, then this option is right for you as it will grant you a permanent frost image that will drive the attention of the people around to your royal persona. You will not be able to disagree that ice cold ombre is simply amazing.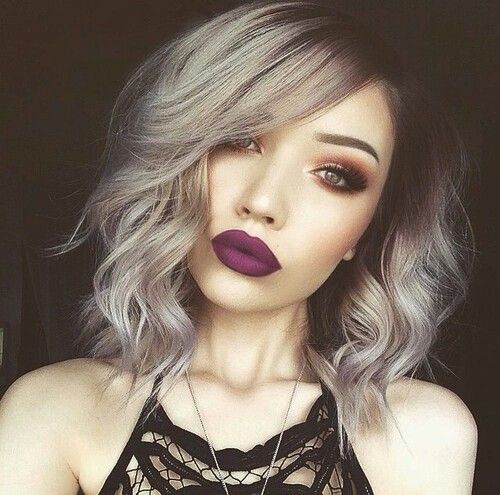 #5 Voluminous Waves with the Touch of Sun
These waves of warm colored lock resemble the mane of the king of the beasts. So from now on you can announce yourself a queen of the animals with such a luxurious hairdo. The waves of the hair, that was touched by the sun, are something unbelievable and is definitely worth trying. Be confident that after you get such a hairdo everybody will kneel down before your beauty.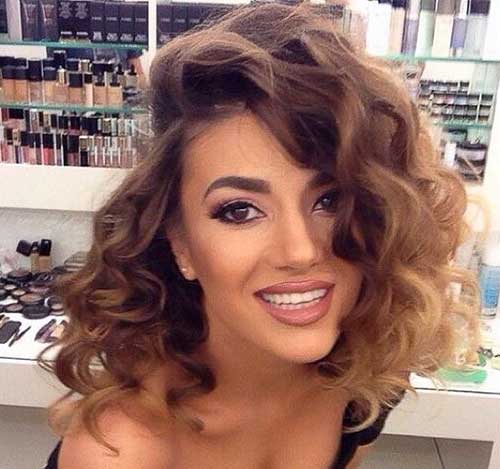 #6 I'm Sexy and I Know It
A confident woman is a sexy woman! So how can a woman become confident without a proper look? Here is a very simple and elegant variant that will surely amaze you. Straight layered haircut is a fine option for a lady vamp, so why shouldn't it be modified with several streaks of crimson to make the image of femme fatale complete?! Just try it and you wouldn't wish anything else.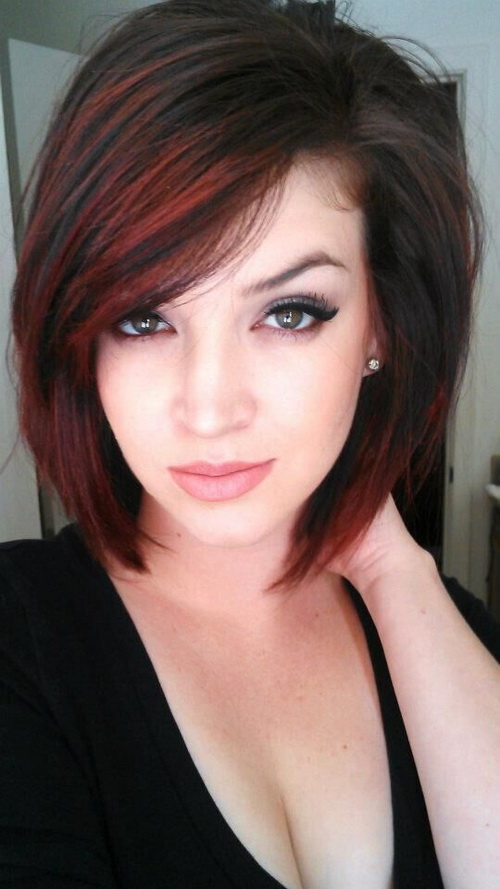 #7 Stylish Wavy Tips
Some people might say that a bob hairstyle with bangs and a straight fringe is old-fashioned, while another state that, on contrary, it is an elegant classic. Here you will see a golden mean proving that this hairdo is an excellent option for a modern fashionable lady who wishes to look gorgeous. It introduces a gold ombre that touches only the tips of the wavy hair making it off the standard.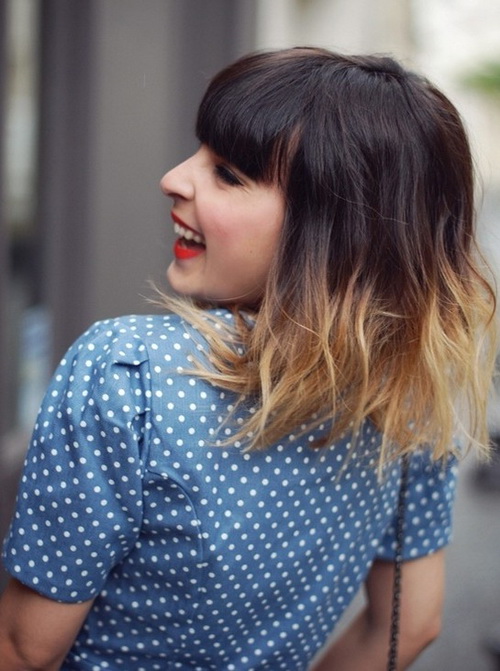 #8 Falling Ombre with Asymmetrical Bangs
For those, who want a sun kissed long hair even during winter, pay attention to this model. It adds some delicate accents to the strands of this asymmetrical bob and the color is usually specifically selected to match the natural color of your hair. Sun touched hue of the hair is considered the best option among all as the designers advise to dye the hair into such hues the most often to have an effective look.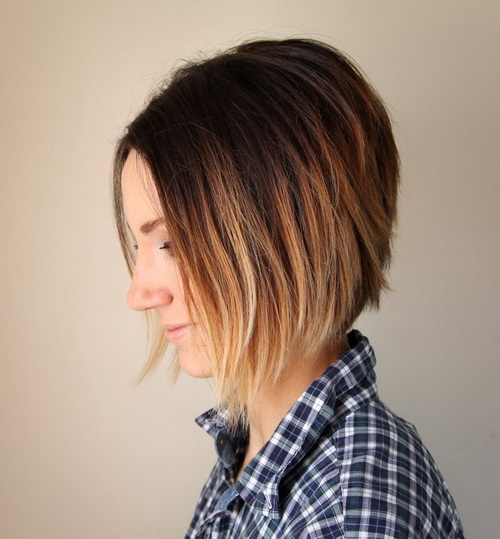 #9 Gorgeous Wavy Bright Lock
If you are searching for an unbelievable style that will emphasize the brightness of your face, check out this model with wavy tips. It introduces long pieces of the hair at the front and back with finely texturized ombre. This hairdo will become your best friend and assistant during beach time, sitting in the office, taking care after kids and even performing on the dance floor.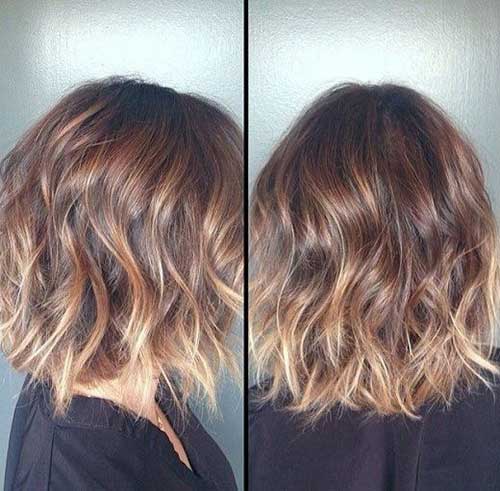 #10 Angled Cut with Bright Ombre
If you are facing the problems while picking either cool or hot tone of the ombre, you need to pay attention to this option. It introduces a darker hair that serves as a back ground of the overall hairstyle and bright orange tips. Thus you will obtain a golden middle where cool and warm colors are intertwined and open the potential of one another.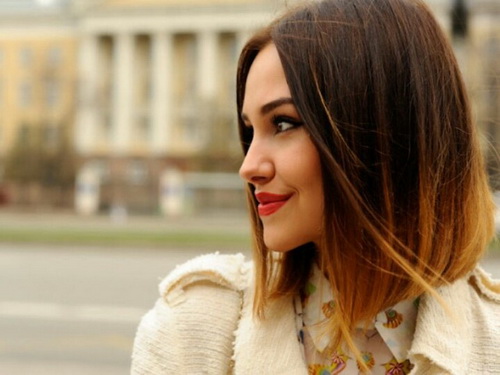 #11 Light Balayage
The variations of ombre hairstyles are innumerable and you can find just the right option to decorate the tips of your hair. The light color of the hair prefers caramel and other red tones of the ombre, while darker locks would be perfectly accompanied with golden, violet and other bright colors. The ombre strands resemble thin silky ribbons which are decorating your hair.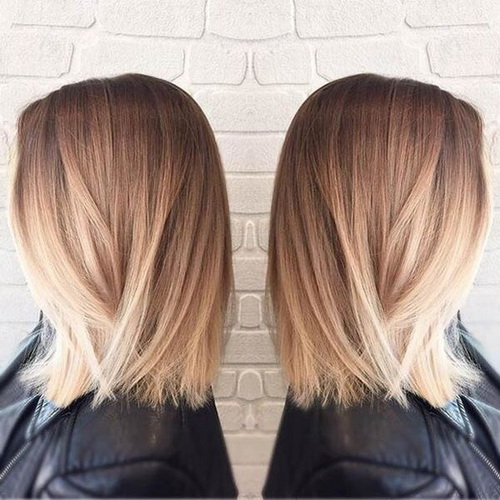 #12 Layered Golden
For the women who prefer free flowing hair, a medium hairstyle like this is probably the best variant. It is not just another short hairstyle. This is a unique model with a fine attractive texture that is formed by means of the ombre hair ends. It casts a fine shadow and makes the hair shine with golden gloss. The caramel color that has been picked for a light colored hair is an excellent option.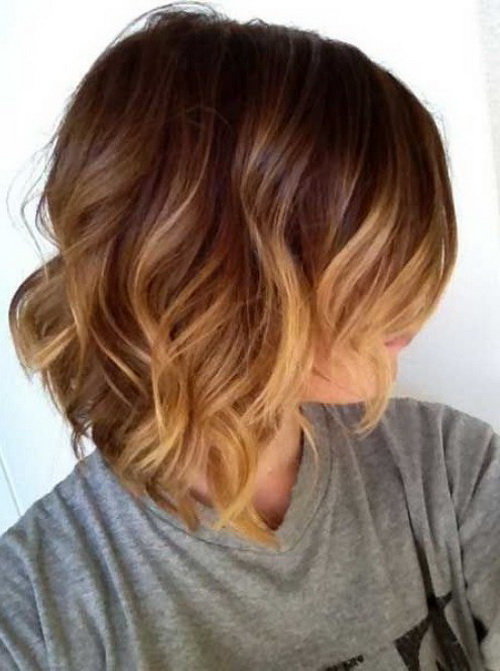 #13 Choppy Ombre Cut
The choppy cuts look especially effective with ombre dyeing. The uneven spiky edges of the hair are perfect for this styling method. After adding the ombre effect to the tips you will acquire an accented hairdo that would be totally different from your standard colored look. Just remember the fact that gradient hairdos are fashionable and trendy and it can be done easily at any beauty salon.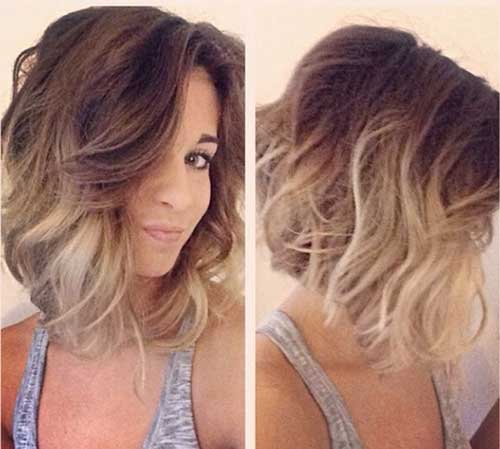 #14 Caramel with Dark Brown Tones
Dark brown hair is perfectly matched with a balayage. You can certainly start with a base color of the hair if you are not satisfied with your natural color. After that pick the hue that better contrasts with the base color to obtain a maximum visual effect from your new look. Ombre hairstyle will certainly create a fine dimensional illusion of the hair that will make you look outstanding!
#15 Gradient Bob Style
The times when a single hair color predominated in the fashion trend have all passed away. Changeability – that is the motto of the modern style. Dark brown roots look as if the hair was neglected, but the golden locks at the tips save the situation. Now demonstrating dark hair at the roots has stopped being a crime – it has become a fashion.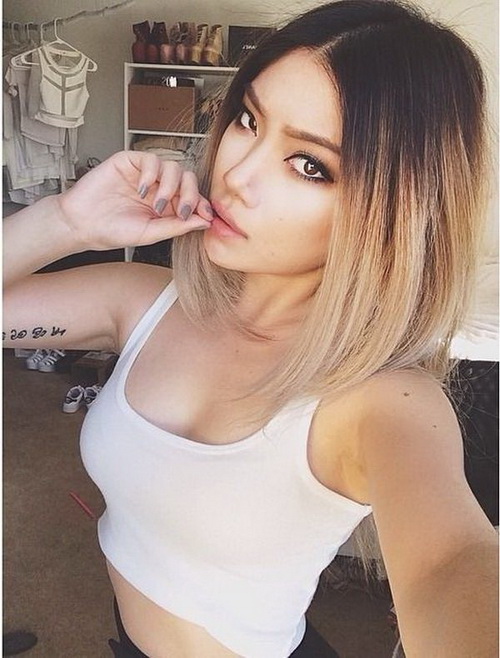 #16 Shoulder Length Ombre
All the girls are getting crazy over the ombre hairstyles. It can transform a casual standard look into something totally fantastic and hard to believe. Here we have a separate locks technique, where one hair is touched with ombre while other is not. It assists in creating an elaborate texture that totally changes the look, bringing the woman to the land of fairy tales.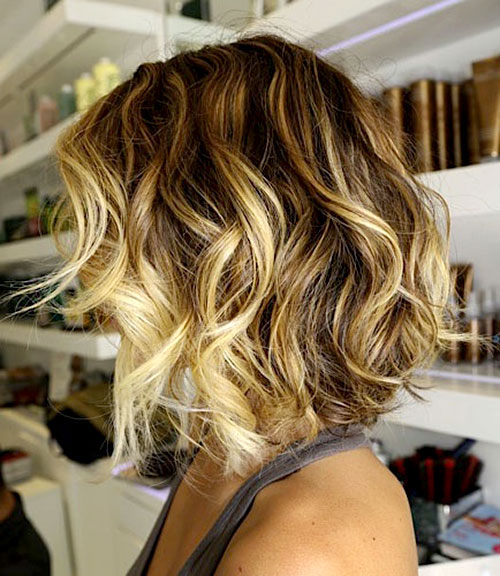 #17 Cinnamon Tips
The need for a sharp opposition is not a must when you are using an ombre hairdo. Sometimes just a hint is totally enough. The light touch of ombre at the very tips of the hairdo will do as much good as any other styling. It will develop an air of mysteriousness and elegance. These traits are so good looking with a pretty woman so you definitely need to try this image.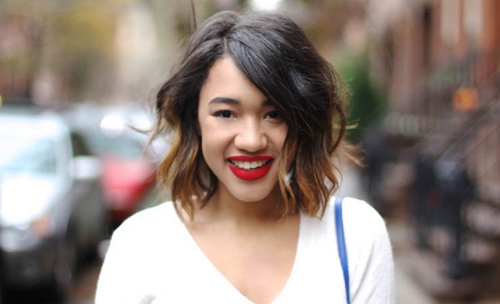 #18 Elegant Ombre with a Side Partition
This variant of ombre hairdos demonstrates us a perfect romantic evening look that would be a fine option for a date or a party. The partition in peculiar adds a classical chic look to the hairstyle that will definitely be adored by its wearer. Ombre adds some sophisticated air to the woman, making her more noticeable in the crowd of one colored women.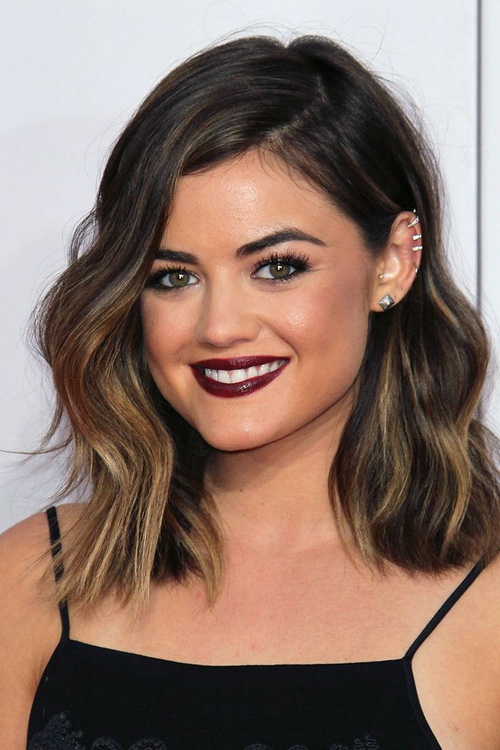 #19 Messy Ombre
Ombre is perfectly combined with messy hairdos and makes it look even more natural. The sexy "I've just woke up" look is something that would be preferred by many men. So if you wish to be attractive, try out this new style with tapered bangs. It will surely add you not only beauty but also confidence in yourself as it is well known that the prettiest lady is the one who believes in her beauty.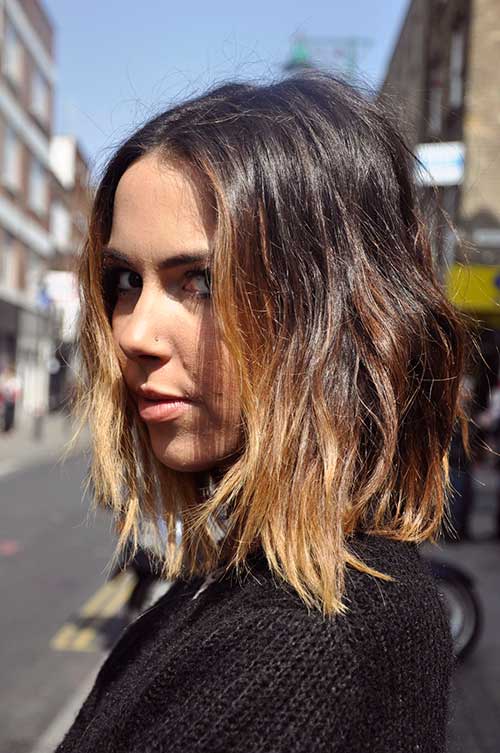 #20 Bright Colored
In case you got tired of standard colors, but you are feared of radical changes, consider this variant of ombre hairdo as a starting point for a change. The tips of average length can be used with all rainbow colours. Below you can see the sample of your future colorful look. Just give a try and see if it is the image that you've dreamed of.