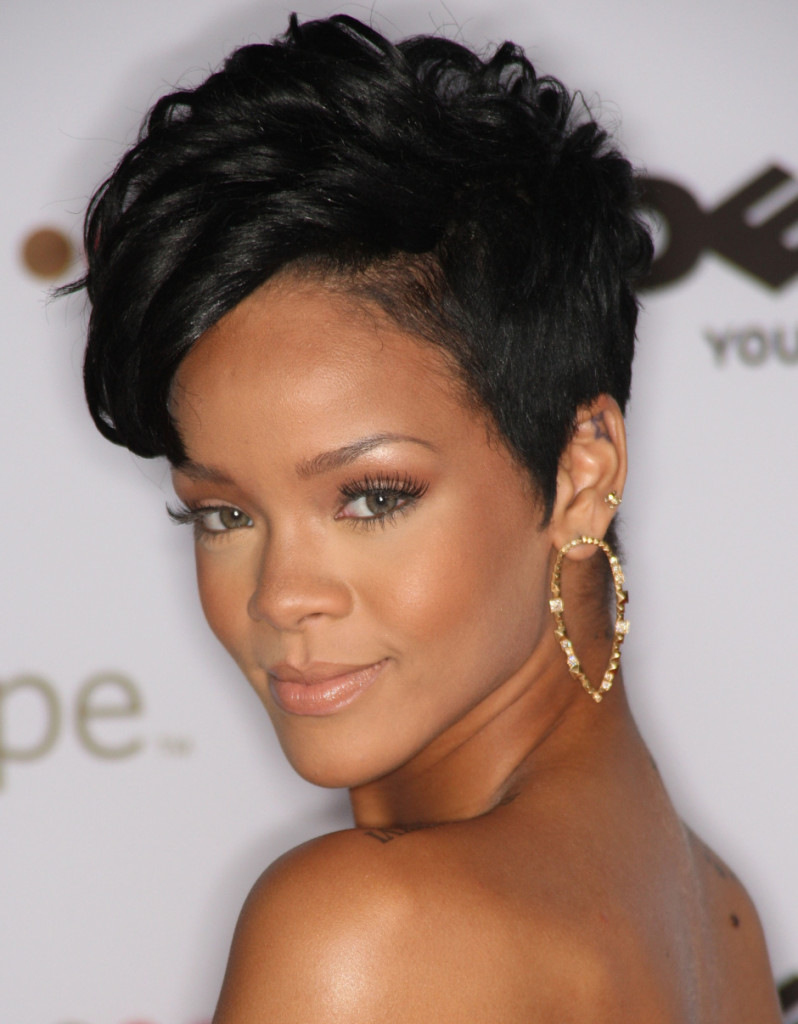 70 Best Short Hairstyles for Black Women with Thin Hair
In the past, people used to believe only long hair made women look feminine and attractive. Thanks God, now everything has changed and girls are even proud to wear chopped shrouds. This is much more interesting and thought-provoking than an ordinary medium to long hair. Well, with fine strands it is essential to apply proper care and use adequate styling products.
A healthy haircut is as much important. The recommended structure of thin hair for black women is a layered 'do with a lifted top. Avoid thinning the tips because thus already lacking volume disappears completely.
Many celebrities have fine hair but they don't think it is a problem. They make a start from what has been given them naturally and improve it with styling, dying and drying their hair carefully.
Visit Now
Best Indoor Tanning Lotions: Reviews 2019 (The Definitive Guide)
Have you ever noticed that people with tanning seem to us more attractive and healthy?
70 most outstanding hairstyles for this occasion are right below
#1 Fast and puffy
Nearly everything beatiful is so hassle-free. Such so-called 'hedgehog' style is easy to reproduce with layered cutting (the upper part gets more length and volume) and styling bangs across the forehead with flimsy combing. A ruffled up top will never betray this girl's trouble – her thin hair.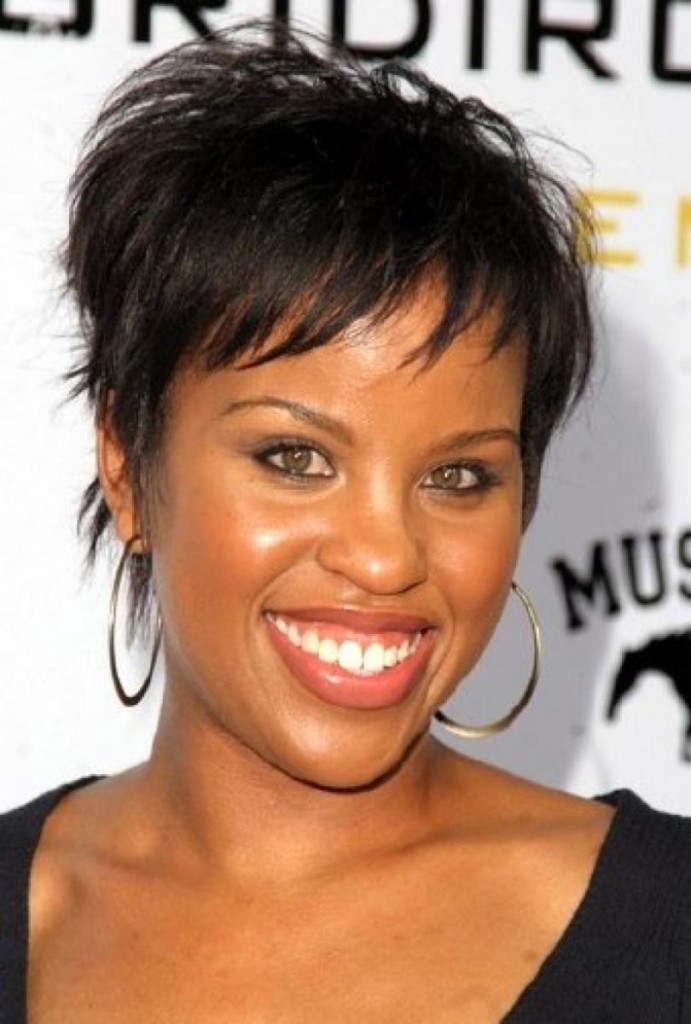 #2 Rebel style
Rihanna is well-known for her rebel yet attractive appearance. The 'do like this is a cool solution for girls who can't decide between a very short and just short length. One sleek short-cut side is a neighbor of a sassy quiff curled at the edges.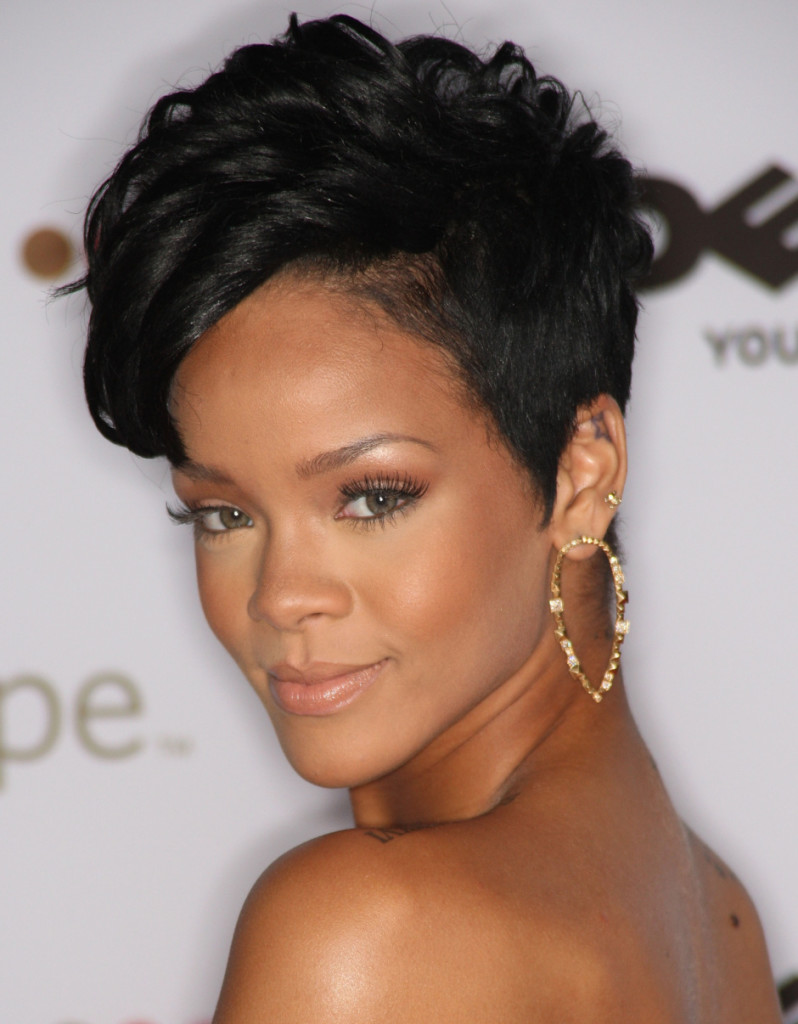 #3 Bangs rule the game
Caramel and black strands, the main part of hair combed to the front and neat shaving from the back side – is that enough to look glamorously? This black female says 'Yes!' This slightly distorted but still cute hairdo draws attention to nice facial features (very cute eyes, a perfect face shape, a glossy skin). Nobody will even notice thinness on your head!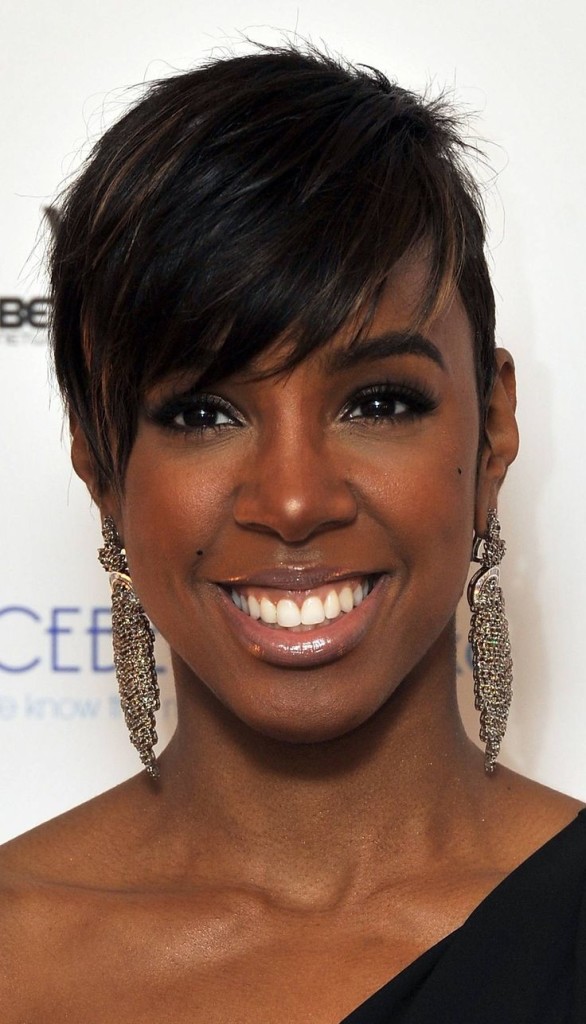 #4 Natural coils
The easiest yet a smart way of styling your hair is to leave its natural curly structure. Sprinkle your tresses with a light fixation product or create a 'wet hair' effect. Ringlets are a charming feature of black ladies, so it is always opportunely to put an accent on it.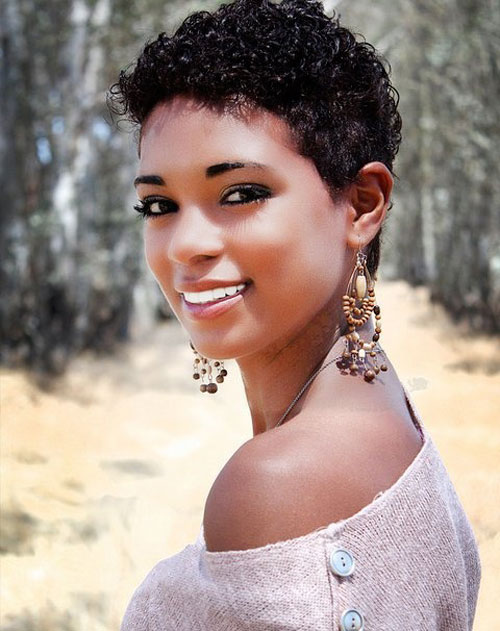 #5 Textured pixie
As a matter of fact, short hair for African Americans is even more convenient than long one. Slight ironing and ruffling make a cute and magnetizing pixie look that catches the eye. One important thing is to layer strands correctly, thus the top should imitate the area of super volume and the sides are to frame the face to put forwards each girl's best peculiarities.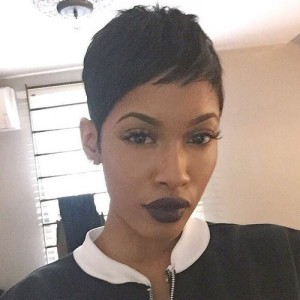 Visit Now
Best Biotin Shampoo for Hair Loss & Regrowth (2019 Reviews & Guide Best)
No matter how the fashion changes, thick hair is an absolute attribute of the beauty of both men and women.
#6 Cornrows and ringlets
This pic is not in fact about short hair but, rather, about hairdressing strands to achieve an illusion of wearing it short-cut with the help of ringlets and side combing. How you do it: plait cornrows at sides to make them look sleek and create an added puff by leaving genuine ringlets at tips. Also, use specific hair care solutions to support easy brushing and styling.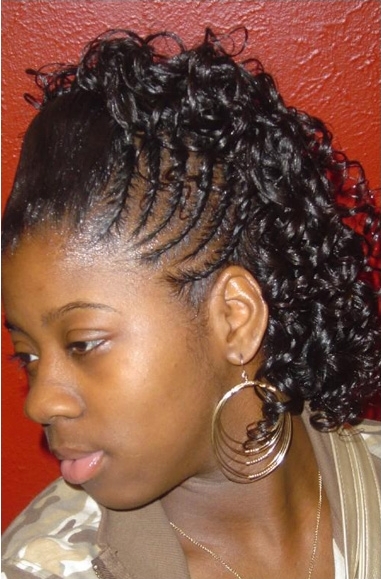 #7 Glossy pixie
Such pixie is comfortable, sexy and rather feminine. Even fine hair looks neat and healthy without a few simple actions – drying with a volunimizing effect and arranging side bangs that subtly cover one cheek. Well, one thing you need to keep in mind is that you trim your strands quite often to maintain the same shape.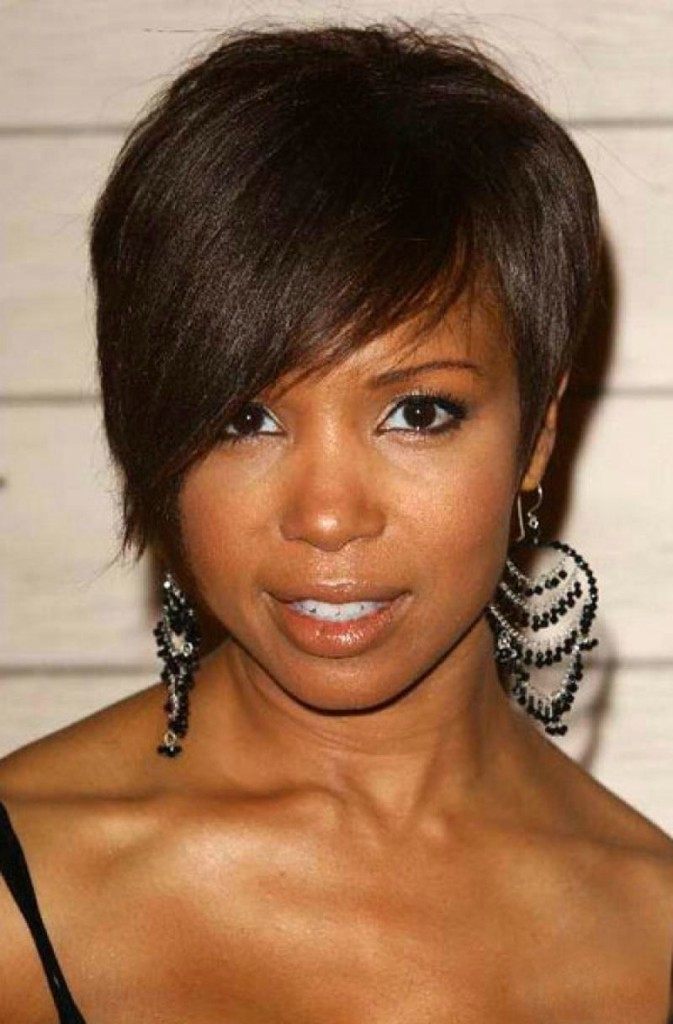 #8 Black cutie
It's not necessary to wear a makeup to accentuate beatuful eyes and plump lips. Try a hairdo similar to the one above. One of your sides is almost shaved while the other one features long bangs varying in color and straightened just enough to prolong the oval of your face. It's charming and so easy to make!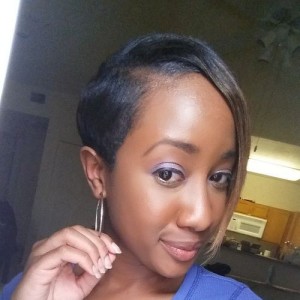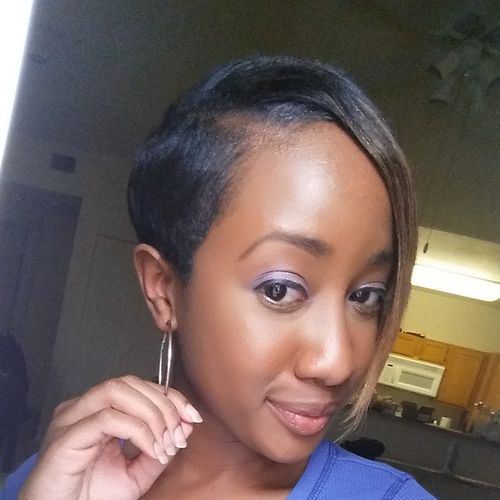 #9 Bold and frank
Short and fine hair is a challenge but not a curse. With hairdressing corresponding with your character and mood, you can express your individuality and show your real ego. Lift your top, play with your tips, use hair care products to add volume and keep smiling. You don't look sweet now – and it's one of your intentions, isn't it?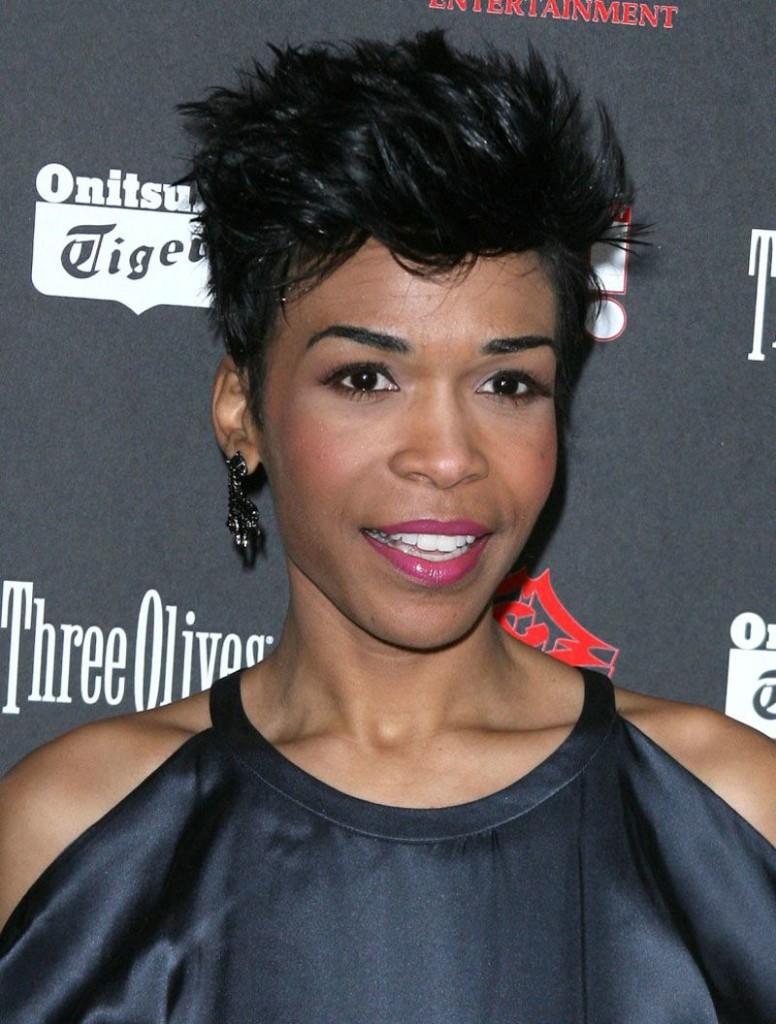 #10 Asymmetrical Bob
This hairstyle is simple and yet very effective. It is composed of two basic parts. The first one is a short razor cut contour and the second one is the brushed cascade that looks really cute and attractive. It is an excellent haircut for oval faced black beauties who want to look as marvelous as ever under any circumstances. This is a truly universal and stylish hairdo.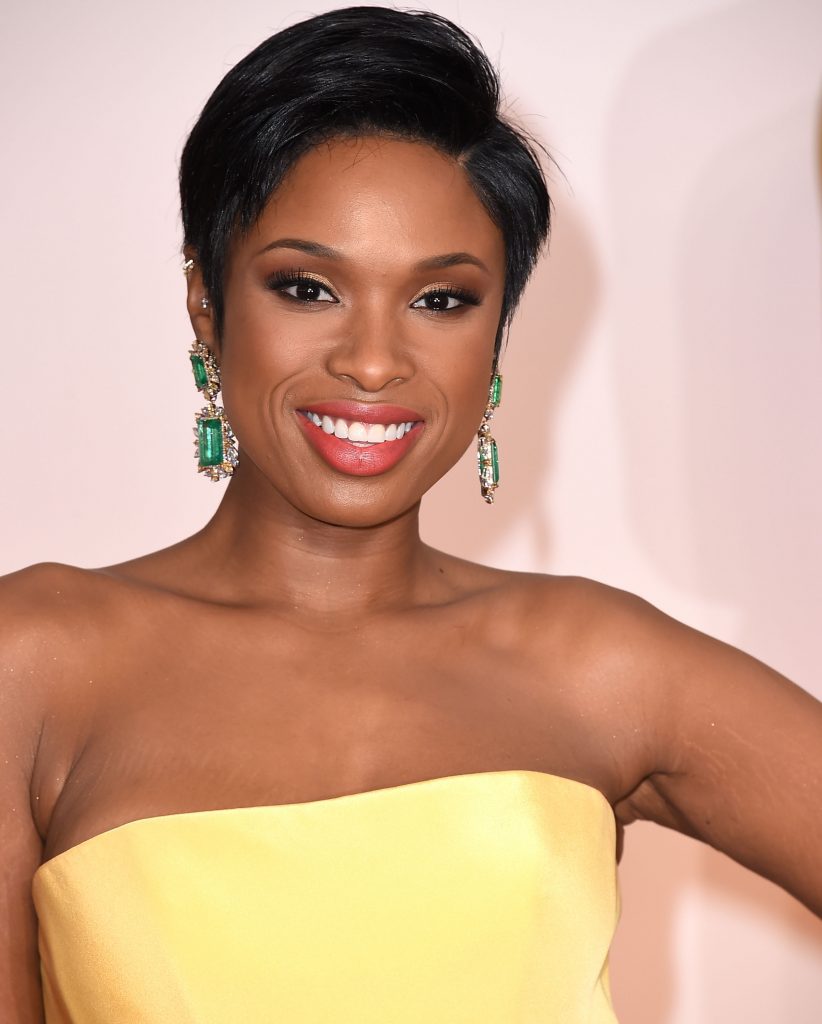 #11 Rectangular Face Upward Haircut
This design is a good variant for both thick and thin hair textures as it grants volume and a really chick look for the owner. The sides are trimmed very shortly and the crown is brushed behind to maintain the shape of the design. This hairdo is a fine option for a stylish and attractive young lady who always wants to look gorgeous as heaven and radiate the light of beauty all around.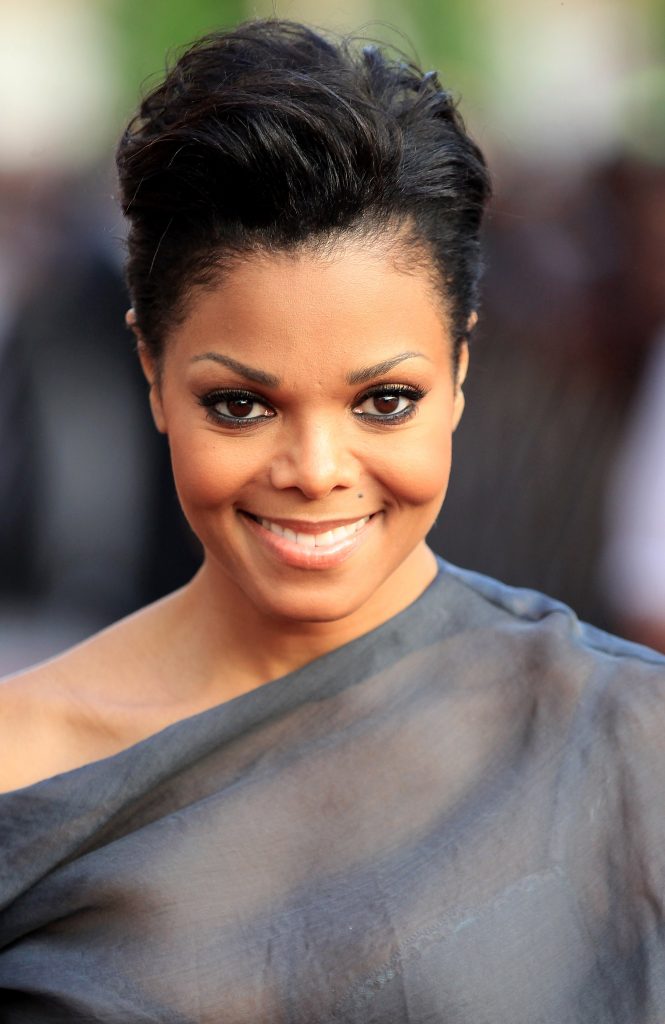 Visit Now
Best Shampoo for Oily Scalp 20 Proven Products That Work (2019)
Oily hair causes its owners a lot of inconveniences: by the end of a long day, it tends to turn into dull "icicles", losing volume and shine.
#12 Natural Short Hair Afro
Due to natural waviness of hair the afro style is perhaps one of the most wide spread designs of haircuts for black women. The curls can be organized in various shapes and forms – here've we've got a fine sample of short curls. It looks very attractive and light color of the owner emphasizes the original traits of a charming face of the fair sex representative.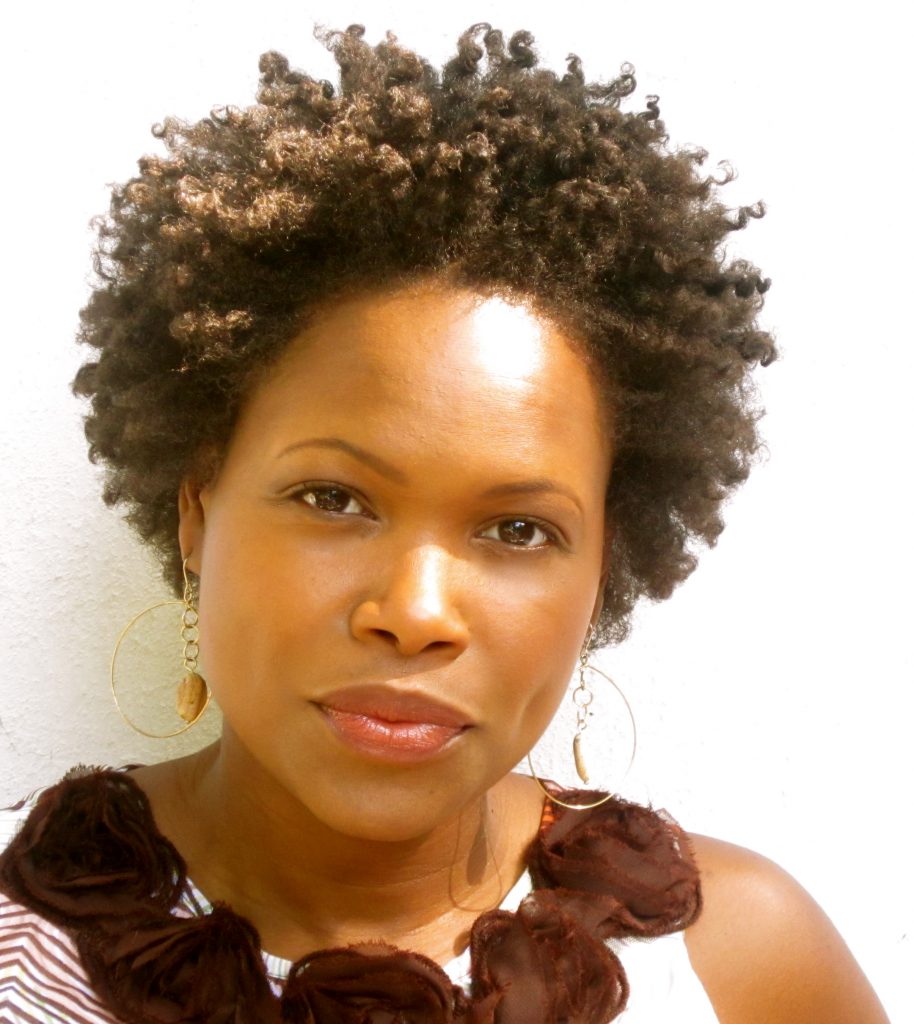 #13 Casual Wavy Short Style
Waves are natural and good looking regardless of the length. Here we can see a variant of bob cut made of waves. If you look closer, the waves are bigger on the top and smaller on the sides. It creates an additional volume for a person's hair and would be a good option for thin hair. The combination of several colors would also add some sort of unusual fleur to this beautiful stylish hairdo.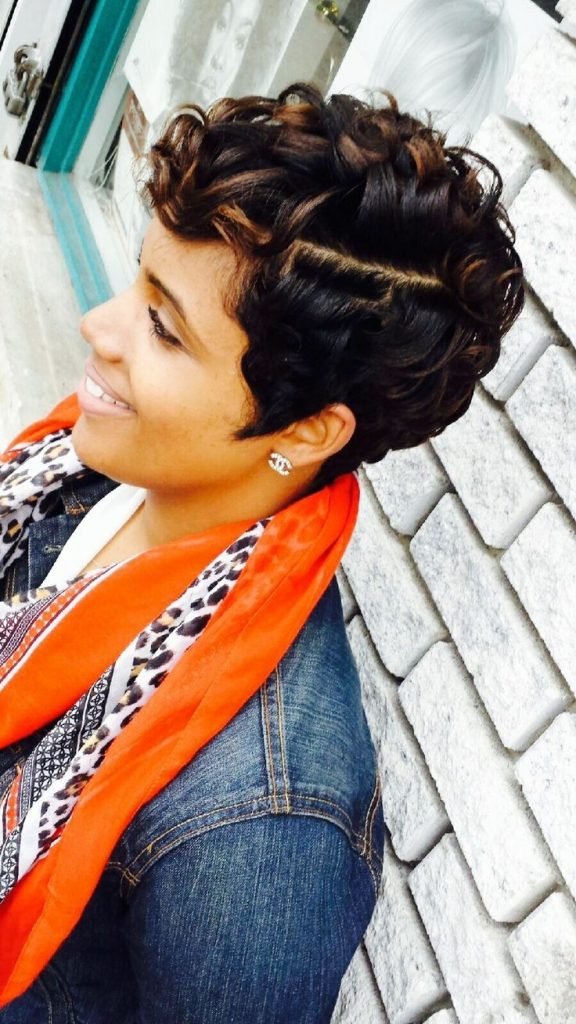 #14 One-sided Bob
The bob hairstyle is the symbol of youth. It will make any woman look attractive and fashionable regardless of her age. There is a partition on top of the head which divides longer hair strands and shorter ones creating a fine shape that would be suitable for an oval and round faced women as it compensates the length of an oval face and plump chicks of a round visage.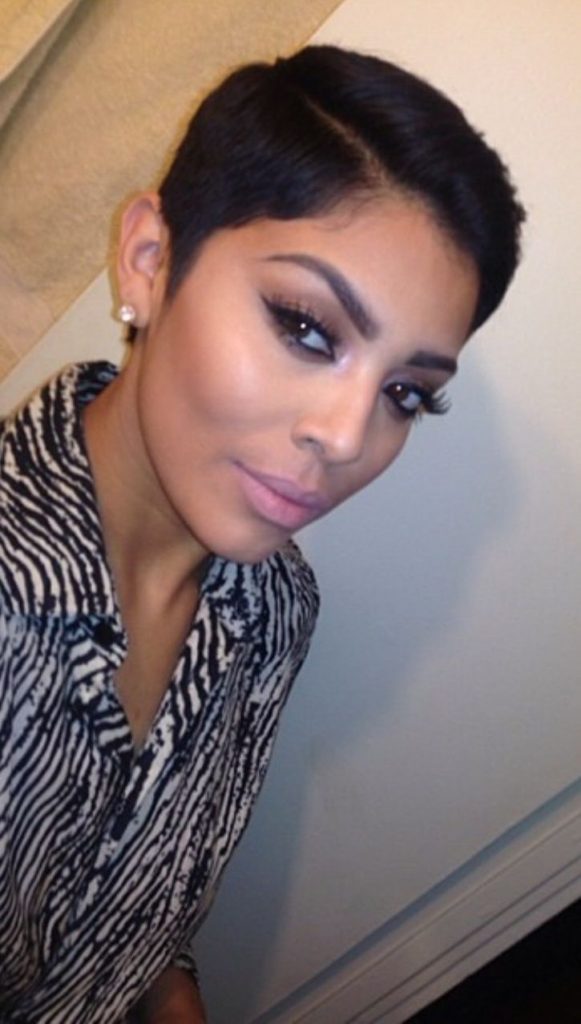 #15 Short Goes Good With Black
Black hair is always in fashion. Dark hues of hair color are natural for pretty afro American ladies. Take a look at these women. We can see that all of them have high chick bones and heart shaped faces. They prefer short haircuts to make fine accents on their facial peculiarities. All the variants starting with mid short and very short length look equally gorgeous and stylish. Don't you agree?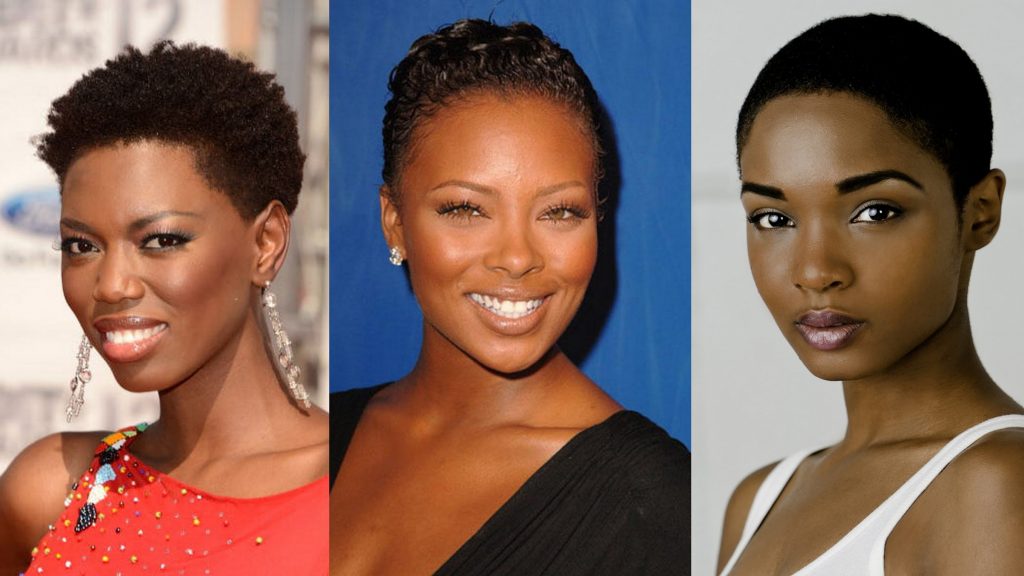 #16 Bob Style in Various Interpretations
This combo picture is showing various lengths of bob haircuts. The tendency has shown that more and more dark ladies prefer this tomboyish attractive hair design. It is not only a practical solution for a person, but also an effective means of self-expression. Those women who prefer short hair are not afraid to demonstrate their full potential and achieve their goals easier.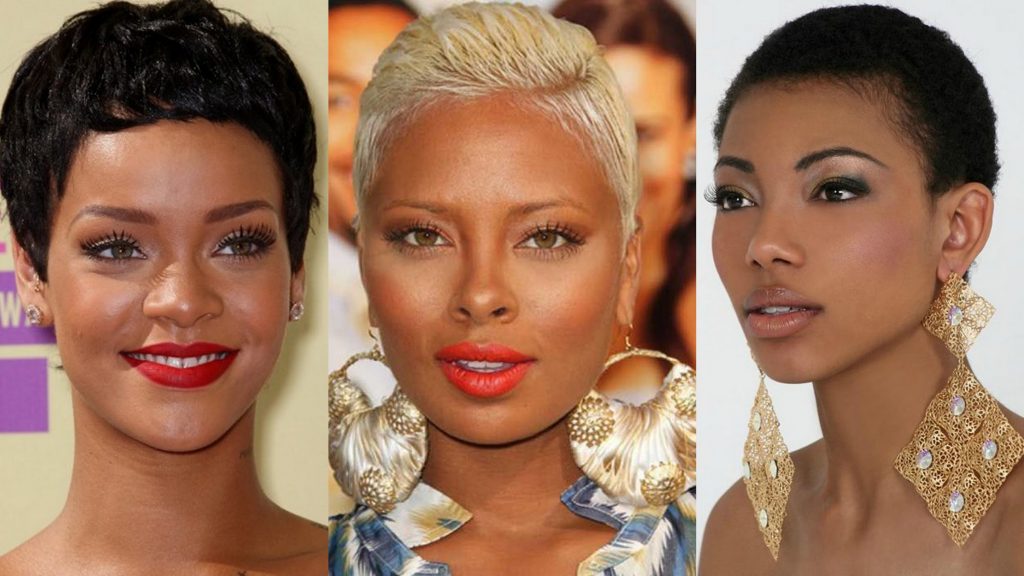 #17 Spiky Halle Berry
Those black women who have got straight wiry hair can try out a brand new look that is preferred by an award winning actress Halle Berry. She cropped her hair at the sides and formed the crown of thorns on her head. It is shaped by means of fixating foam for an upright position. If you want to feel more confidence, try adding some spikes to your look and it will definitely help you.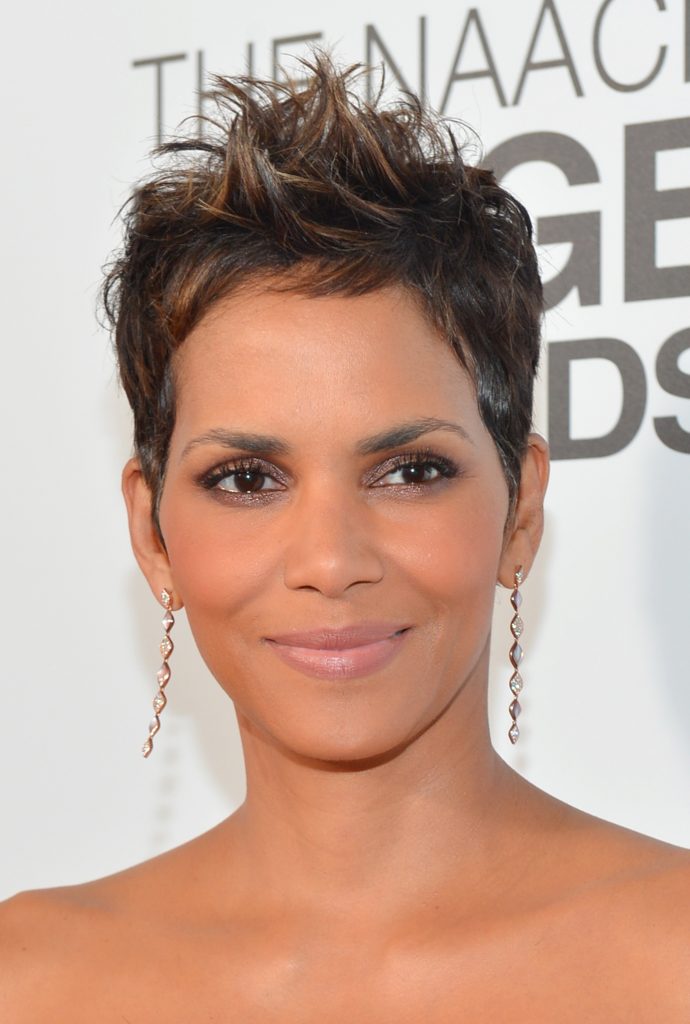 #18 Black Sensual Beauty
This type of short haircut represents a reserved sense of fashion and elegance in all the details. The whole hair is organized by means of a hair drier in several layers to increase the volume. The swift shape of the head in combination with a sensual make creates an unforgettable look of a refined honorable lady that is planning to meet her prince charming on a big black horse.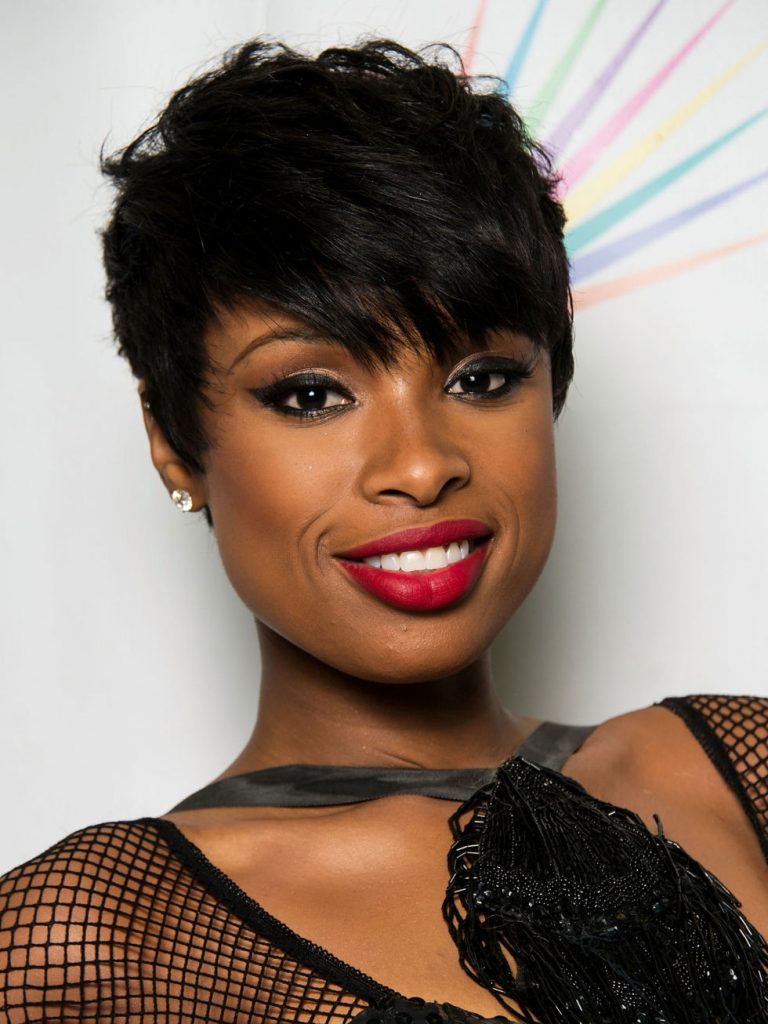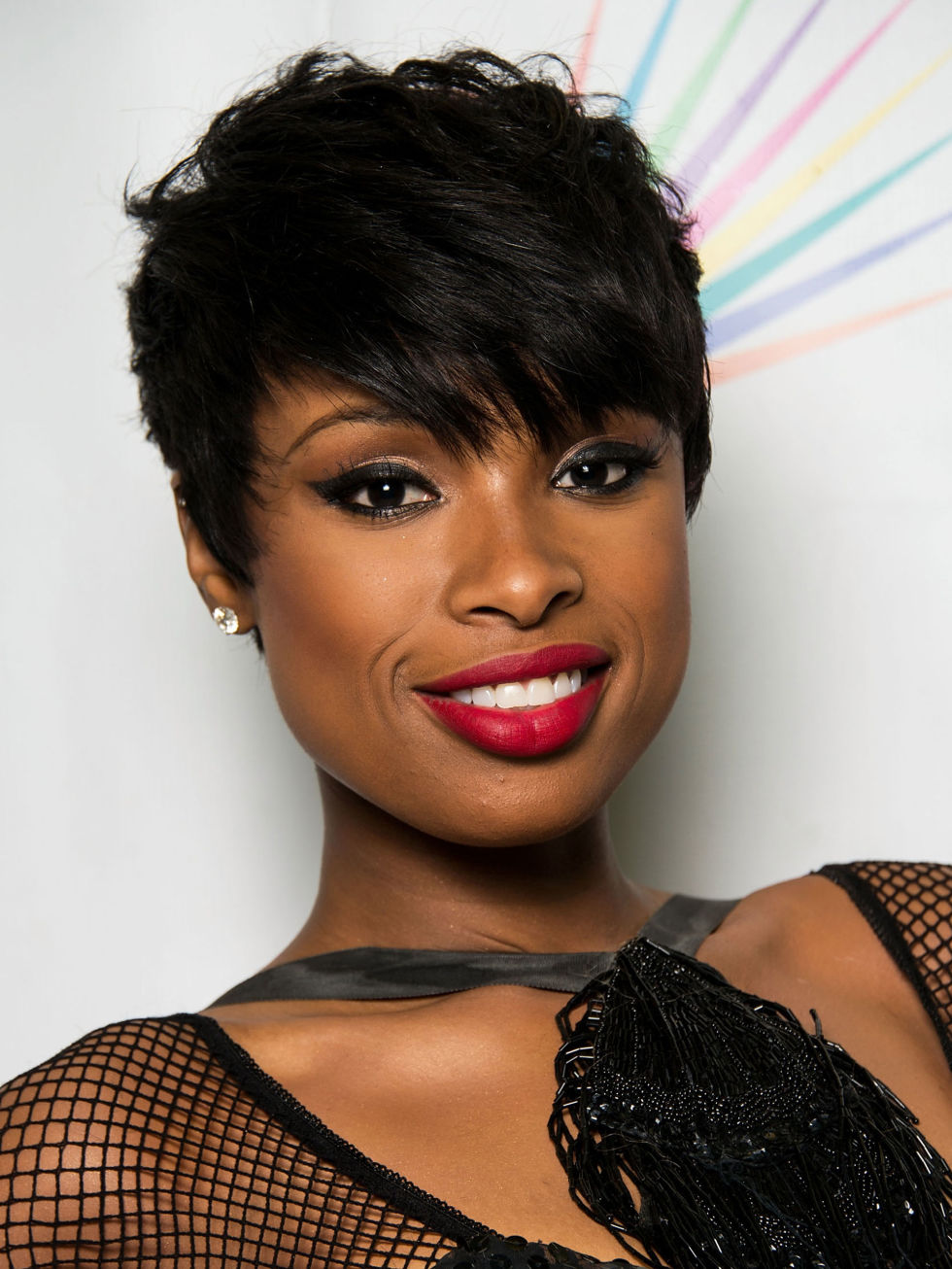 #19 Neutral Make-up with Short Curls Style
A short hair that was finely cut can emanate confidence and make the wearer look very sexy. This model of an extremely short hair is a variant of native afro hairstyle. Short thin hair will start curling at the very roots and if it is properly styled it will create a fine hat of hair that will cover the top of the head with fine seducing tiny curls. It will surely attract the eyes of the people around. Though one should be brave enough to make such a hairdo, it is definitely worth trying.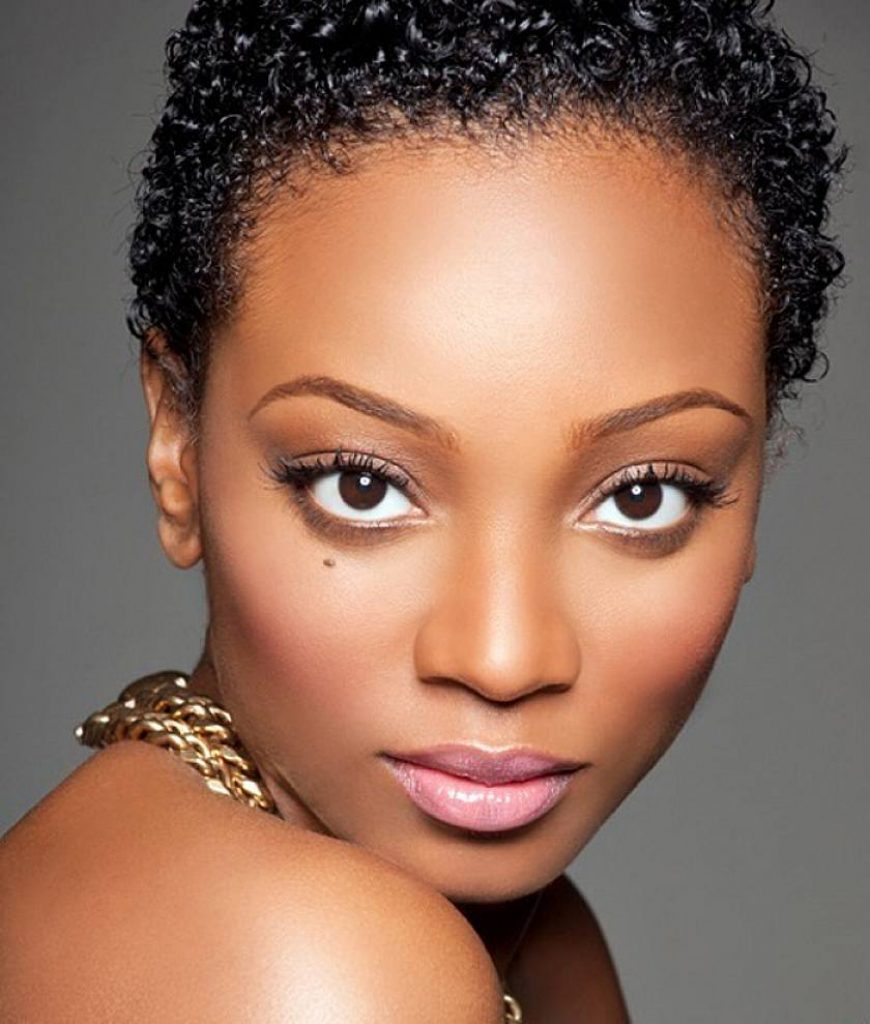 #20 Pictured Close Cut
This option of hair design contains a curly top that looks nice and elegant. The sides are performed by means of a close cut technique and it means that the hair is very short there. A density of hair at the short parts provides an excellent possibility for a fine shaving art. Take a look at the fine lightning bolts that are located on the temples and reflect the fiery and energetic mood of the person.
#21 Ear Top Pixie Style
Pixie style hair matches perfectly all types of complexions and chocolate skin color is not an exception here. The oval face will be finely decorated with the hair of this type. It creates a fine hemisphere around the hat and strait cut fringe forms a fine line underlining the shape of a facial oval. With this haircut any woman would look gorgeous and attractive under any possible circumstance.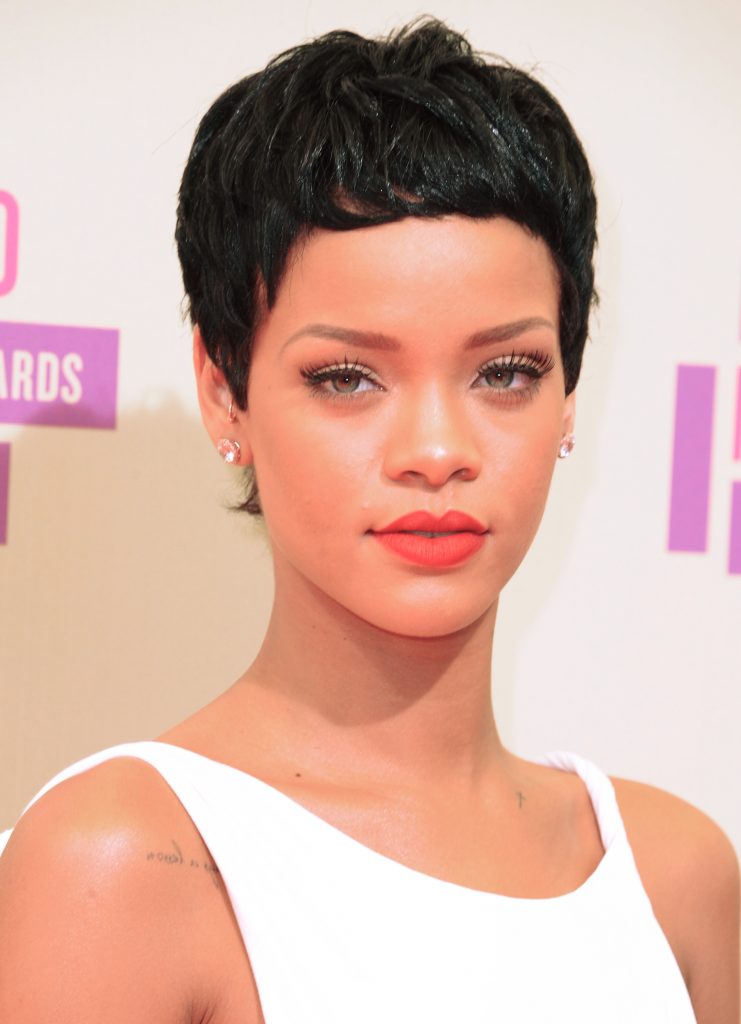 #22 Side Swept Asymmetrical Layers
Side sweeps are considered one of the best options for an elegant look which underline smooth traits of the owner and make her look fabulous. This variant introduces the sweeps of different length to grant additional portion of style to the look of the owner. On side it somewhat hides a part of the face leaving space for some mystery that lies in the very being of womanhood.
#23 Straight Lined Mohawk Style
Mohawk hairstyle usually depicts a person of fiery temper and active spirit. It would be a great choice for a black woman with an afro hair. Due the hair's structure it will take an up straight position and remain unmoved even under strong wind. It's an excellent choice for a wild femme who wants to demonstrate her cat nature. Regardless of the length, it's a very trendy hairdo for many women.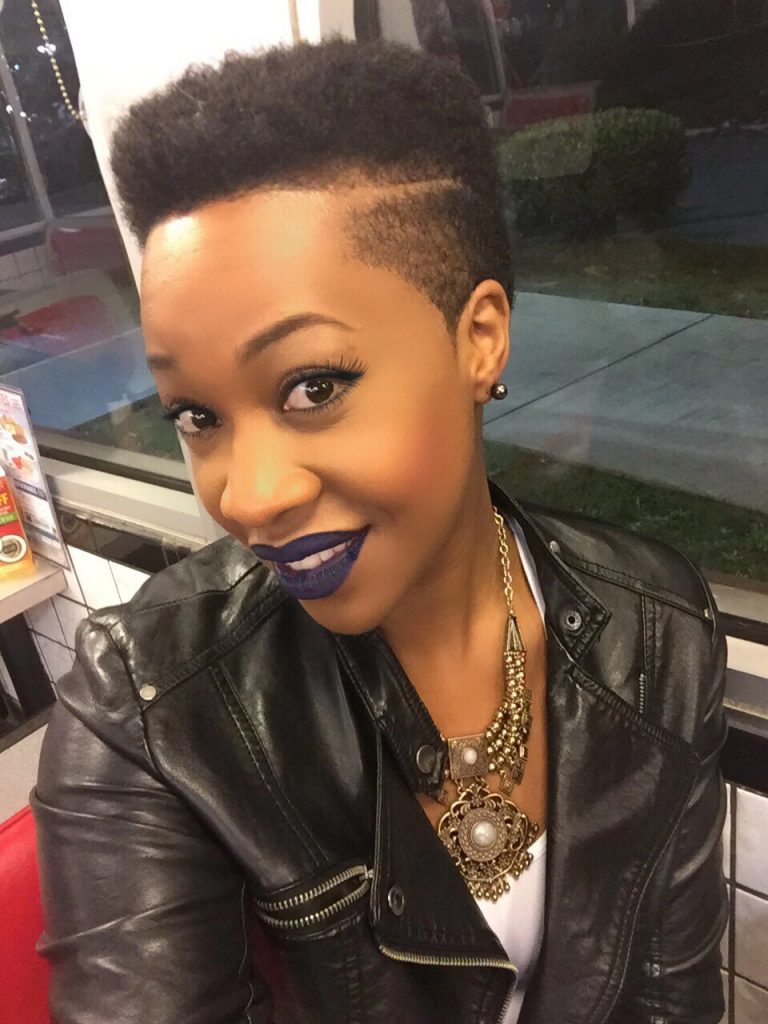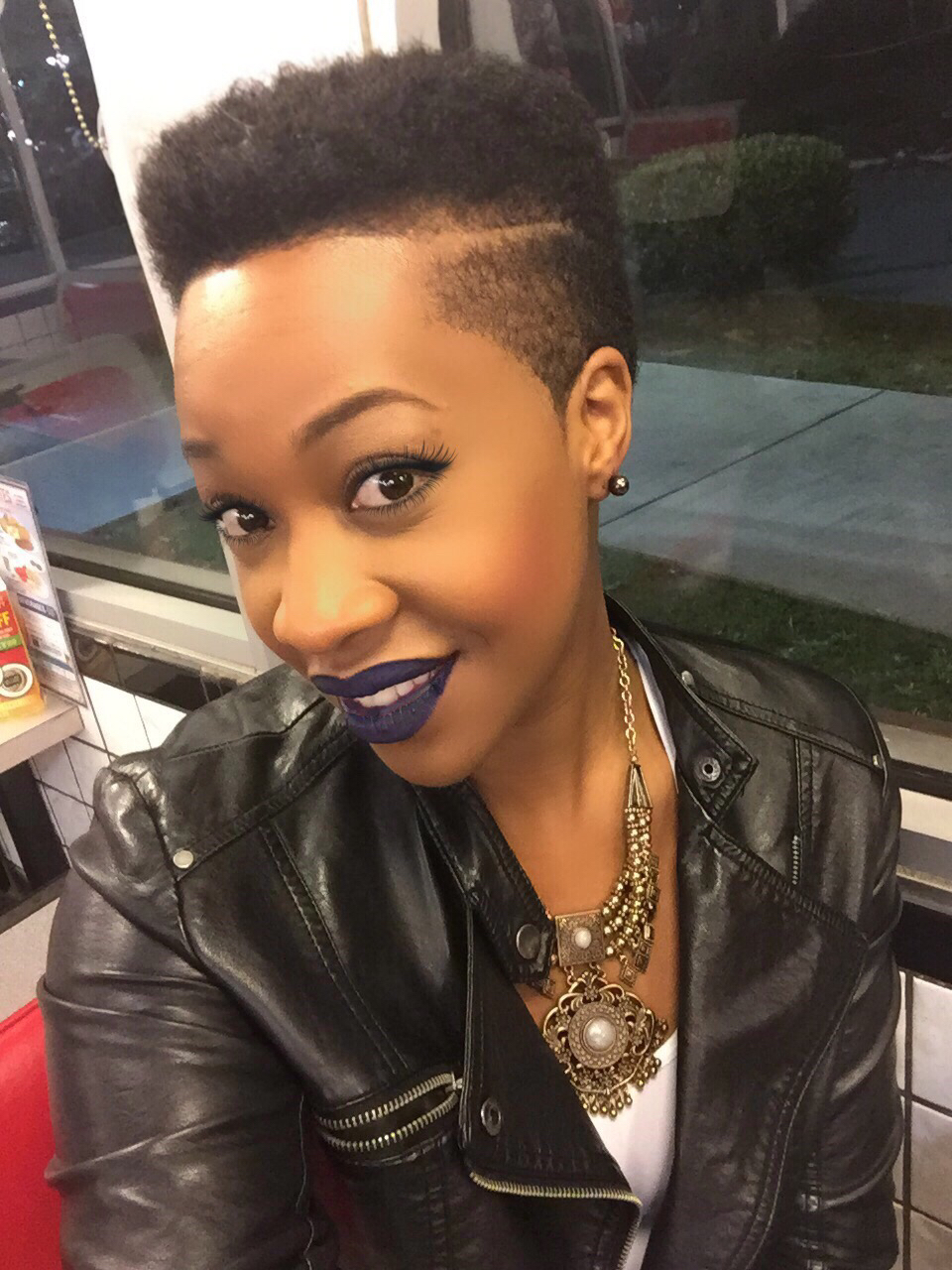 #24 Top Side Sweep
This type of sweep hair offers a brand new stylish look for a modern woman with a classical air about her. The sweep starts at the very top and goes diagonally to a single side only. The other side is either brushed backwards making the side of the face look naked or it is shortly trimmed for adding an unusual style for the owner. With such a haircut the black lady will definitely look like a queen.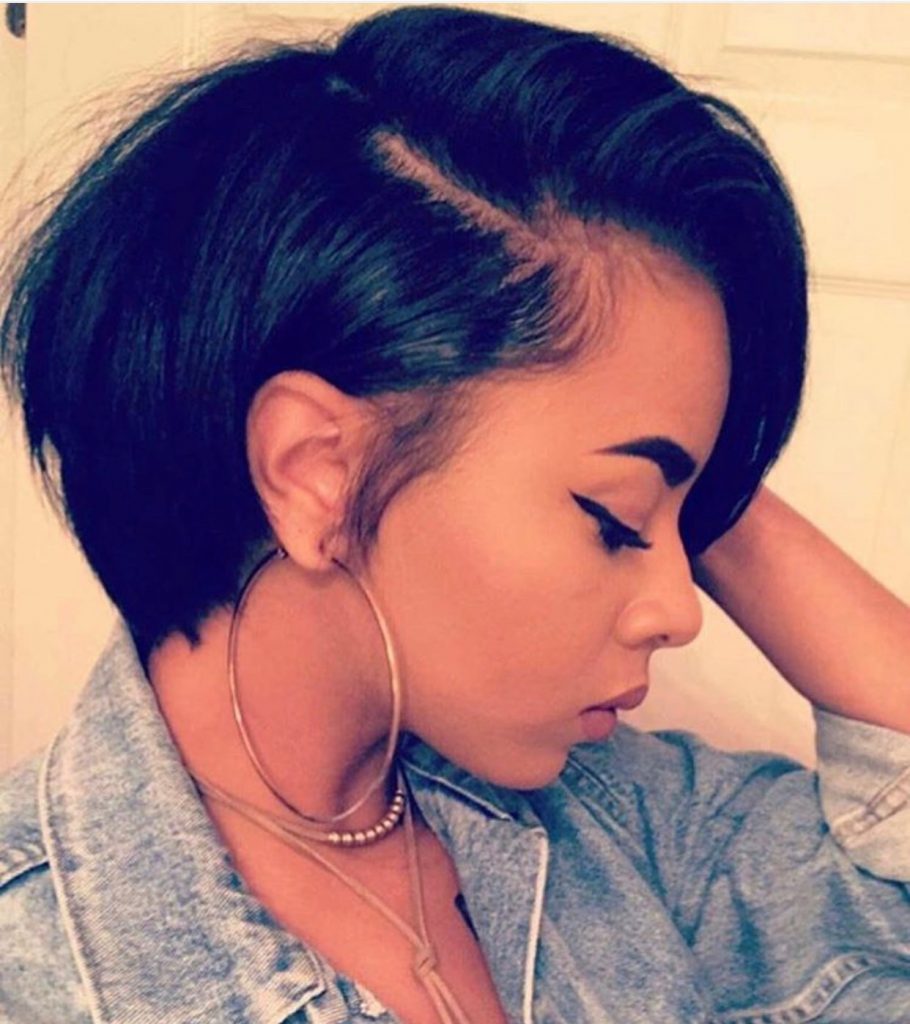 #25 A Whole Bunch of Tiny Curls
Curls can be considered a fine sign of a lady with either adventurous or a playful character. The creation of this hairstyle can be even easier if the person who wants to have such a style has got natural curly hair. The small curls look very cool on the head like jumping little spring of joy which react on any human reaction on the events from the surrounding world. Oh, and it should be mentioned that curls are often considered an ethnic trait of black people.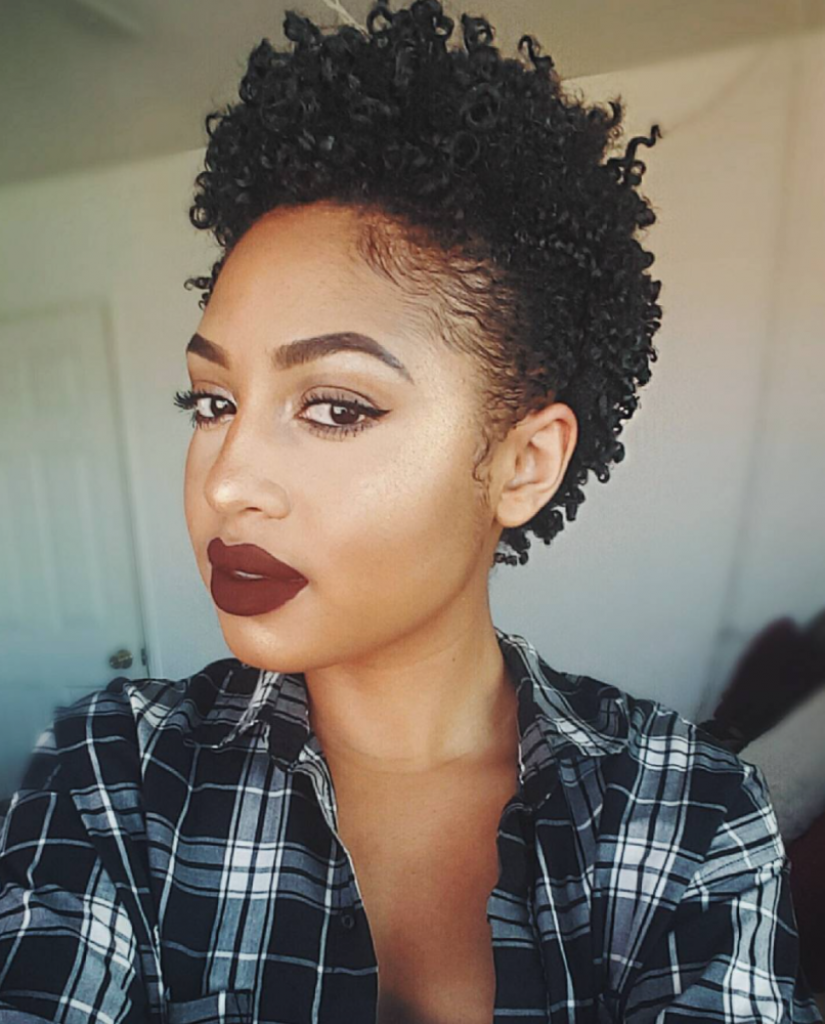 #26 Pompadour Curl Style
Pompadour is a refined technique of hair design that originates from the royal courts of France. There are various options of this design for both straight and wavy hair. This option introduces a fine style with dominating waves of luxurious hair on top of the crown. This hairdo will add some elegant classic charm to your look and will be perfectly combinable with both casual and unusual events wear.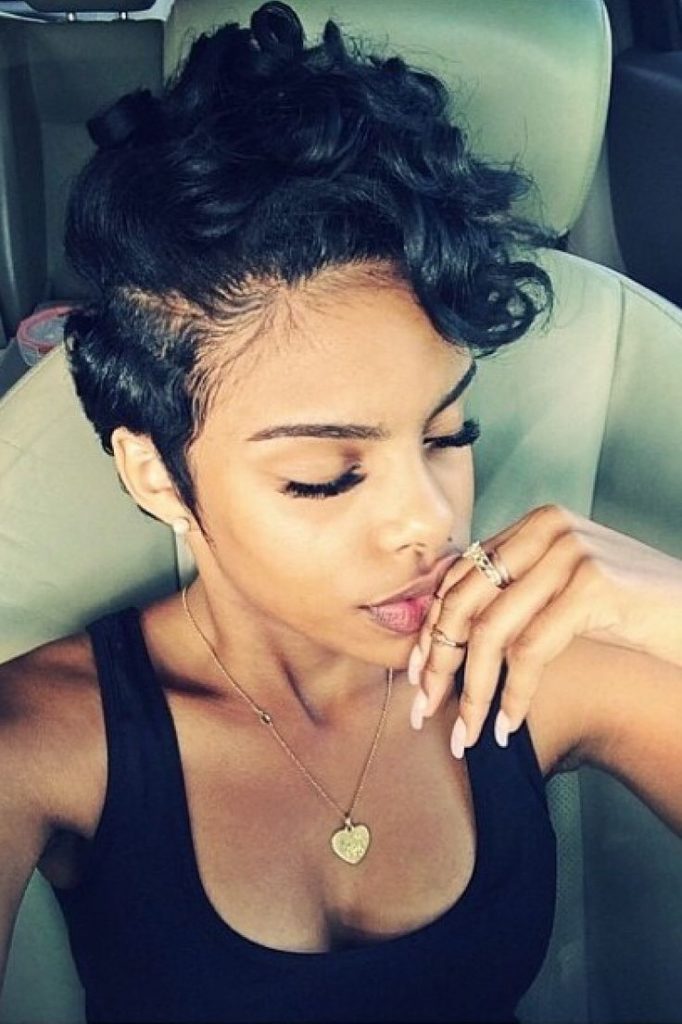 #27 Curly Crown
Have you ever dreamed to look like a real queen? With this hair style you will definitely get such an opportunity. If you've got a hair of gold color, this fine curled sphere will surely resemble a crown of some monarch. The curls always look gorgeous and attractive, so organizing your hair in such a way would definitely change your look to something entirely new.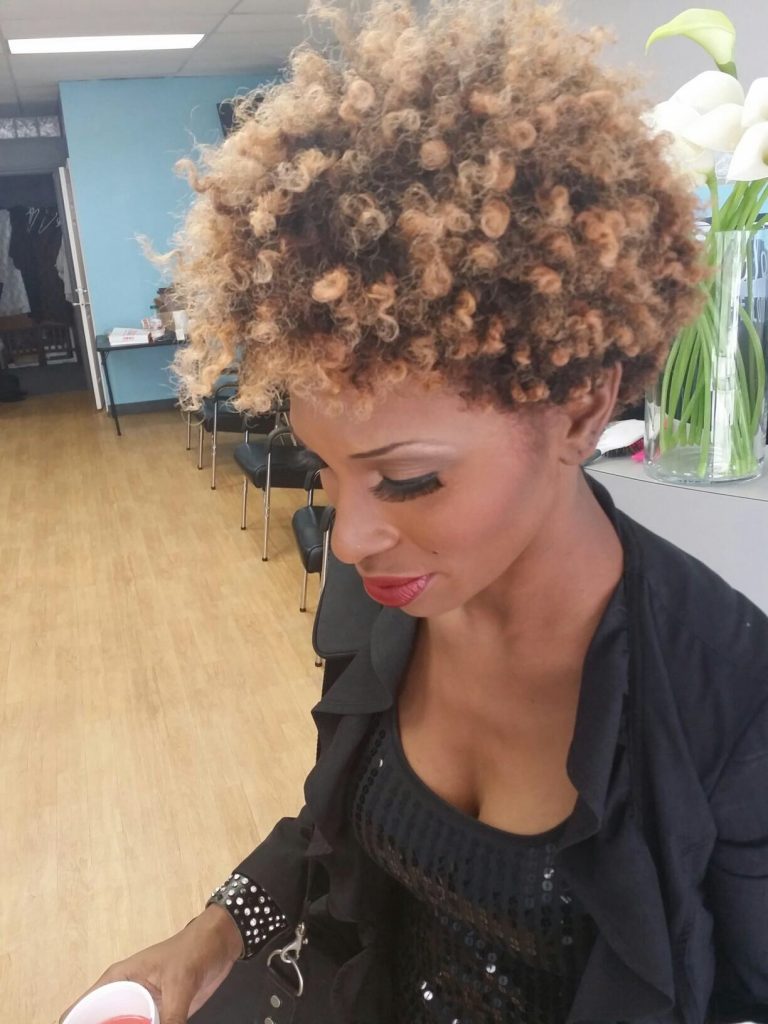 #28 Daring but Gentle
Very often short cuts are preferred by daring women. It is a fine sign of a lady that is not afraid to experiment on herself and is eager to try on some new images. Such a short hair can be introduced by either a crop or a lawn of tiny curls which look equally attractive and even seductive. So if you think that this hairstyle is the thing that suits you, go to the local stylist and test your luck!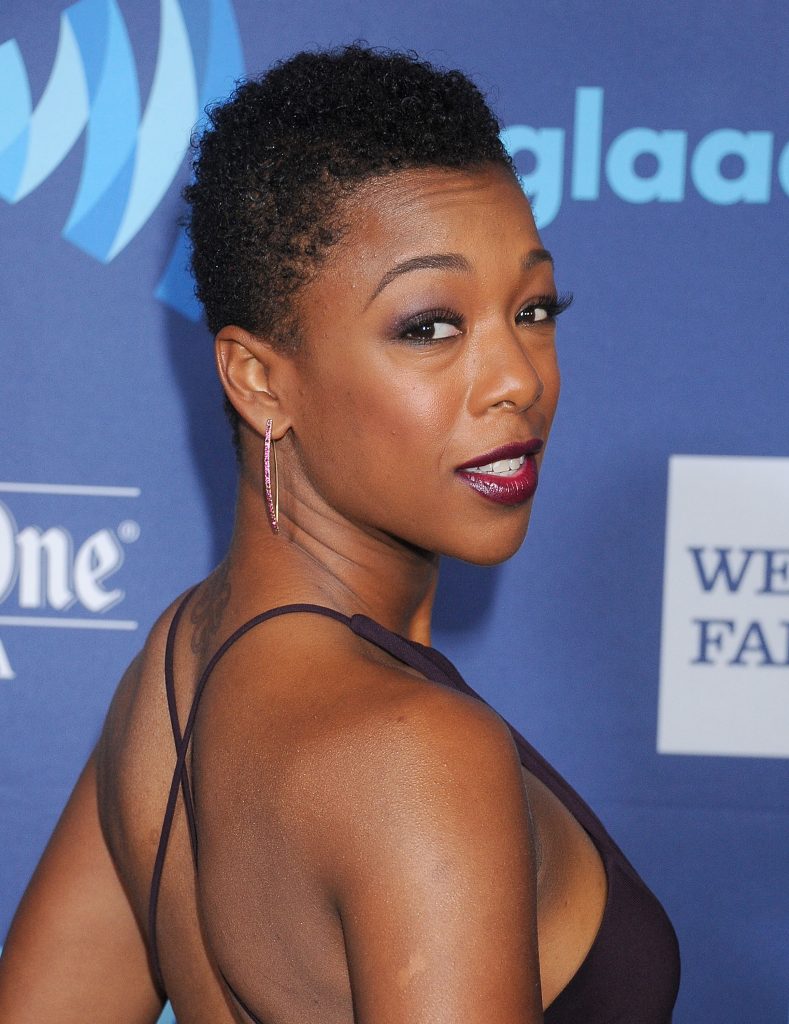 #29 One Sided Under Cut
Undercuts are good! Undercuts are great! This hairstyle is always fashionable looking, regardless of the age, complexion and face shape. While one of the sides of the head is almost shaven the other part has got a fine diagonal lob that covers one half of the face like a veil creating an illusion of mystery around the person who wears such a hairdo. This is a splendid choice for women who want to look sexy.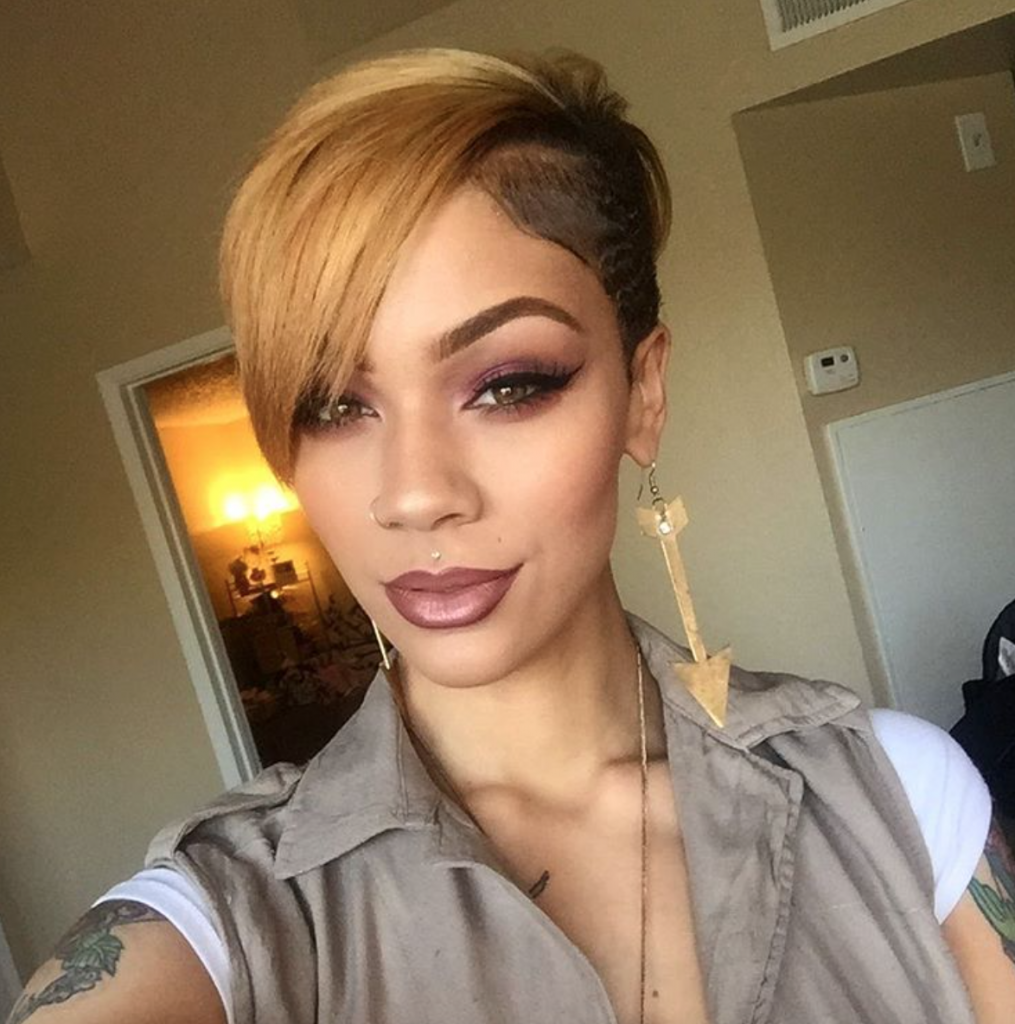 #30 Up and Down Curls
This is another way of using your natural curls in the most unusual way. Half of the hair is organized in a curly bun on top of the head, while the others flow freely around. It will look playfully and gorgeous. There is an interesting idea to use various colors for a bun and other hair to create a bright radiating image of an extremely positive person. Just imagine yourself with a brand new look and try it on.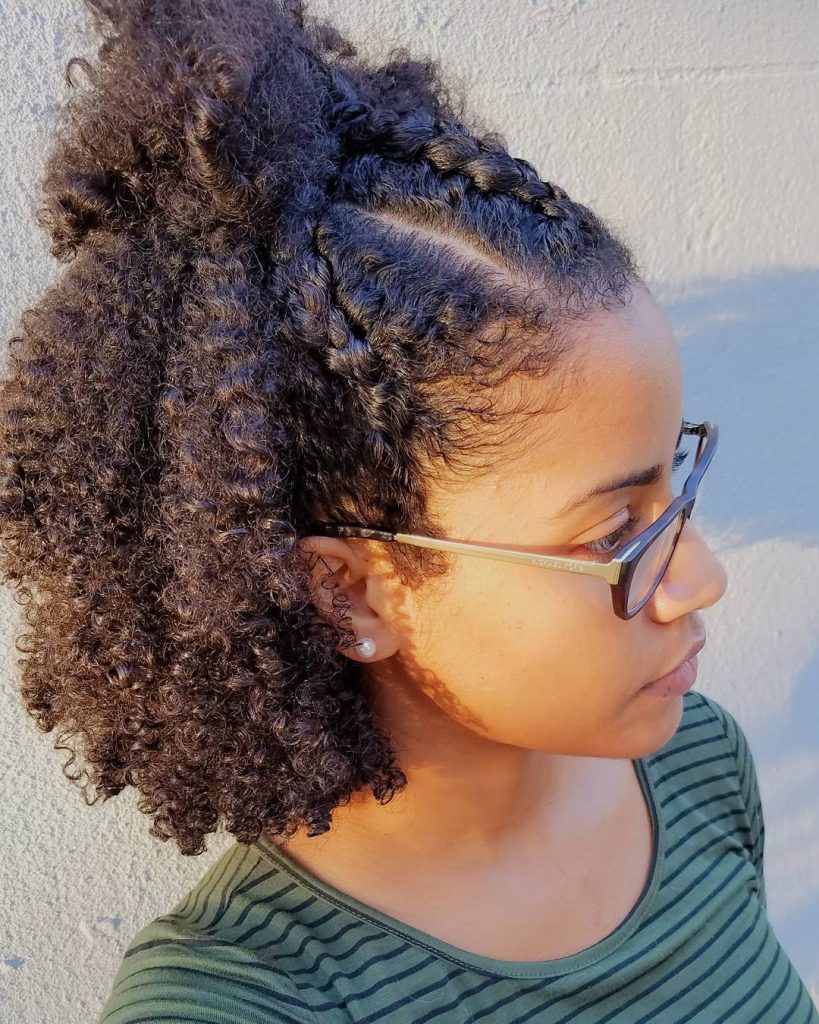 #31 Wild Spiky Lady Bob Style
A bob haircut with sharp spikes shows people a courageous and serious lady that is capable of setting goals and achieving them under any circumstances. If you want to enhance your look and make it more daring, just try out this brand new awesome hairstyle. Being brushed to the side, it is fixated with some foam for a firmer look. The layers are placed one above another to obtain more volume.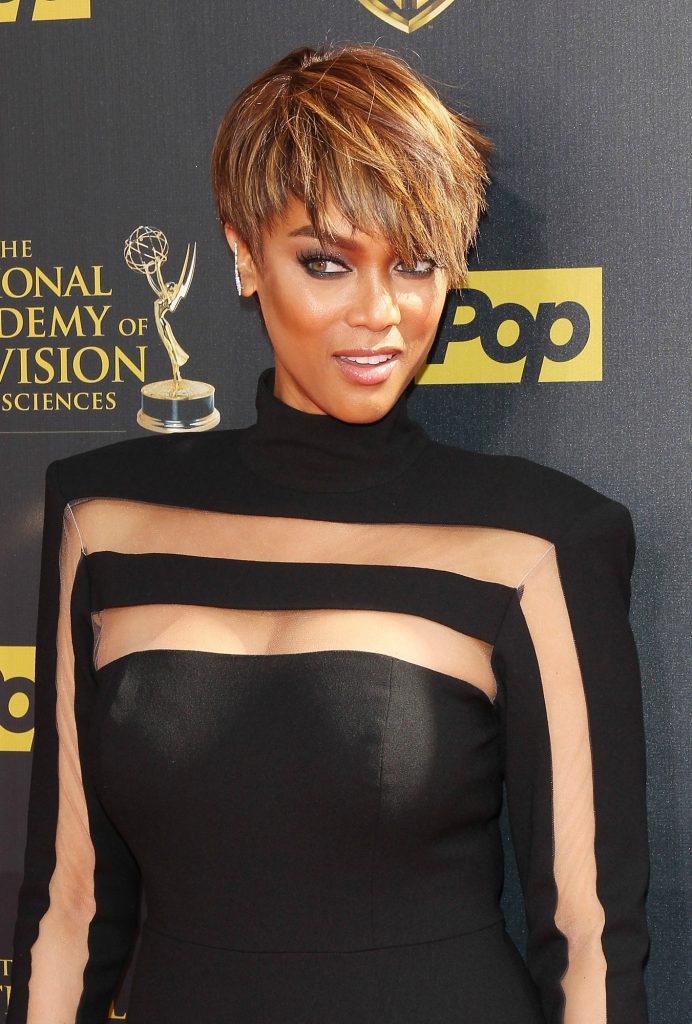 #32 Long Curled Strings
This is a bob style that is introduced by long spiral curls which are organized like standard layers of strands during the creation of the bob. There is one simple trick for this hairdo – it is mostly suitable for black women due to specifics of their hair which tend to curl more often and in a better way. Such a hairstyle would be definitely something new that you haven't try before and that will change your entire look.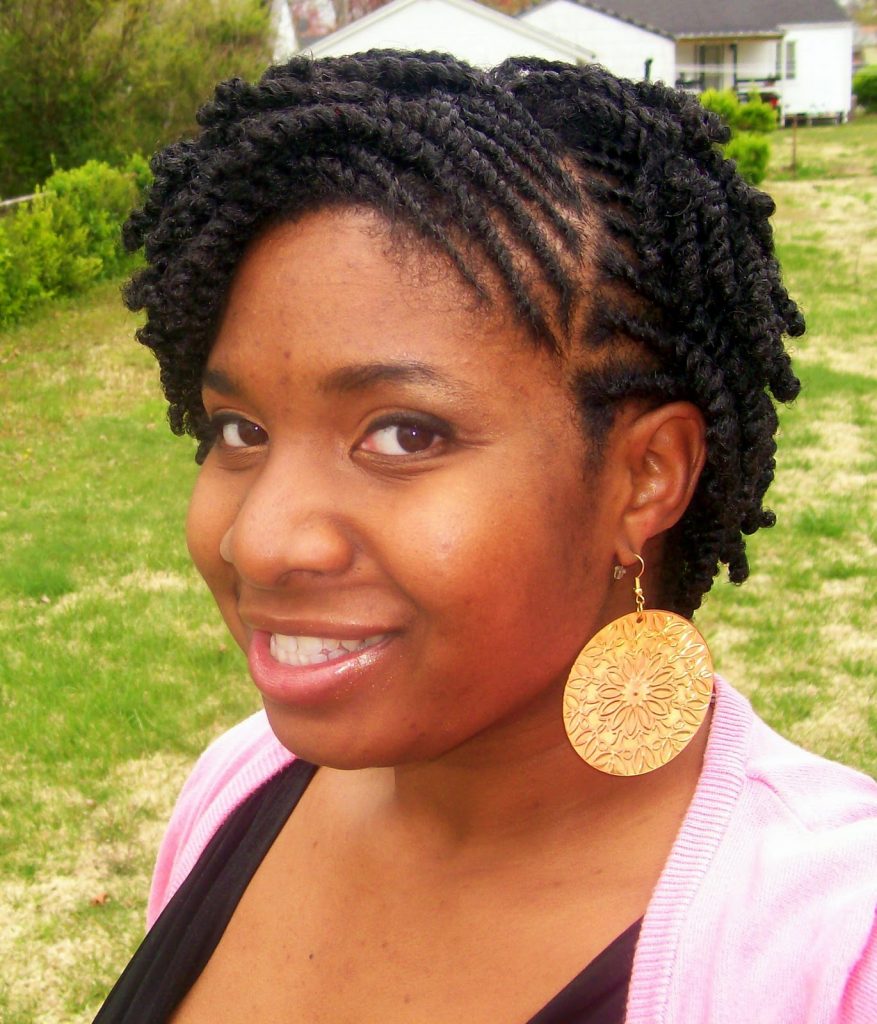 #33 Modest and Stylish
This would be a fine casual hairstyle that will make you look both elegant and attractive day by day. The simplicity in organizing and looking after it make this hairdo the best choice for a woman who is constantly busy and who doesn't want to waste time on hours in front of the mirror. This hair design solves all the problems and it can save plenty of time and preserve good look.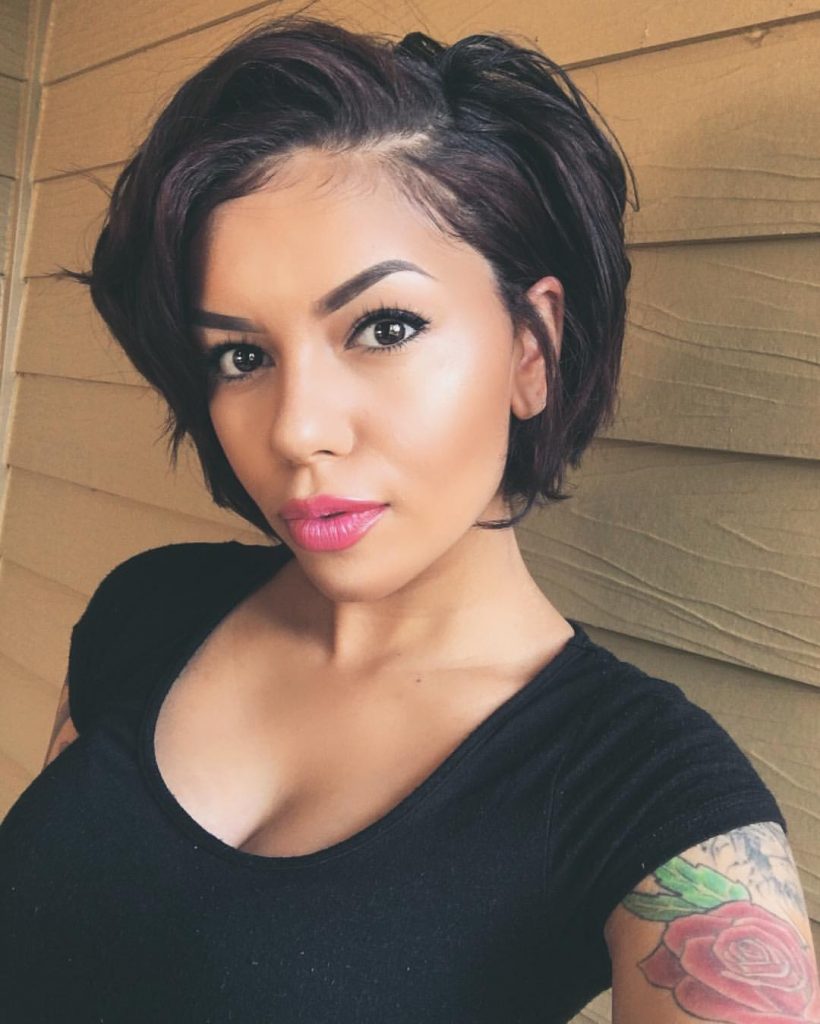 #34 Backward Brushed and Shaved
Ladies are you ready for a serious change in your style? This might be just the right look that you were searching for. This design contains fully shaved sides which are accompanied with brushed backwards hair. The sides are of a darker color, while the top is platinum blond. The contrast between these two parts forms an excellent look of a creative personality and emphasizes the most outstanding features of the wearer.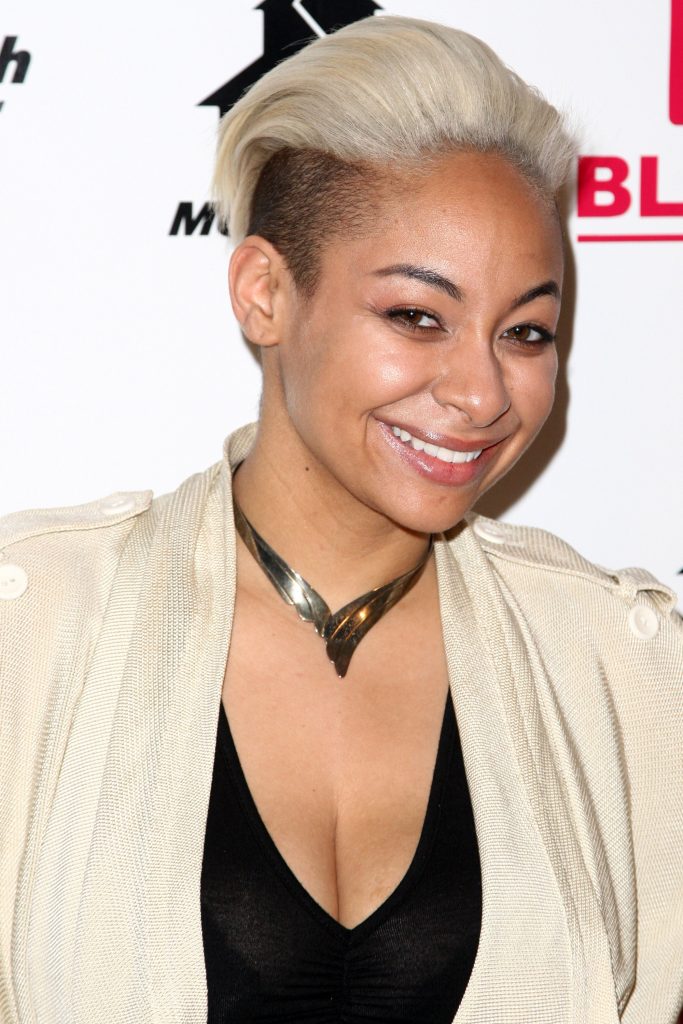 #35 Pixie Style Short Cut Variation
This haircut is would perfectly match the oval and round face types. The fringe is slightly diagonal and it almost reaches the eyes granting a fine accent on some stylish makeup elements together with large earrings. It also smoothens some sharp features of the face adding graceful overall look of a cute woman. Test this option if it suits you well.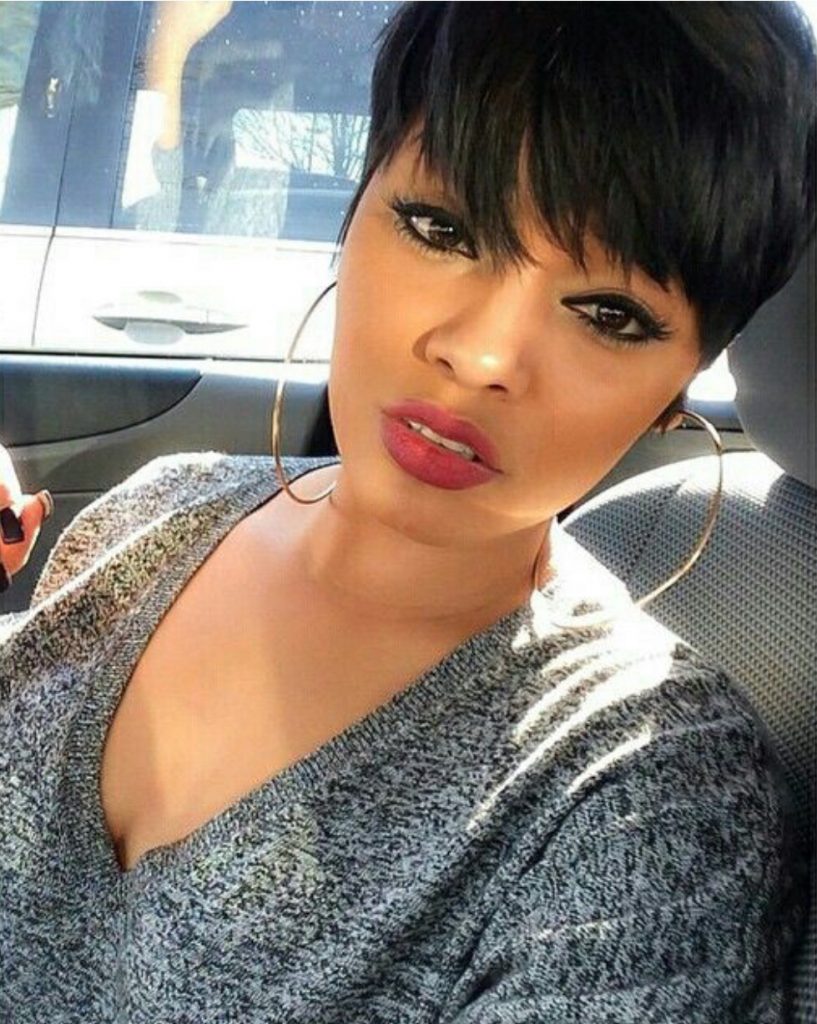 #36 Classic Feminine Look
A short hair may be a fine element of fashion that brings a totally new aristocratic look to you overall image. The short hair of this type will demonstrate all your attractive features to the people. It will be perfectly combined with some refined jewelry of yours as they will underline your neck, ears or eyes in a very positive light. To crown everything, this hairdo is very simple to maintain.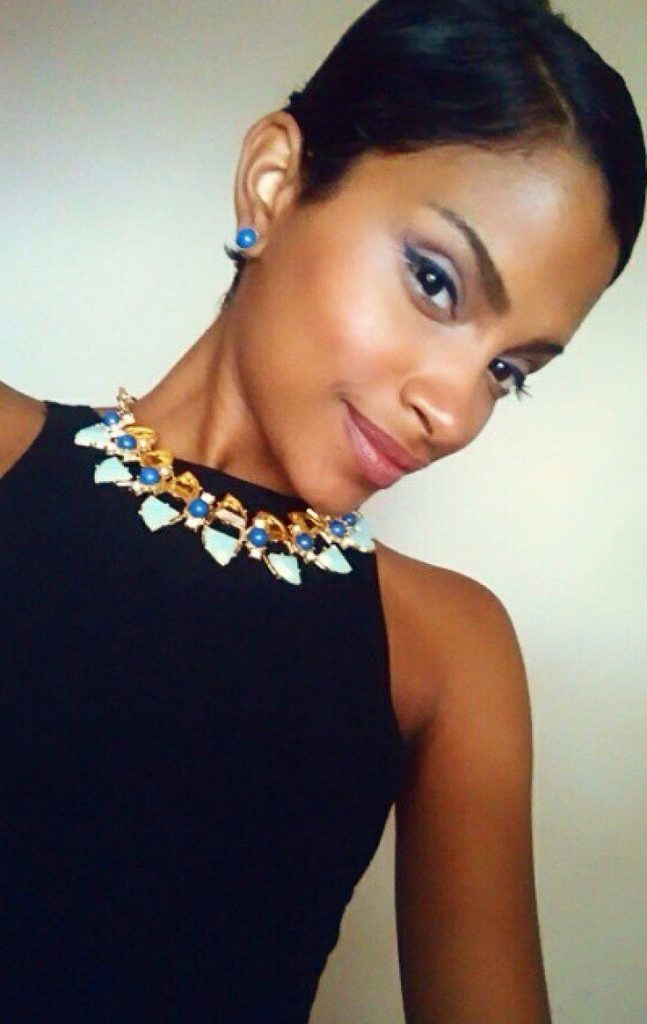 #37 Wispy Standing Haircut
This design encompasses both classic and modern attributes which were finely combined. The upper element is a version of a pompadour that looks very classy and chic, while the sides are performed in an undercut style. This hair design offers a miraculous look that will make you look fabulous and attractive so that no one could withstand your feminine charm.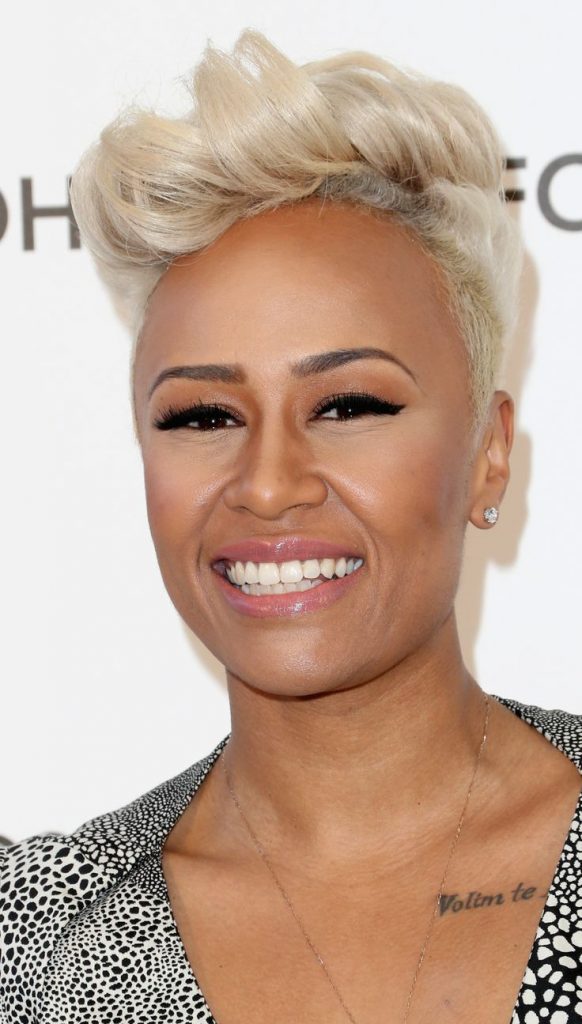 #38 Minimalistic Hair Design
This is a modest looking bob that finely embraces the features of oval and round faces and makes the images even better looking. This hairdo also belongs to practical short cuts and is very useful when there is need for time saving or hair has become thin for some reason and requires rehabilitation. It creates a fashionable style with reserved elements in design.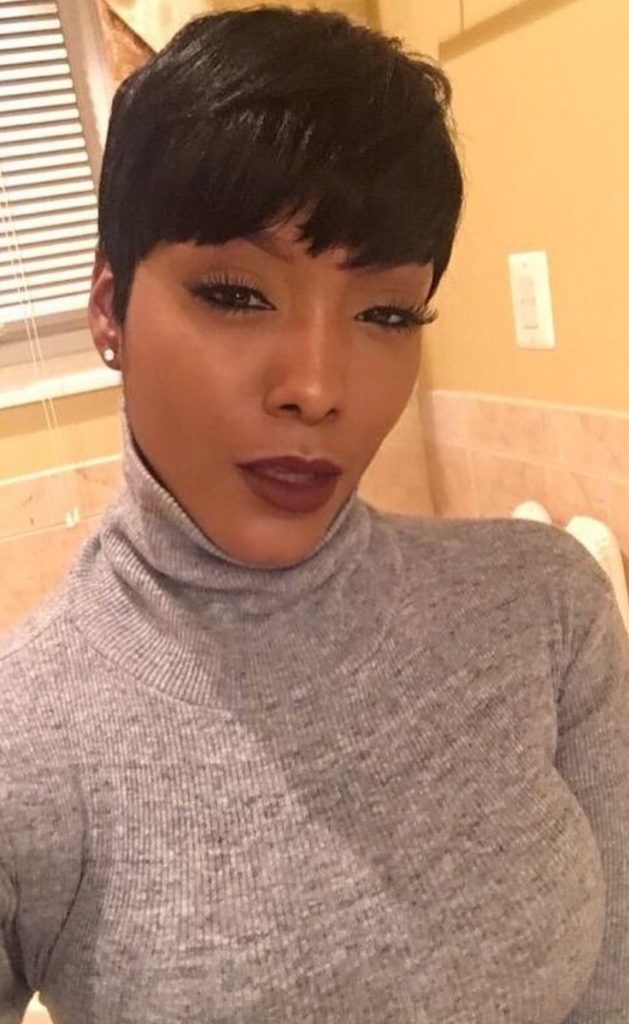 #39 The Wings of Phoenix
Even an ordinary bob haircut can transform into something entirely new and amazing. This design shows us a bob hairdo in a totally unexpected colour solution. The layers of the hair are died in red and orange and it resembles the wings of the fire bird. It looks as if the lock are radiating with fire. The image with such a style will become truly unforgettable.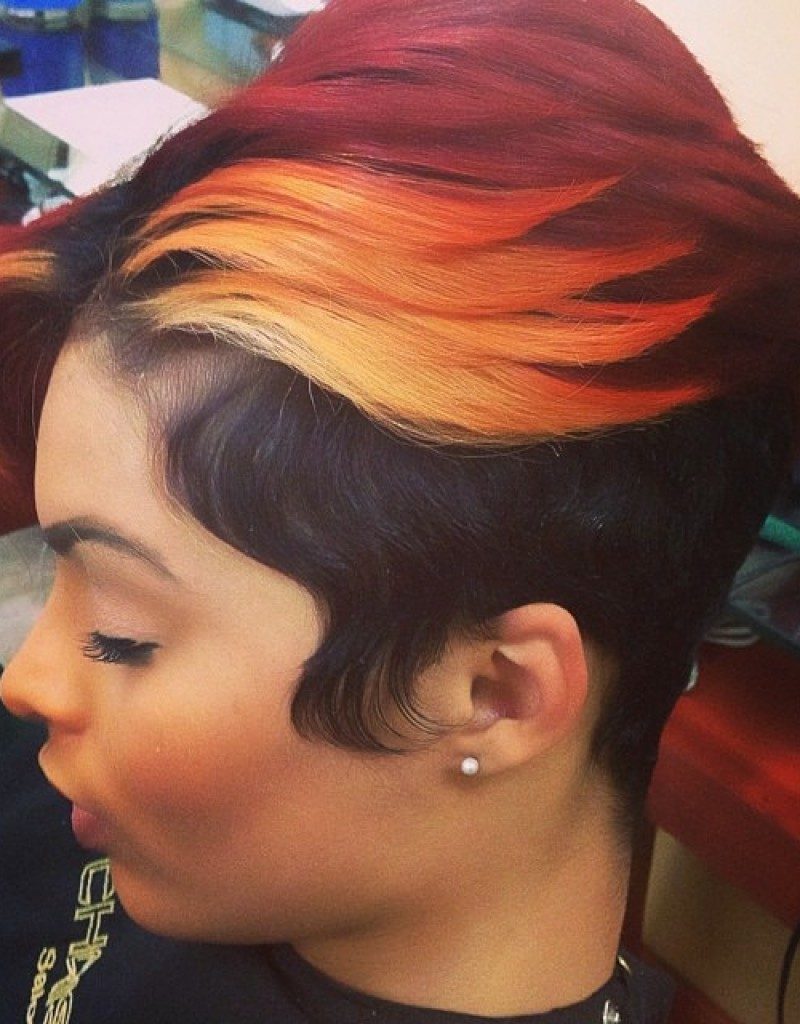 #40 Cork Curls
Due to natural grow of the hair curls can be organized in various shapes and designs. This hairdo can boast with an unusual tiny hair curls which resemble miniature cork screws. They look rather attractive and simple simultaneously. The curls are not extremely care demanding: regular washing of the hair and drying with medium hot hair will be enough to maintain it in order.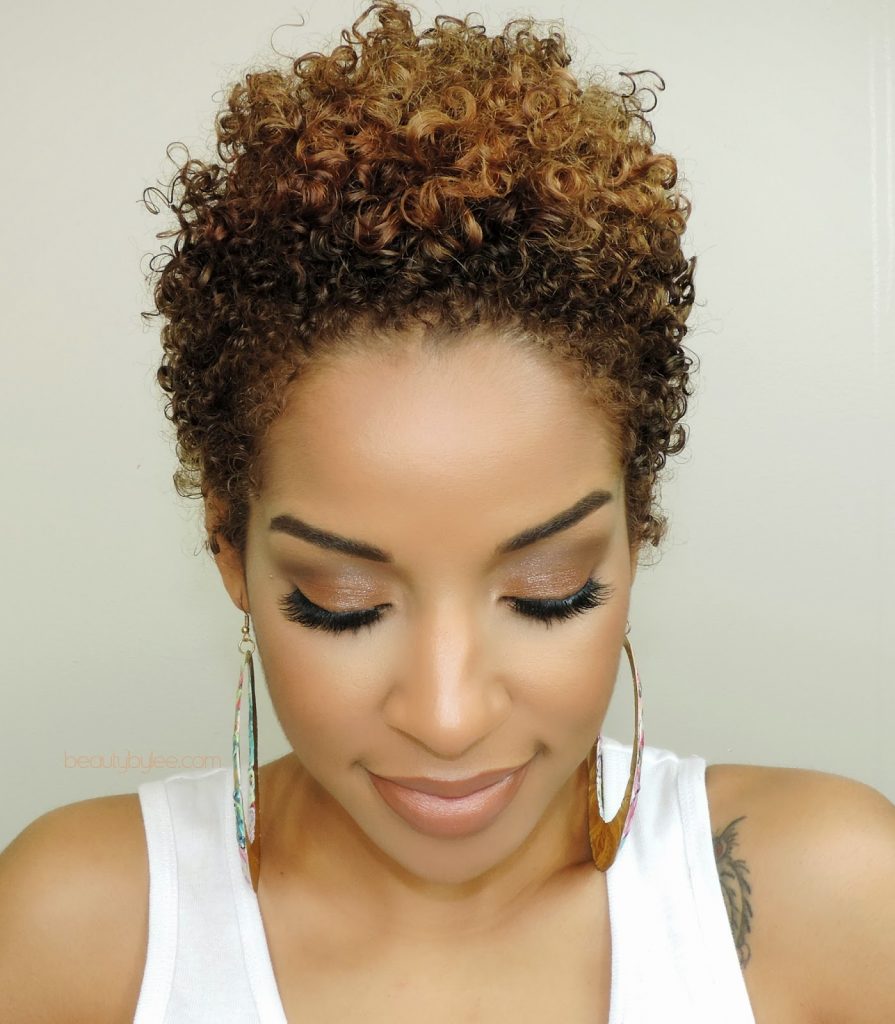 #41 Slick and Wavy Black Bob
This is a tremendous bob hairstyle. It is composed of a slick and wavy halves. This hairdo is originated form French model salons and combines two styles in one contemporary strict look and wavy locks which are combined into a totally original image. Such a style will be a gorgeous option for some parties and other events where a girl must look luxurious.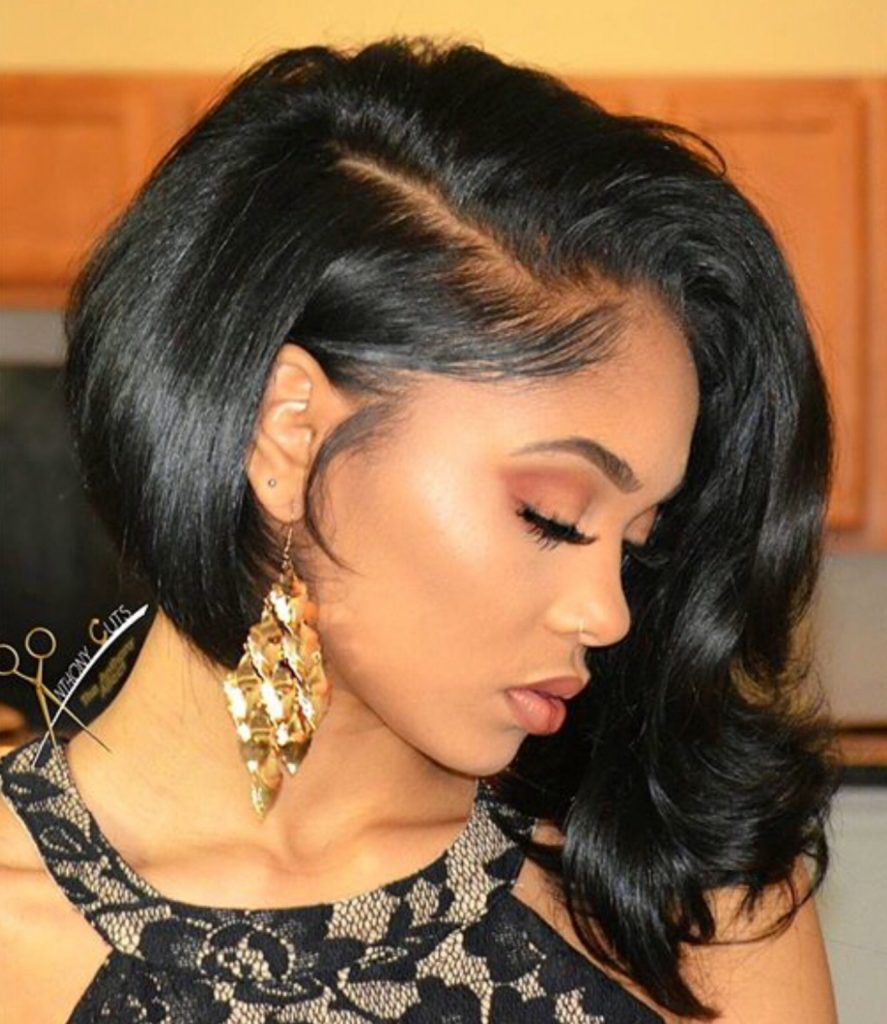 #42 Extremely Short Afro
It's hard to believe that, but it's also an afro style haircut although very short. If you are brave enough for a short hairstyle, you can take a chance to try this option out as it will make you look amazing as never before. Short is currently in trend and short afro can be considered double fashionable. However, one should pay attention to the point that afro looks better on oval and round shapes of faces.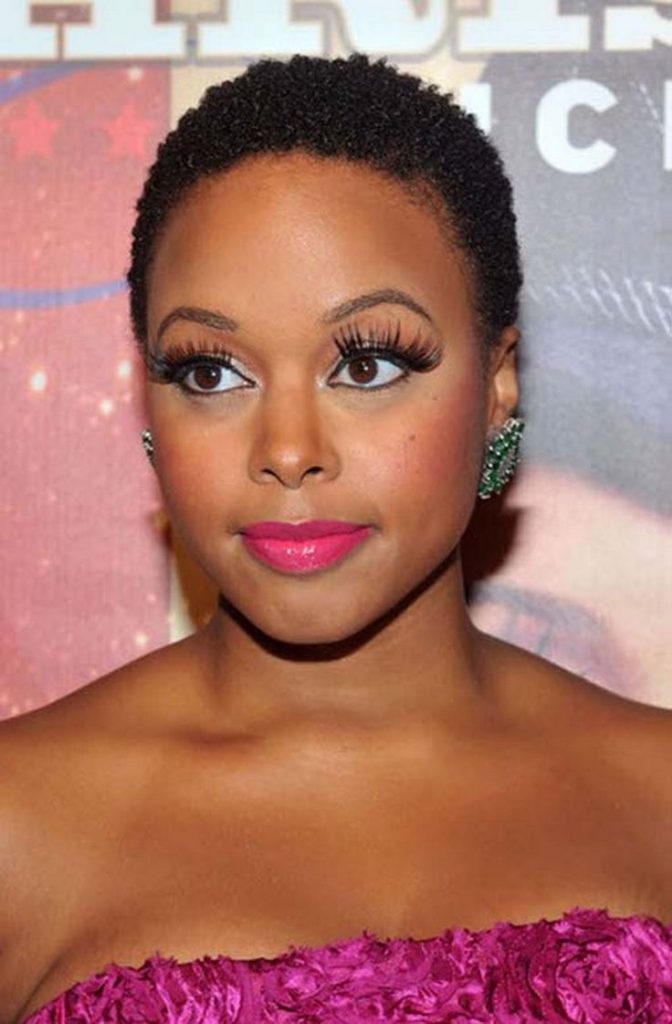 #43 Asymmetrical One Side Bob
Asymmetrical hairdos are really something special. They look like two designs in one. The first one looks like a simple long bob haircut with sweeps, while the second one is a long wing the covers the entire half of face adding mysteriously charming look for the owner. Try out this unusual hair do to see if it is the style that you were looking for.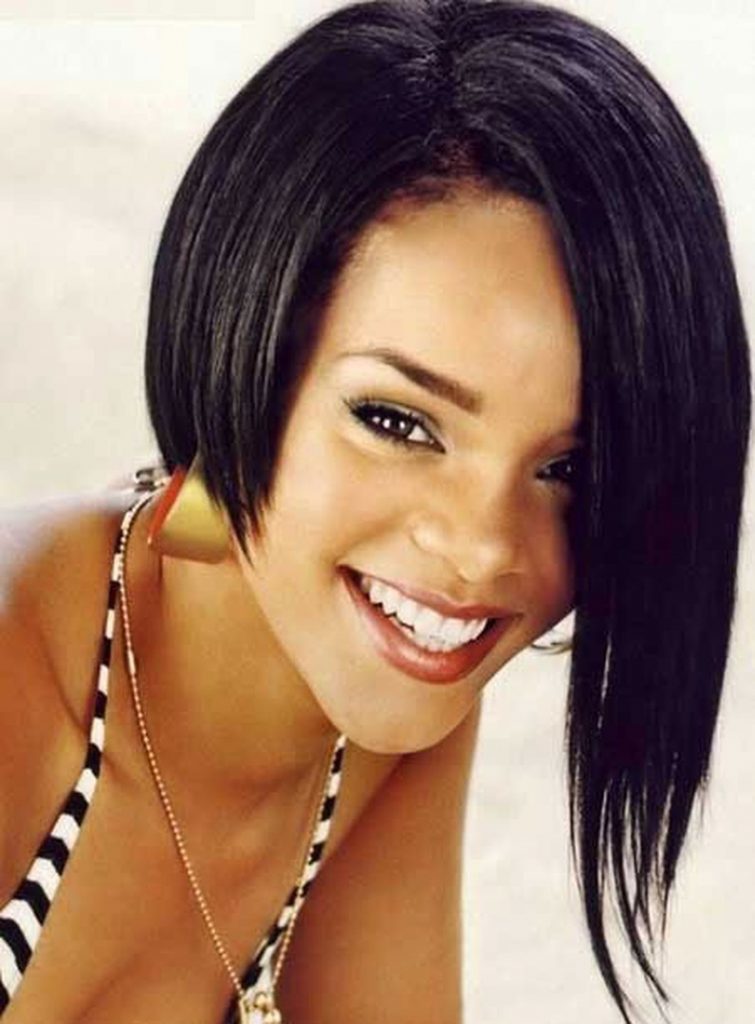 #44 Brand New Afro Undercut
This is a fine combination of two types of hair design. The first one is represented by a traditional curly afro hair that has got native roots and fine modern undercut design with almost shaved temples, which stands for a contemporary style. It matches all types of hair both thick and thin. The only condition is curliness of locks.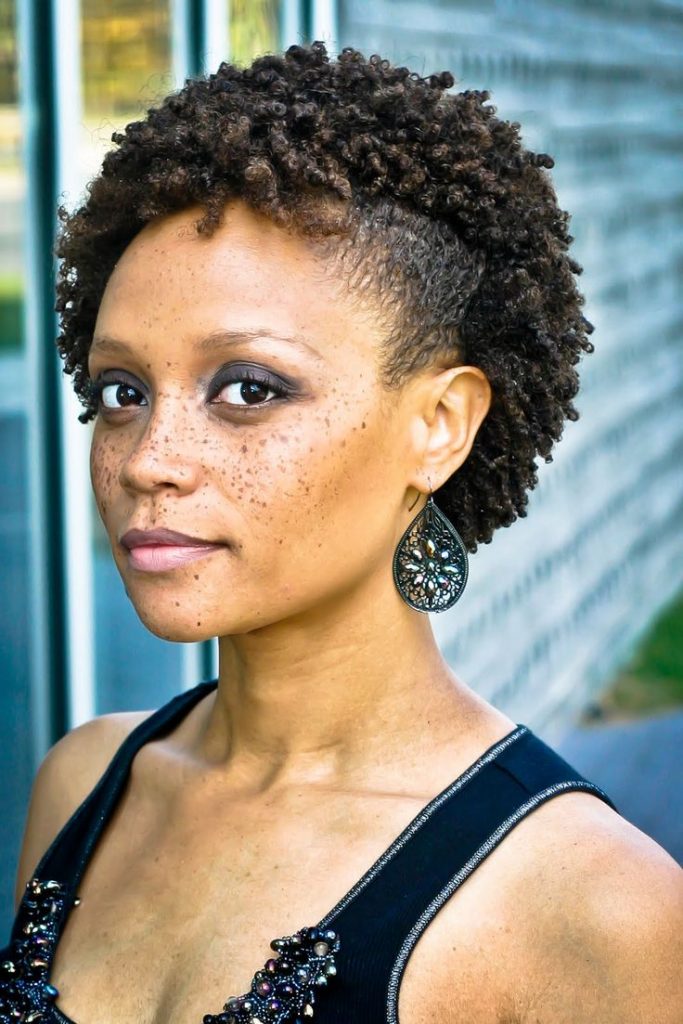 #45 Braided High Top Look
This plated haircut is organized by means of braids. It requires a decent length of hair to obtain an opportunity to sculpt the plates. They are necessary to form a spiral for this haircut. This model is an excellent choice of a stylish modern woman who wants to change something in her style and transform it into totally new look.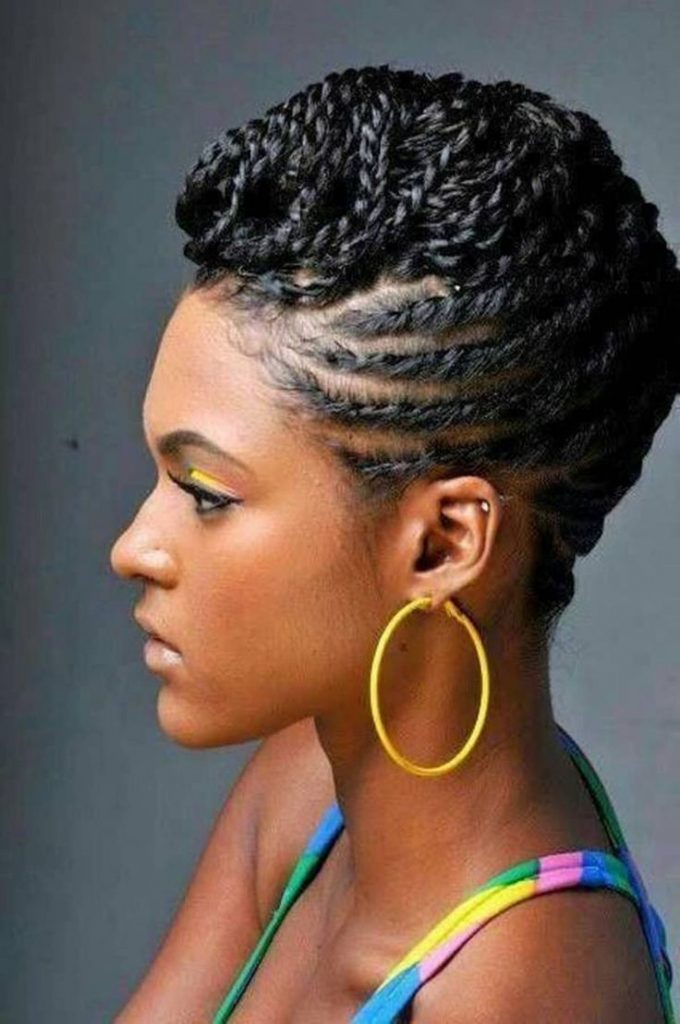 #46 Super Short Cut
This close cut style is a superb option for a person that is not afraid of the experiments on herself. It might be scary to cut one's hair to such an unusual short length, though if you have a round face and dark complexion this hairdo will do the business. It will underline the perfect shape of your skull and make it a beautiful stylish accent. The latest fashion shows have demonstrated plenty of short haired models who had a great success on the stage.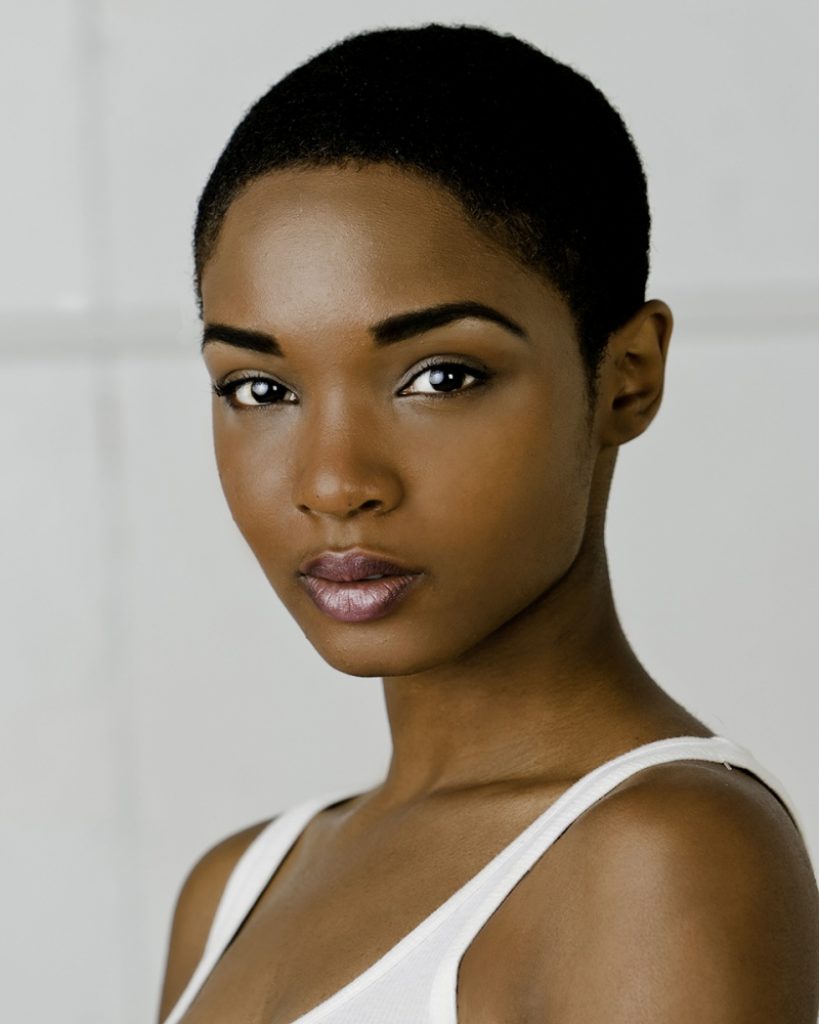 #47 Small Curls Business Style
This variant of short curl hairdo is an excellent option for a modern business lady. It creates an image of a neat lady who takes care of herself in every detail. The hair doesn't look strict, but it definitely looks appealing with its positive looking curls which attract the attention of the people around. This model is an excellent time saving option for busy women.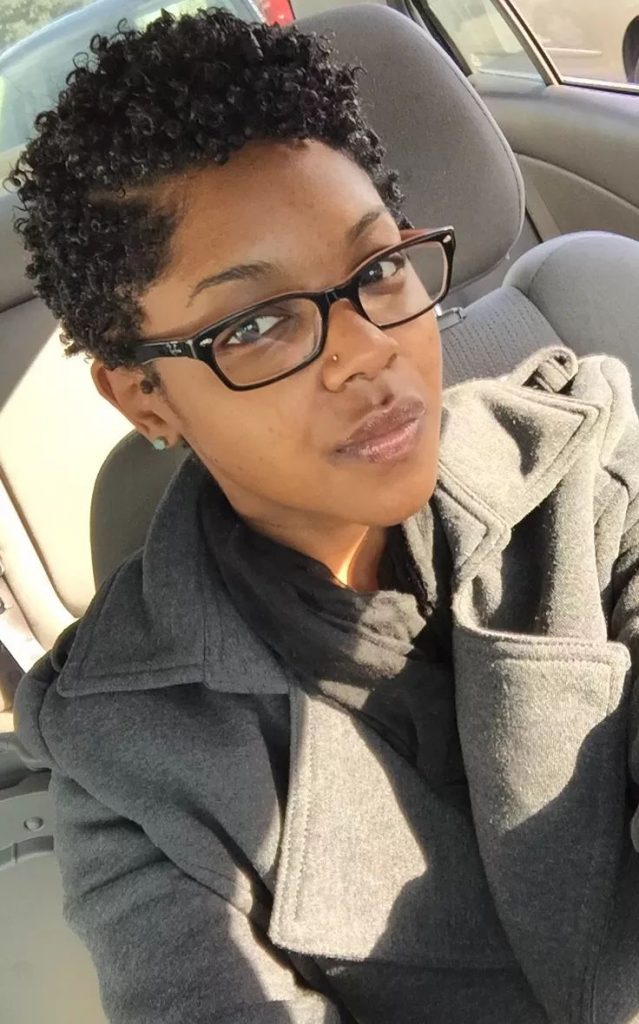 #48 Legendary Graded Bob Style
This levelled layered bob hair design is highly recommended solution for many black women. It grants a strong emphasis on cheek bones, eyes and chine as it creates an illusion of a frame or counter that forms a special type of accent. It looks more attractive than a standard bob for women whose faces are oval or almost round. It is an excellent option for a romantic woman and there are plenty of celebs who prefer this hairdo.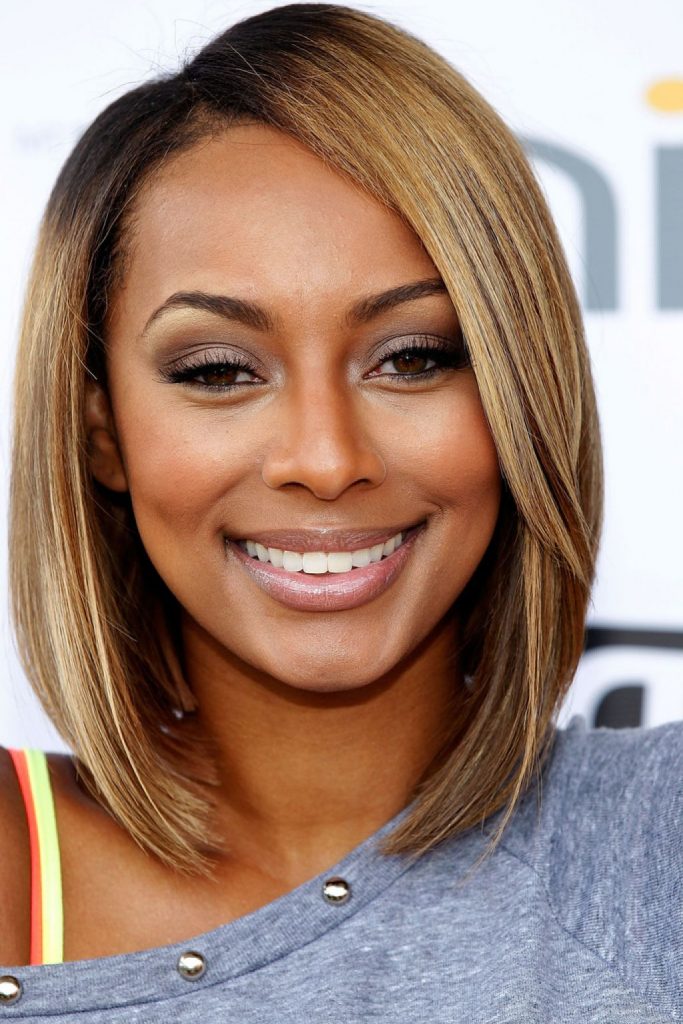 #49 High Braided Bun
A hair bun can be made not only of straight hair, but also of plates. Here we have a nice example of the case where braids are intertwined to form a fine looking high bun. It is considered a rather elegant cute stylish element of a lady's fashion and it really does add a gorgeous feminine look for a woman. It seems that she is on her way to some Cinderella ball.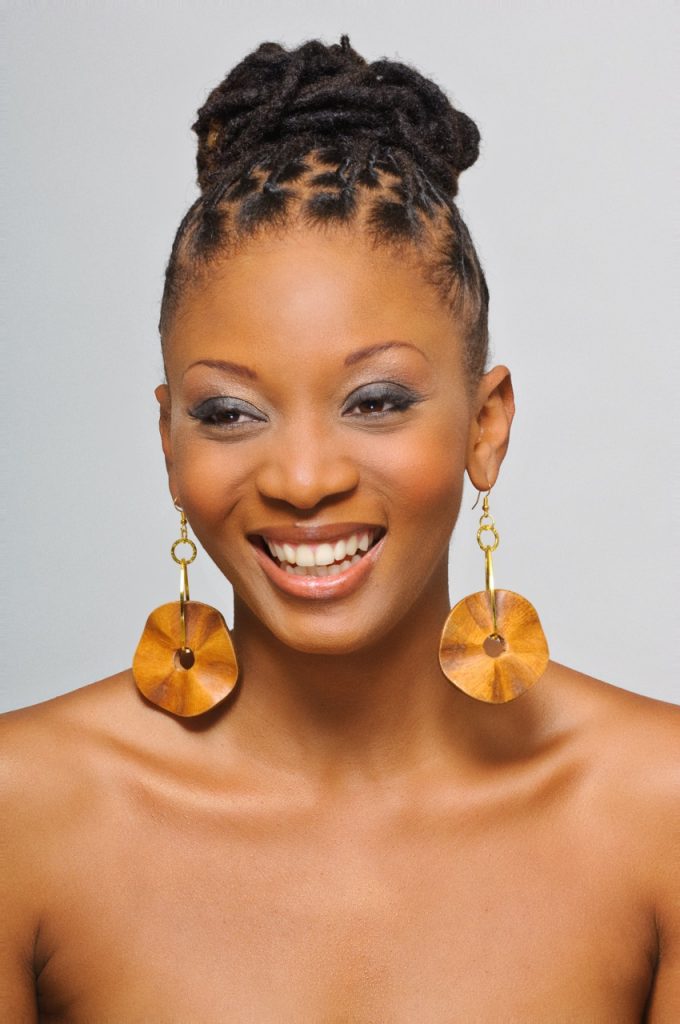 #50 One Side Sweep Bob
This hairstyle is a splendid choice for a modern business woman, mother and just a pretty lady. Half of the hair is brushed backwards and the front fringe is additionally brushed to achieve a greater level of volume. It looks so classy and top fashion looking that it is really hard to resist the charm that will come out from the owner of the haircut.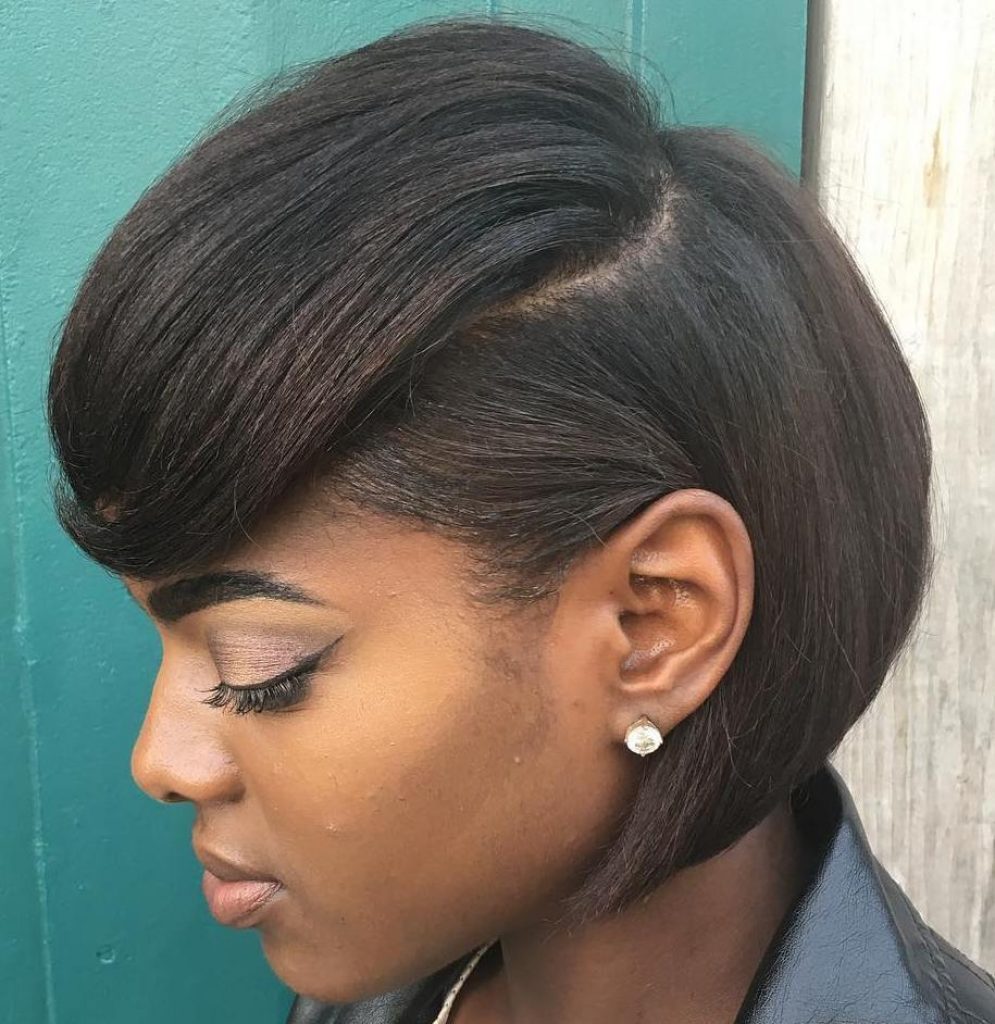 #51 Wavy Mohawk
This Mohawk hair design combines both modern and classic attributes of fashion design. The sides resemble the classic rock singer style and the top is formed with slightly waved locks which enhance an overall look of the wearer. It is an excellent choice for celebrating some unusual events and a woman with such a stylish hair décor will attract the eyes of many people.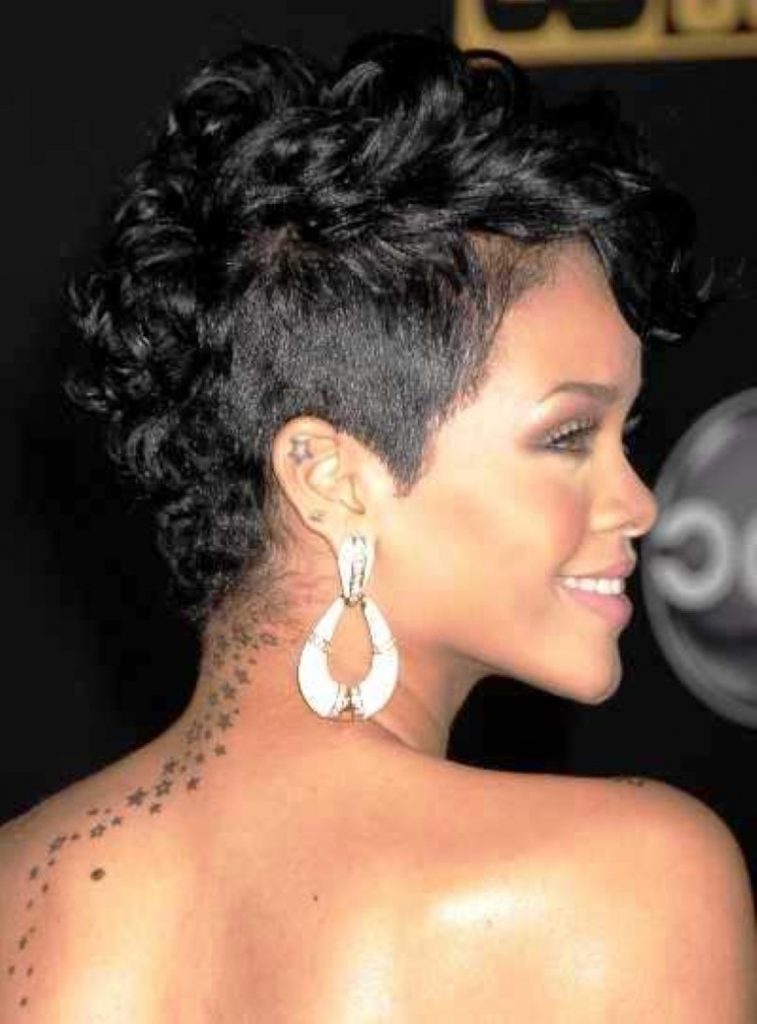 #52 Spring Style Mohawk
Tiny stylish spring will also look awesome when organized in a Mohawk. The bigger curls perform an excellent accent of the top of the head. They are perfect for the square and reversed triangle face types, as it will compensate the flat top of the crown of the owner and add some volume to the haircut. It would be a real surprise to see how sensual the curly style is.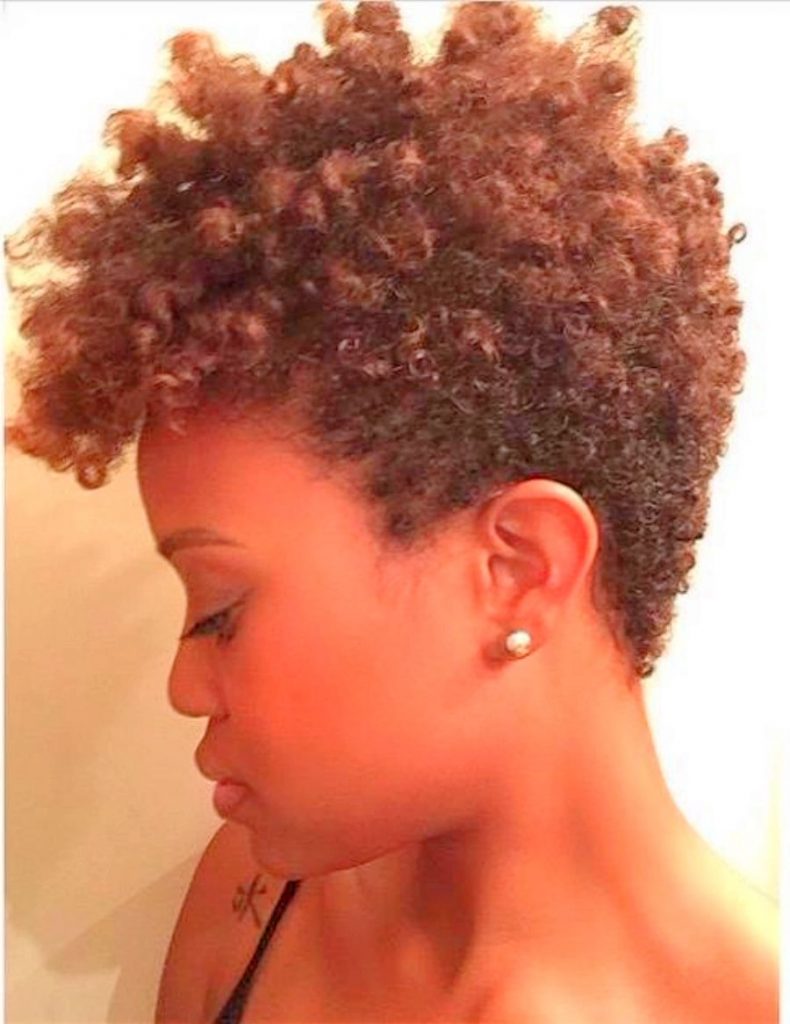 #53 High Formed Waves
This hair type can be made of wavy hairs of various length. The waves are necessary to be organized in a high level volume for a design. It is both classical and modern looking option for a serious lady. It is suitable for oval faces in particular. The classic air that flies around the woman will create an elegant look that emphasizes all the positive features of the owner.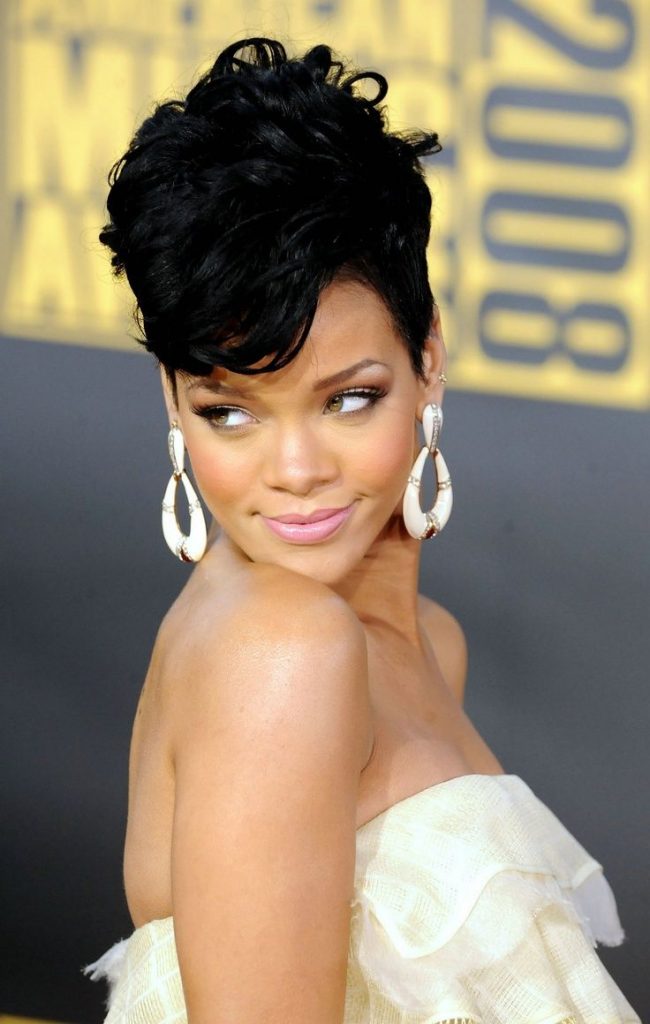 #54 Standard Bob with a Sweep
This hair design can be a splendid option for a fine African lady. It underlines all gentle features of a woman and grants an illuminating halo around the face with the help of luxuriously shaped image. One side is slightly longer to change the proportions of the face shape. It will look rather attractive for all occasions which require a smart look of the owner.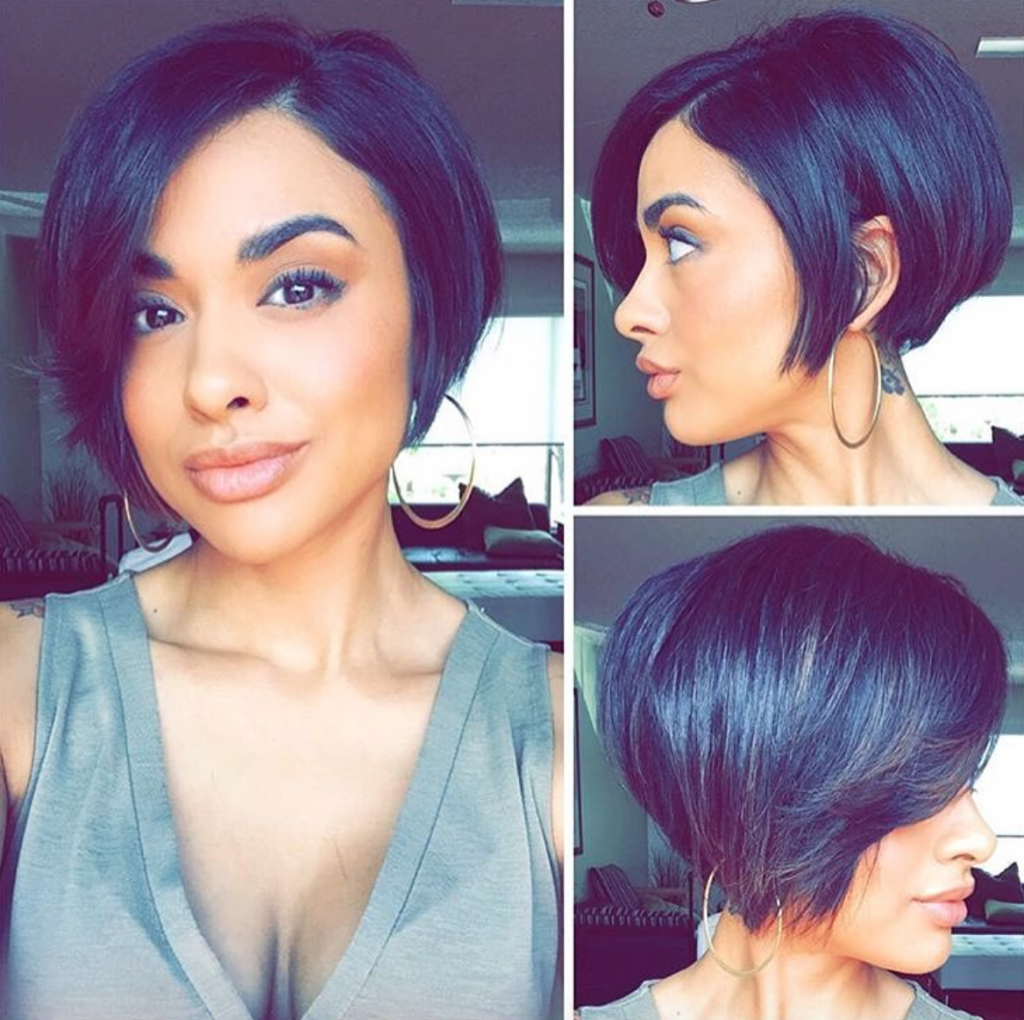 #55 Rising Wavy Pompadour
This hairstyle is a fine reminder of old times when such hair design was trendy. However, as people say, fashion is cyclical and returns every few years. This high pompadour is formed via wavy hair on both top and sides. It will excellently accompany any type of attire you decide to wear and provide you with an extra charming look.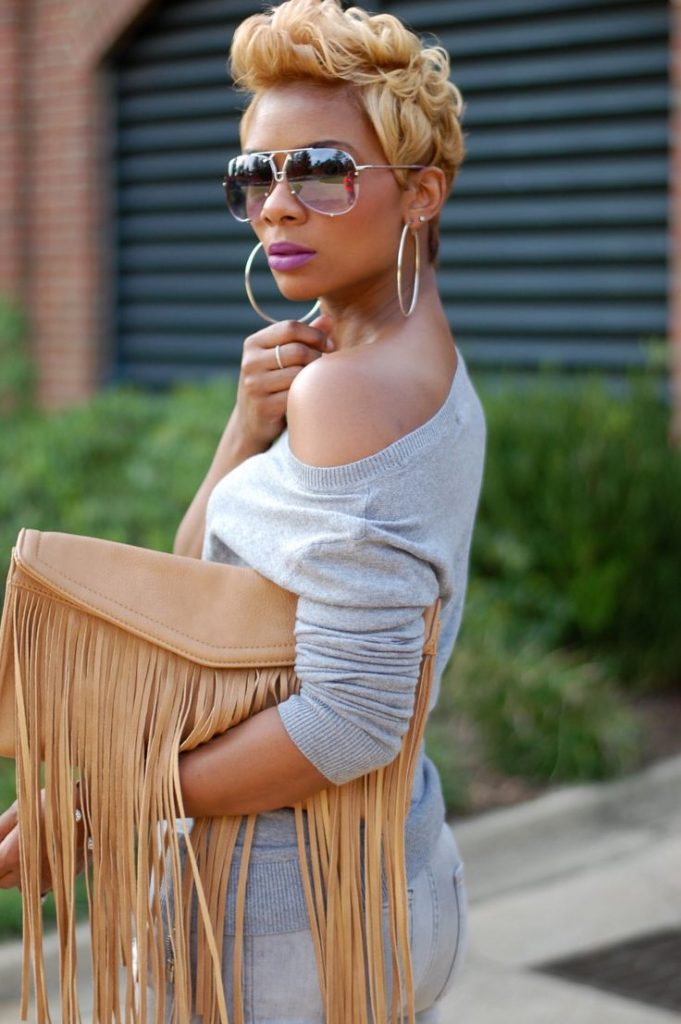 #56 Dreadlock Style
Dreadlocks are very practical and stylish way of organizing one's hair. You'll require some patience to obtain this fine hairstyle. However, after some hours of work you'll obtain a fine style that will last for several weeks with minimal attendance required. The dreadlock can be easily washed and cleaned and they are not afraid of wind, rain or other weather conditions. Some ribbons can be plated to grant an extra style.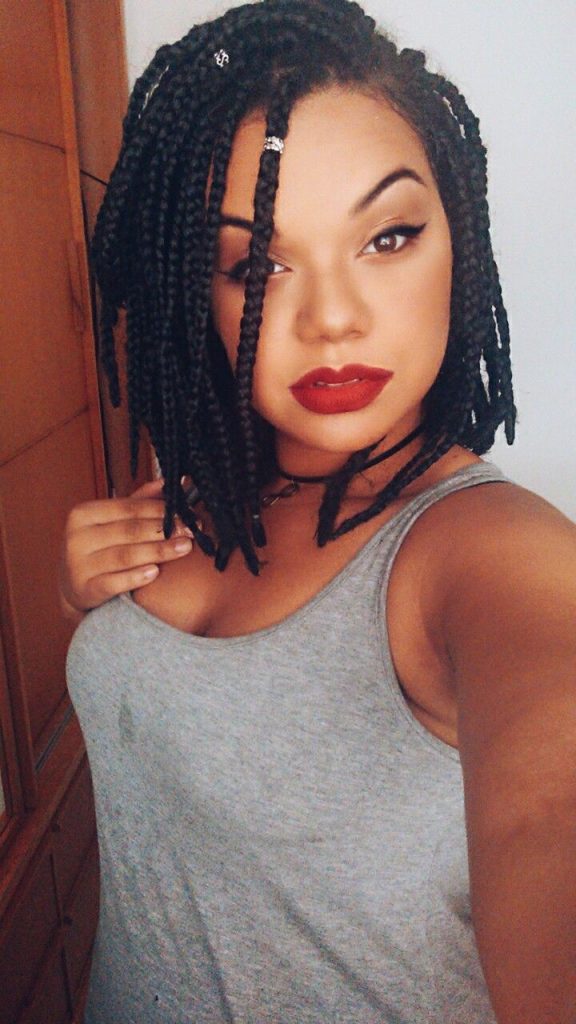 #57 Pixie with a Fringe
This haircut adds a stylish tomboyish look. It is a pixie style with a long fringe that covers the forehead. It provides a really sensual and sexual look to the owner. The sides are cut short on purpose to give an accent to the crown with a greater amount of hair. This brushed fringe and charming glance of a lady will be a fine combination to astonish everyone around.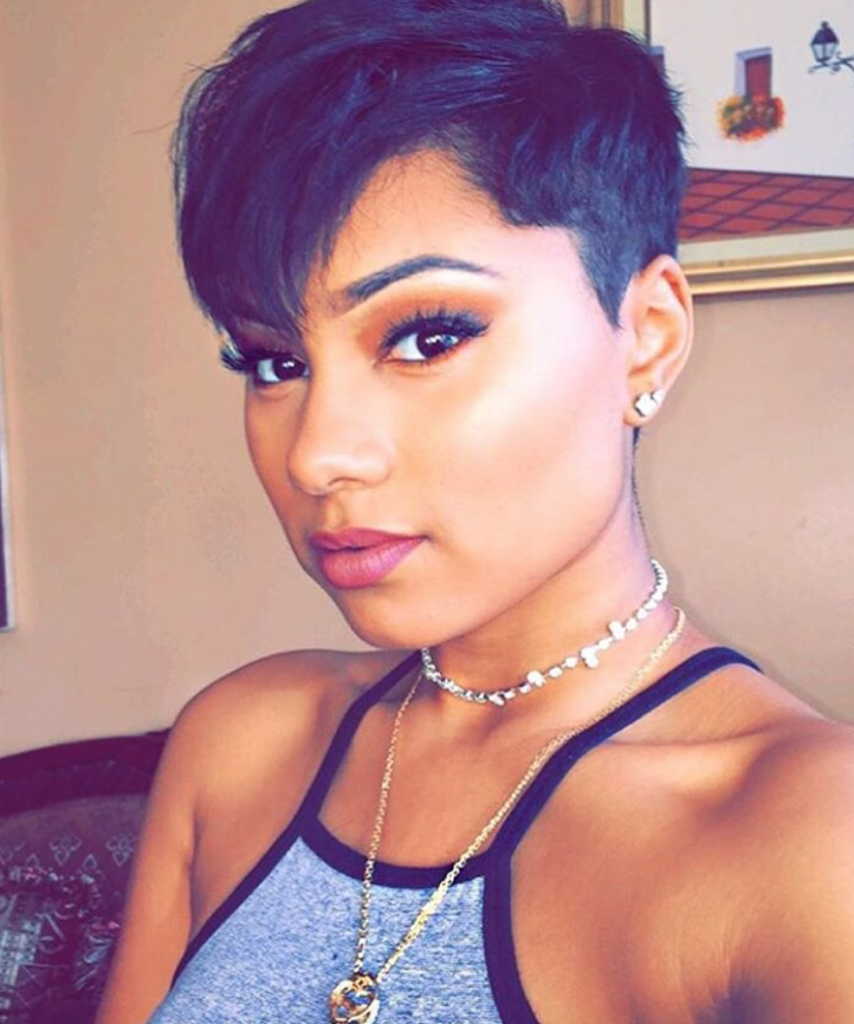 #58 Mini Afro Style
Afro is one of the most popular ethnic haircuts among black people. It is not only a natural manner of hair growth, but also a good reminder of rich history of the race. Here we've got an average formed afro haircut that is slightly touching the ears and primarily concentrated on top of the head. It created a stylish and elegant look that will be marvellously accompanied by a gorgeous evening dress.
#59 Spiky Undercut
If you prefer short hair solutions, then this option might be quite attractive for you. The oval face is enframed with undercut sides which grant a splendid new look to an oval chocolate coloured face. The spiky mess on the top of the crown creates an attractive look of a creative personality. In general spiky hair characterizes sexy ladies who are pretty confident about themselves.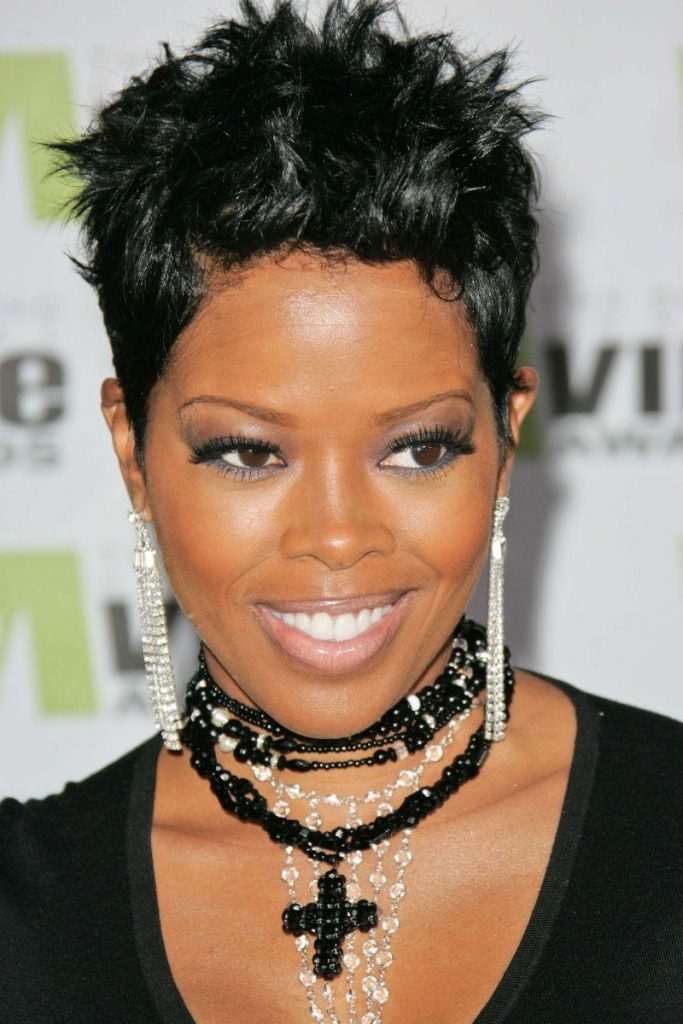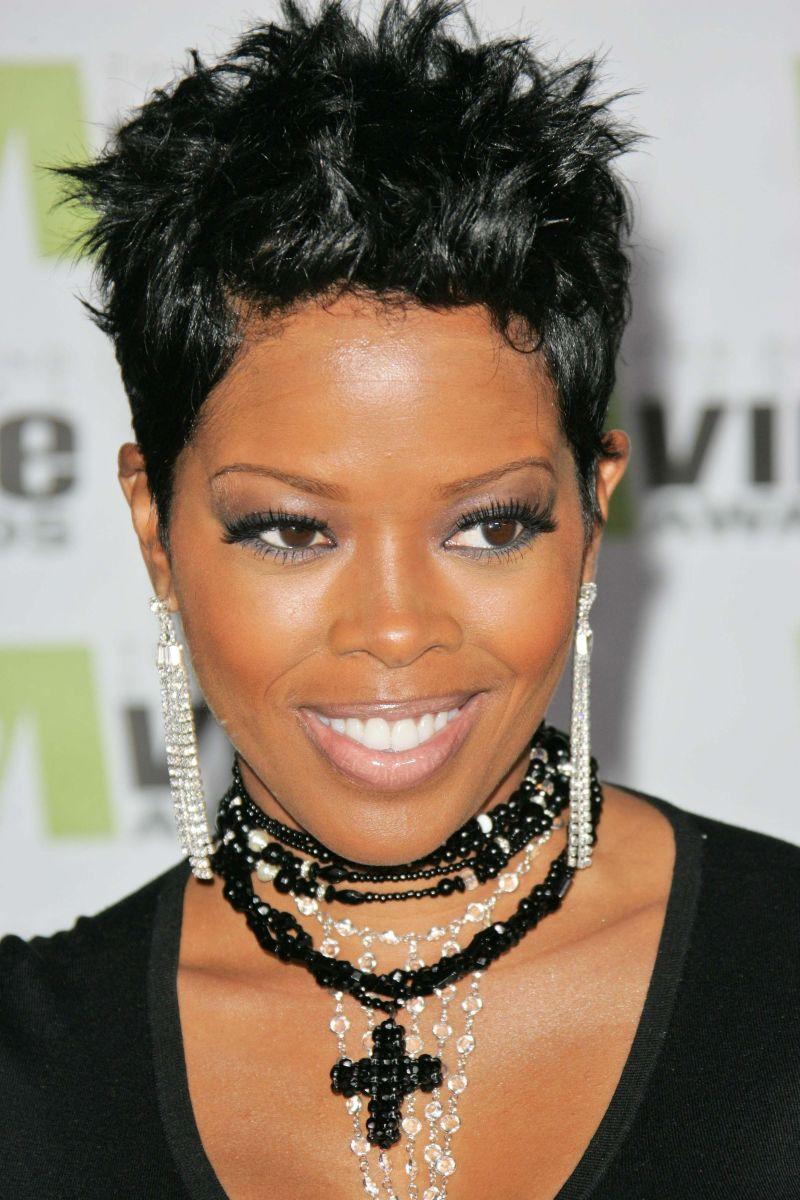 #60 Square Platform
This hairstyle is an excellent option for an attractive hair design. In this case we've got a short undercut at the edges and a fine spiky lawn platform that is organized on the top by means of fixating gel. It would match an oval face as it slightly provides a visual change of the head shape adding new square features. Such a hairstyle looks quite contemporary in modern high tech epoch without losing feminine charm.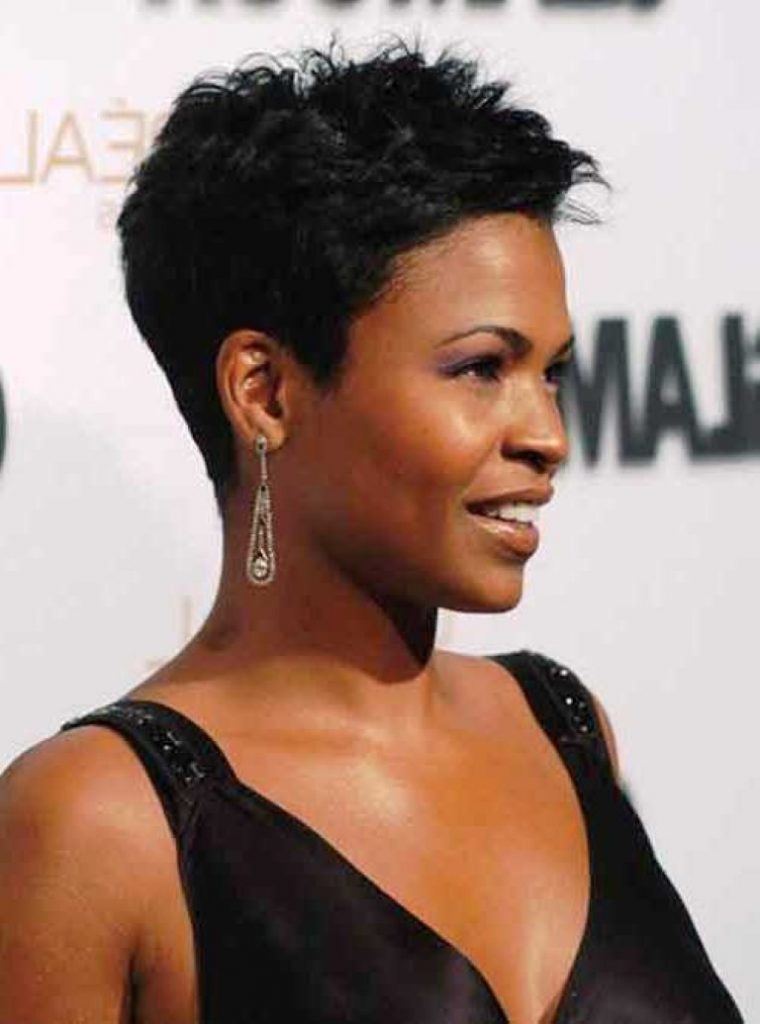 #61 Total Curly Mess
Mess on the head is in trend. It is a pure reflection of energy and will power. This fine hairstyle won't be a problem for many afro women whose hair is originally curled. The hair needs some simple enhancement for such a wonderful shape. Overall, this look is very simple to acquire and will be a fine casual style acquisition for everyday wear.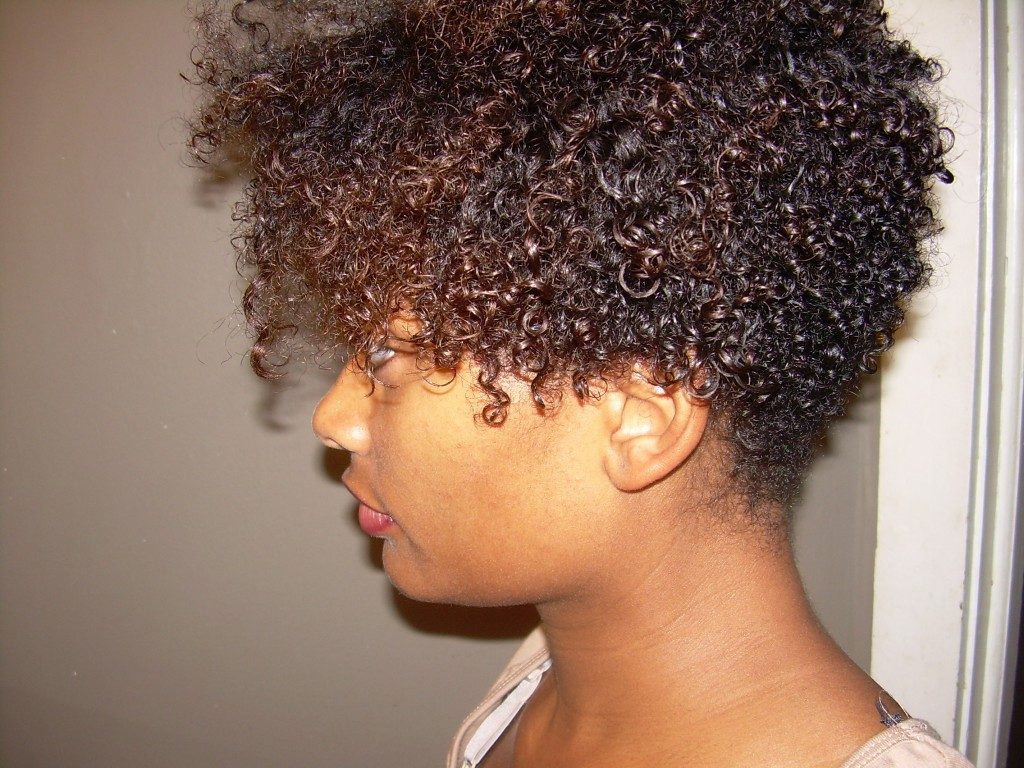 #62 Short Box Braids
Although this hairstyle takes plenty of time to be finally done it is worth hours spent on it. The braids are both good for active rest and for party evening as they can preserve their shape and form for many weeks. It is very useful for long weekends when there will be a problem to find a good stylist on some distant island. The braids can be organized in any popular hairdo like this one in a shape of a long bob haircut.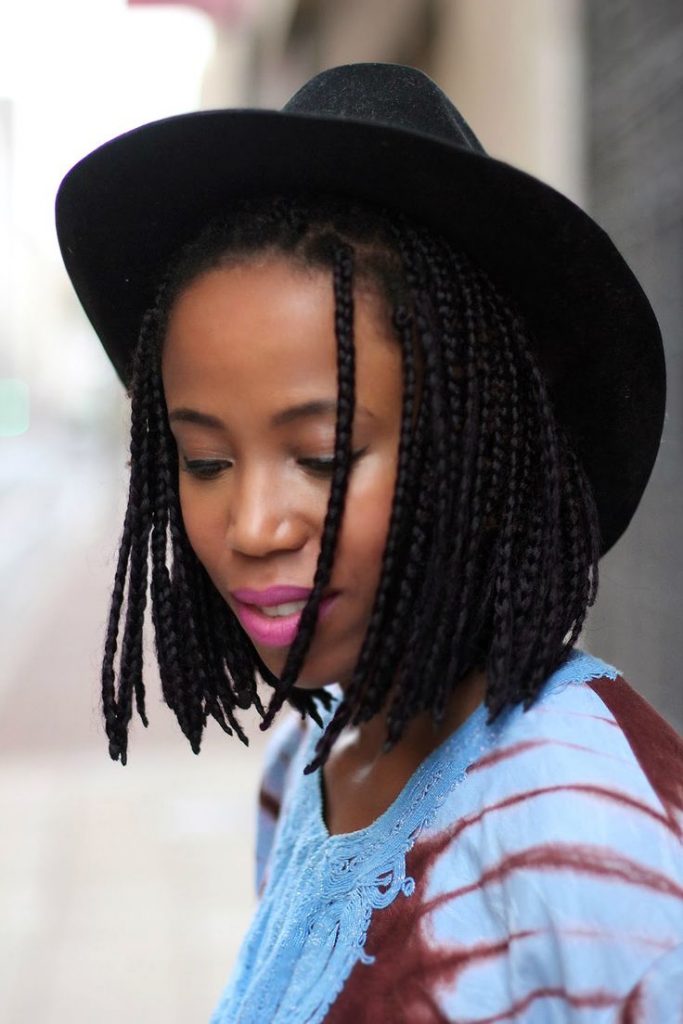 #63 Top Curled Style
This is a variant of a curly hat that is formed mainly with the help of scissors. This hairdo requires a natural curliness that is characteristic for black women. Such a hairdo can also be achieved by applying the perm. It will add some playfulness to the look and will be a nice stylish attribute of a confident woman. All these tiny little curls are very good looking if they are contrasted with a complexion.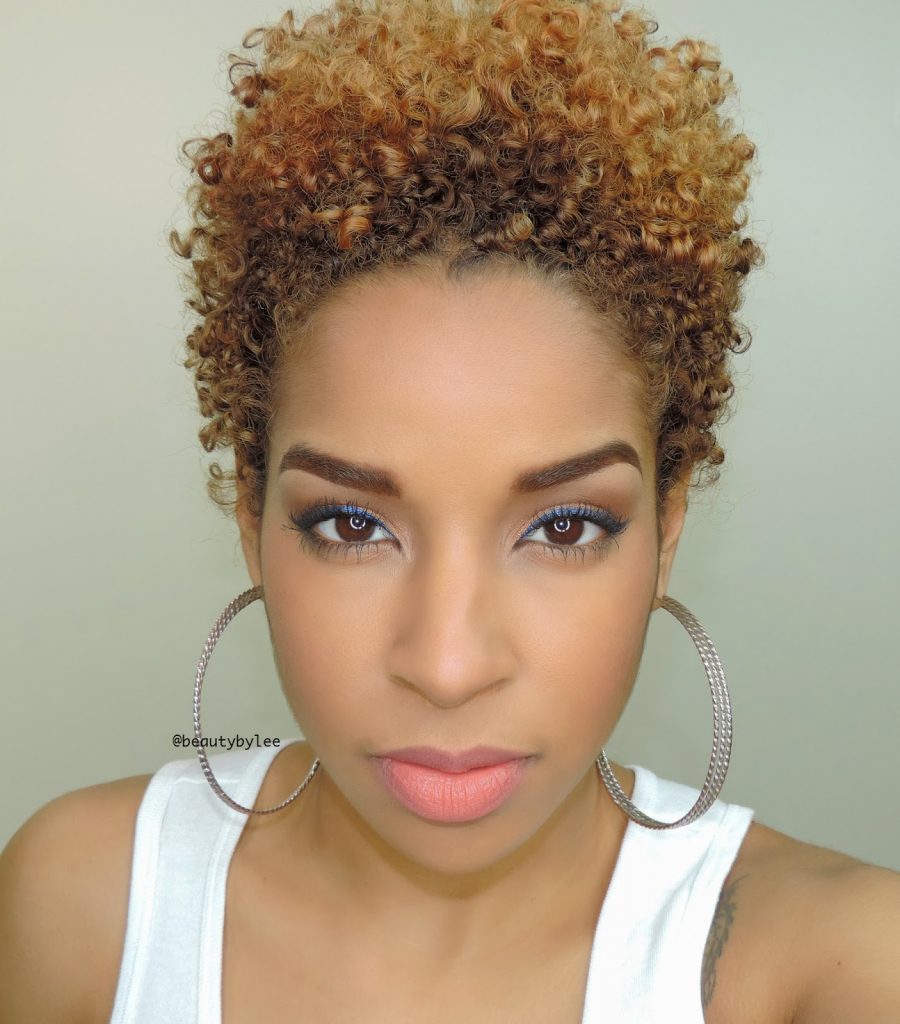 #64 Parted Chin Length Bob Curls
Curls can be applied for almost any type of hairdo and bob is not an exception. Curls parted aside to frame the face in a beautifully designed haicut. It would be an excellent acquisition for oval faced damsels who want to emphasise their peculiar features. In general, the correctly organized curls would become as a fine fashionable accessory that will benefit any woman.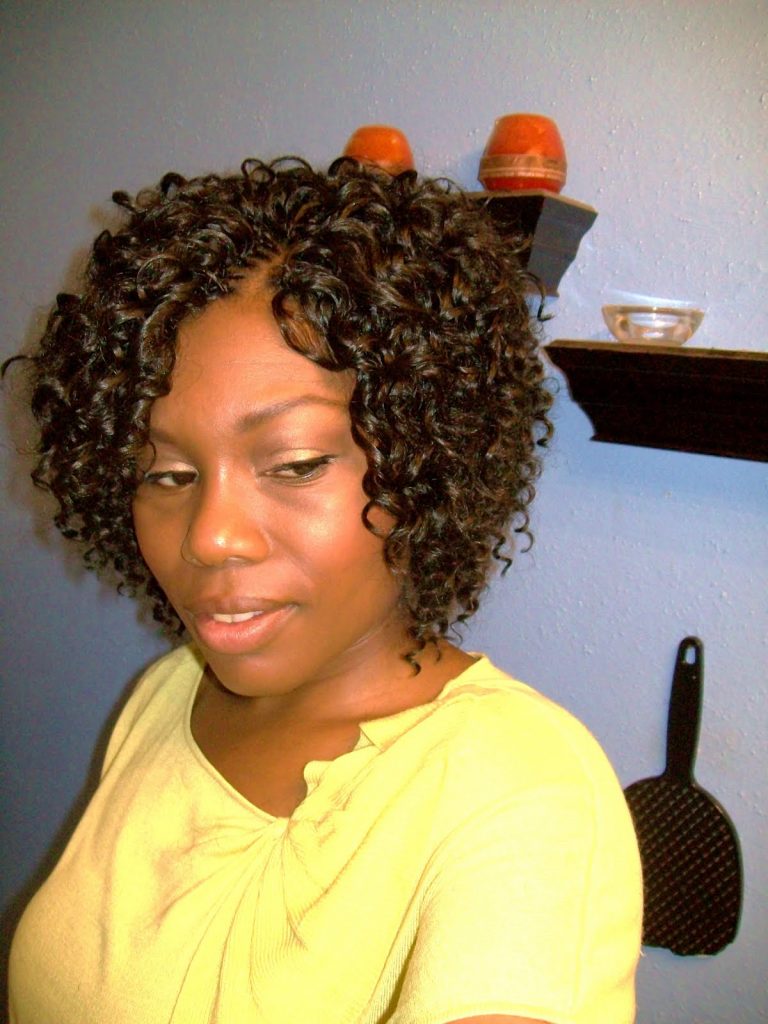 #65 So Many Options to Choose
Ladies if you are eager to change something in your look, there are plenty of ways to do it with the help of a single visit to a professional designer. There are different variants depending on the type of hair such as short curly bob haircut, long wavy bob, brushed back undercut and many, many other designs which can help you in releasing your full inner feminine potential. The below models show you the vast opportunities of style changes that you may possess.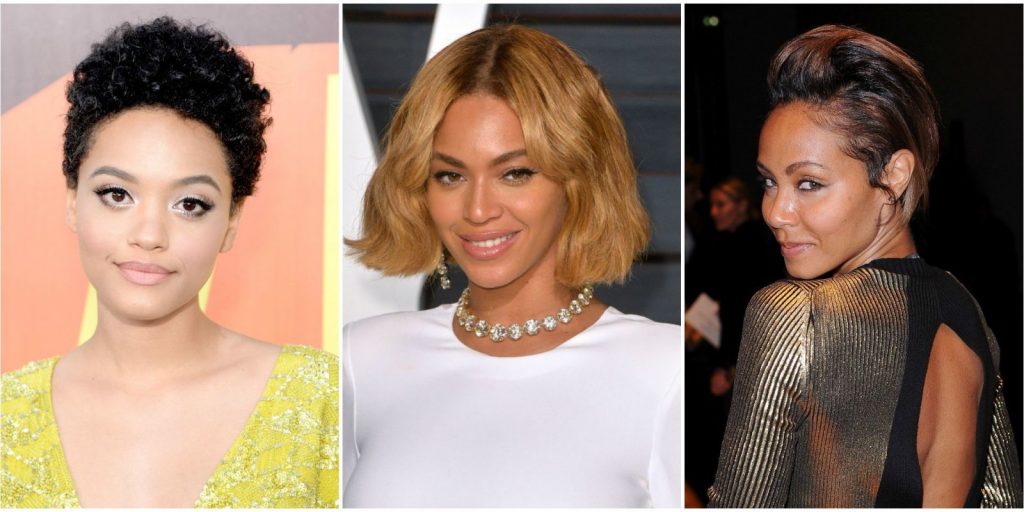 #66 Short Springs Style
Curls are universal beautiful hair accessories. Those women who were lucky to be born with curly hair can afford having wonderful wavy hairstyles. There are women who have got curls only at the ruts of the hair and it causes plenty of problems while brushing in the morning when the hair is dry. This short style can become an excellent option to preserve your curls and grant them fine aesthetic look.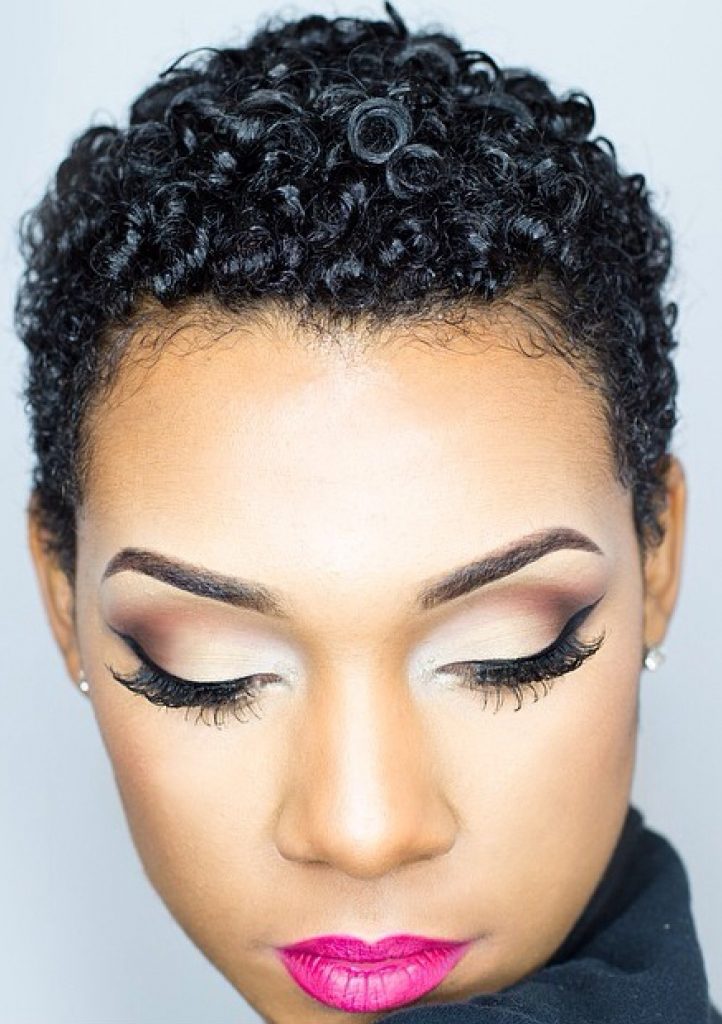 #67 Ear Length Bob Brushed to the Left
Bobs are excellent haircuts for oval faces. The total length of the hair is not trimmed a lot and is brushed to the right in fine layers to add some shape to the volume. This short hairdo is very popular among women as it is very simple in organizing and you won't have to spend much time to wash the hair and fixate it with chemistry that doesn't have positive influence on the structure of your hair.
#68 Short Tomboy Haircut
If you got a thin dry hair and an oval face, then this short hairdo will be a nice option to pick. It will compensate the roundness of the face and smoothen the effect of plump cheeks. To avoid dull look one can add some bright elements like colorful locks to make you noticeable in any crowd of people. And still it will remain a practical hairstyle for any age.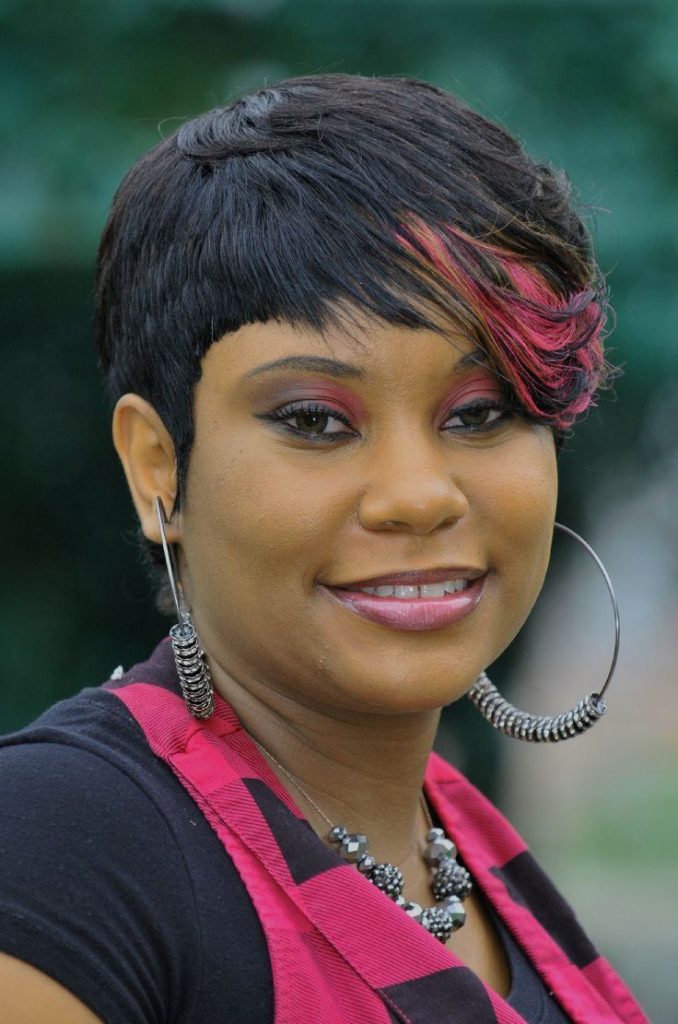 #69 Plated Formation with Shaved Sides
This can be an excellent opportunity to set long beautiful hair into something unusual. If you are tired of simple braids, this hairstyle can change everything. Yes, this hairstyle can be a little bit tricky, but it is definitely worth the time spent. As you can see it will become a large decoration of your image as all the hair will be transformed into a fashionable accessory that will always be with you.
#70 High Feminine Hairstyle
This is one of the most characteristic fashionable hairstyles. The hair of all shapes, length and types is matching for this style. It is fixated on the top of the crown like some kind of a tiara to grant a more imposing look. The hair can be curled to create an additional wavy effect and it will look even more gorgeous. The shapes of such a fine design will definitely attract the eyes of men around.