13 Braided Hairstyles for Short and Medium Sensational Natural Hair
When you have short or medium hair, there seem to be just few hairstyles you can wear. Well, that's not really true because there are lots of fresh ways to design hair using braids. As outstanding fashion houses utilize them in their recent collections, girls strive to add more braiding ideas to their beauty lists. With our website, all you have to do is read and look through 13 best braided hairstyles thoroughly selected by our specialists.
Before we actually proceed to the most curious part, make sure you can face such preconditions:
Your hair is short or medium (or you agree to chop it) and
You have passion for looking like a celebrity.
If you need a quick help for styling your hair really quickly, bear in mind such names as microbraids, braided buns, loose braids, fishtails and French braids.
Ok, let's go.
1# Braided crown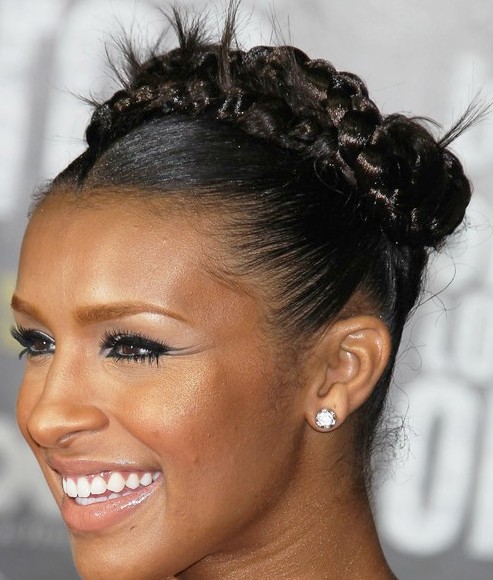 High buns always put a beneficial emphasis on women's perfect facial shape and a correct forehead. Still, ordinary buns or twists made of ponytails are so easy and boring. One small correction will contribute to a real makeover in hairdressing. How to create such a style? Make a central parting and plait two symmetric braids on both sides. Twist them to achieve such a lovely and magnetizing updo.
#2 Sorted out mess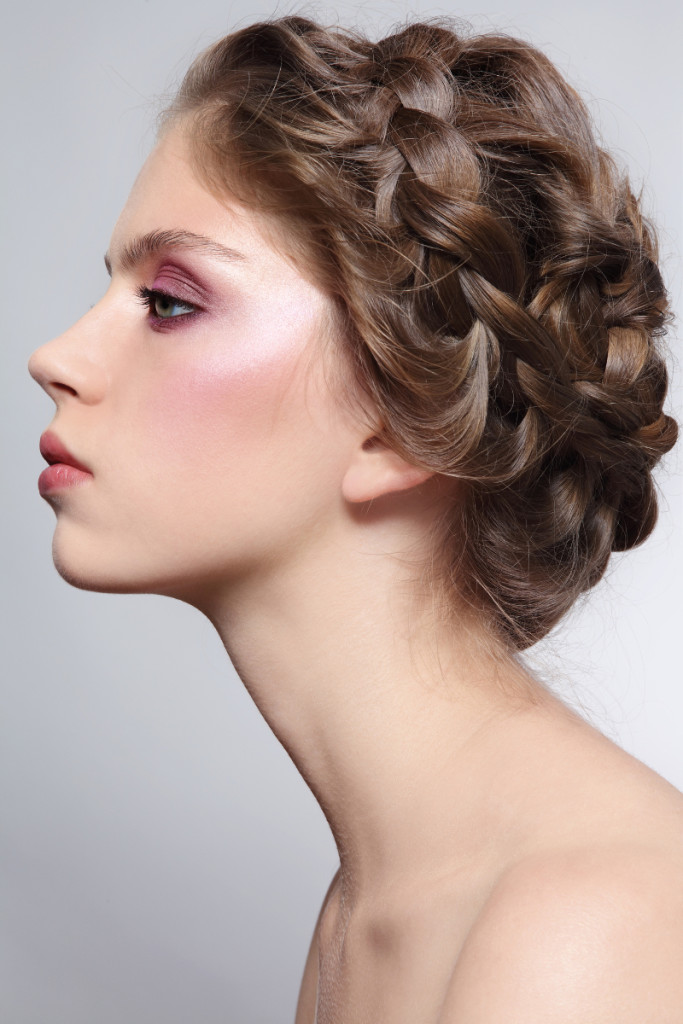 Even one loose plait can create an order on a wavy head. If casual is your preferred style but you struggle to look romantic and feminine, consider this one. Nobody will guess how long your hair is – all thanks to smart styling.
#3 Cornrows and upper puff

Black girls are lucky to have natural curly hair – well, they often face the issue of choosing from wearing braids or ringlets. This solution allows to get over with any need of making a choice. One wonderful combination of braids starting from roots and ending near the crown followed by puffy curls let us call this updo a universal approach. I can't think of any simpler way of arranging hair and spending little time on something as amazing as you see above.
#4 Tangled braids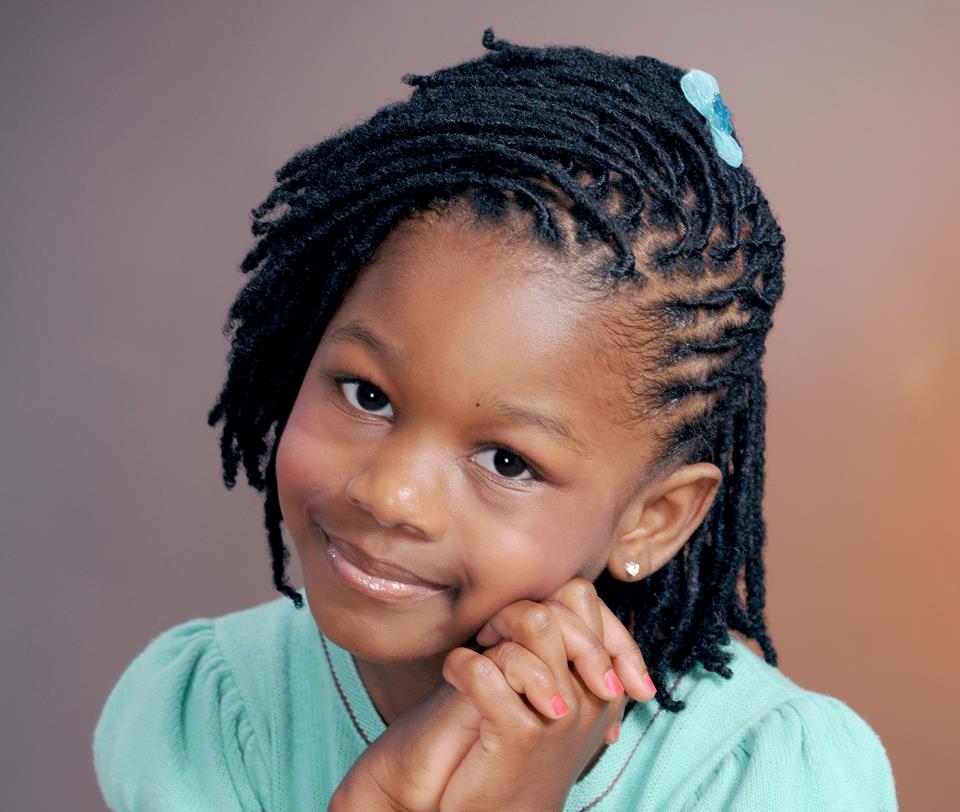 Your charming kid will grow up and might want to try some mohawk or halo styles but before it happens braid her hair in a childish way. May her head be studded with a bunch of small braids knotted at roots. While many adults choose to wear such hairdos, little girls look especially lovely with these solutions on their head.
#5 Perfect symmetry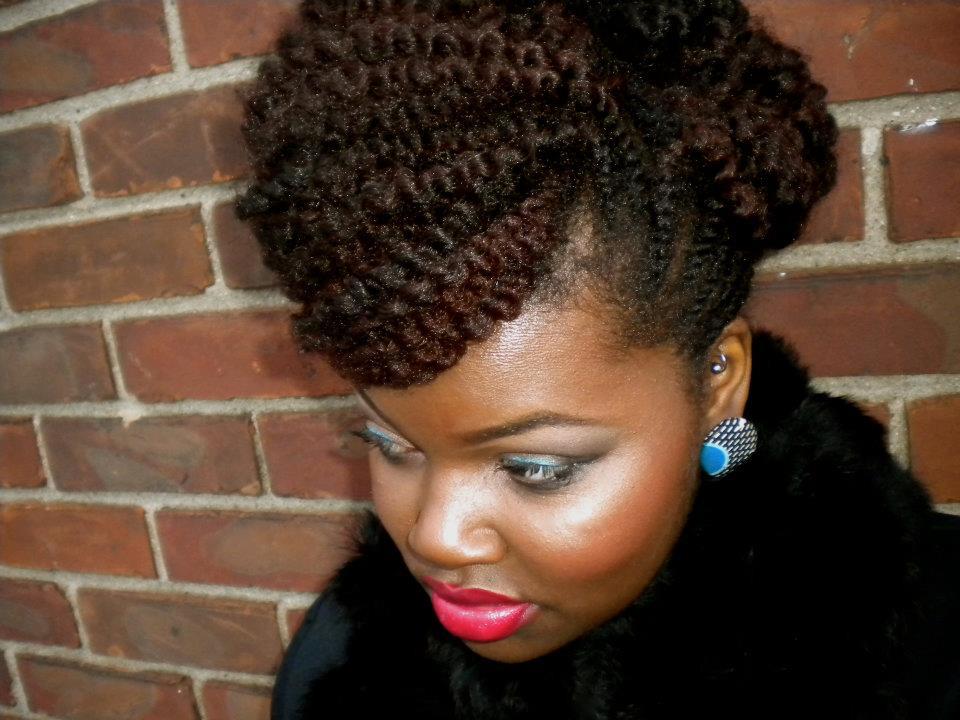 Puffy, thick hair may cause troubles when styling it unless its owners learn how to treat it properly. The image above shows how to reveal the best virtues of having heavy strands. Amazingly, it's really easy to create something of the kind. Just braid all your hair and leave it for a while. Then undo all the braids except 5 to 6 at your left temple. Visually separate all strands into 2 parts. Undo two-thirds of the remaining plaits and roll wavy hair to form two symmetric buns in the front and the back sides.
#6 Braids and Halo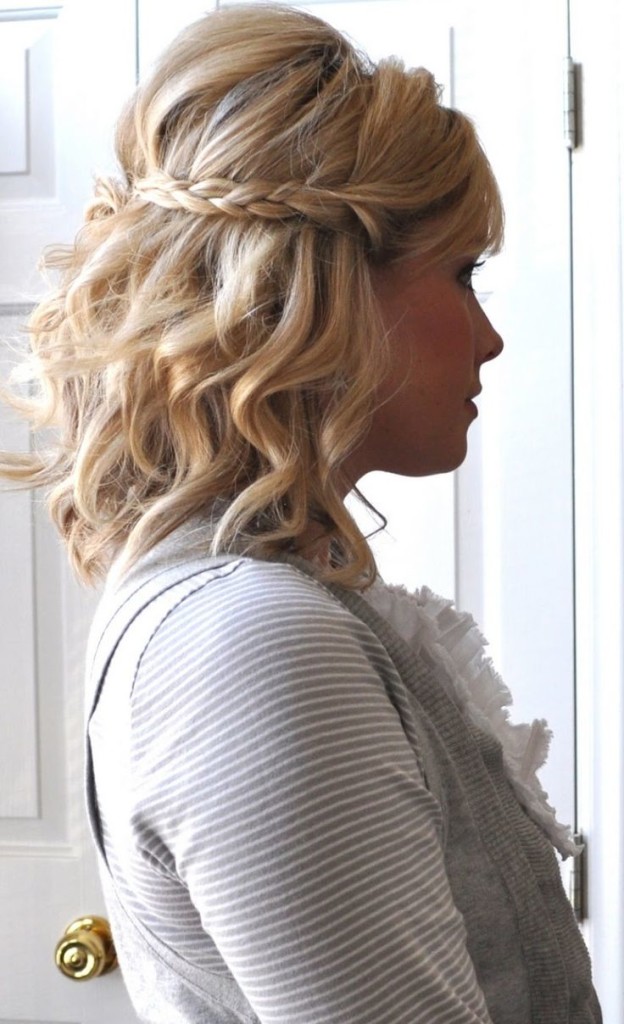 This hairstyle is in the bookmarks of many women wearing short hair. With a couple of simple actions, you can have the same hairstyle today. It suits any occasion – be it going to the movie or eating out with friends. French-braid your hair from temples towards the crown and secure it with a thin elastic. Tease the top part of your hair with a brush and pin it underheath the tips of two braids. Slightly curl the hanging edges if you wish.
#7 Braided Twist

To re-create this idea, use a French or regular braid. Arrange your hair into one pigtail by adding more strands at the roots every time you plait it. Pull it up over your head and secure with invisible pins.
#8 Loose French braid

Do you hate looking too business-like and regular? Then imitate this loose French braid style. Indeed, it takes almost nothing to arrange your hair like this. Believe it or not, people will notice your fresh variation of a common topic.
#9 Messy waterfall braids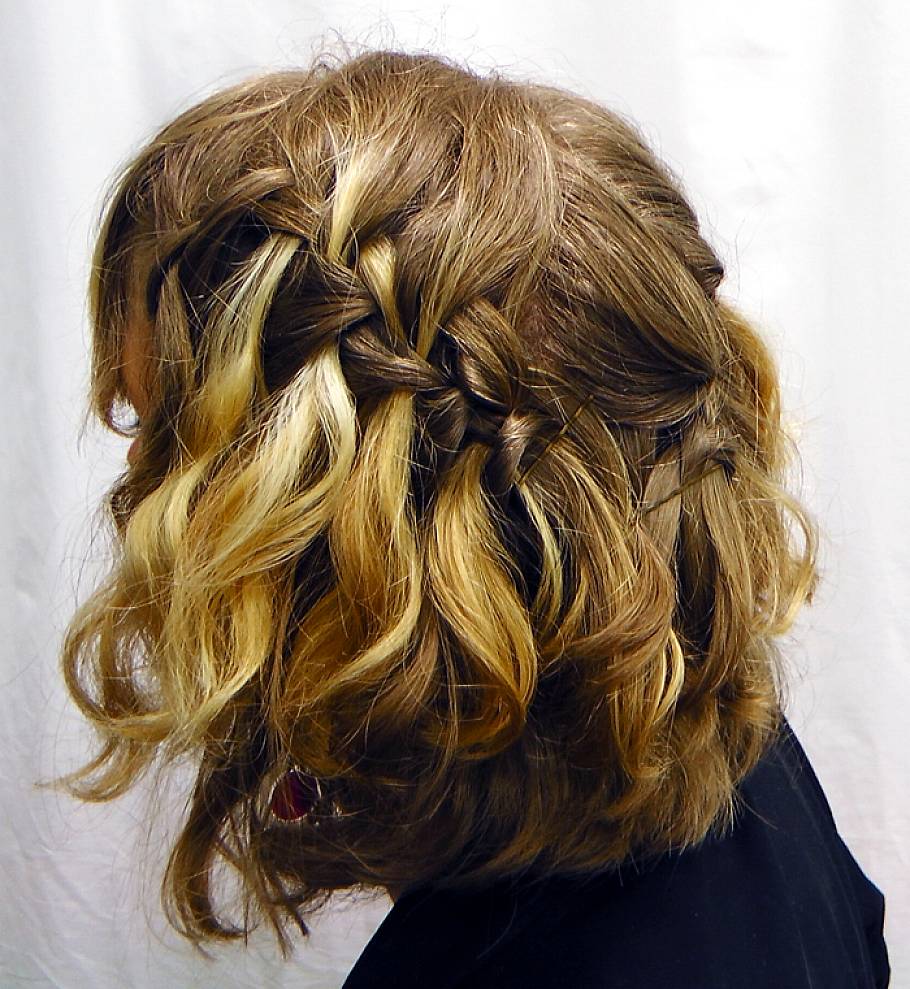 In my view, this one is made for girls who like to have a sort of mess on their hair yet draw eyes in the street. Such hairdos are difficult to break even under the cap which is especially on the agenda in the cold season. Separate your hair into two parts without a clear parting, braid two 'waterfalls' starting from both temples and secure the tips with invisible hairpins.
#10 Braids and Halo – 2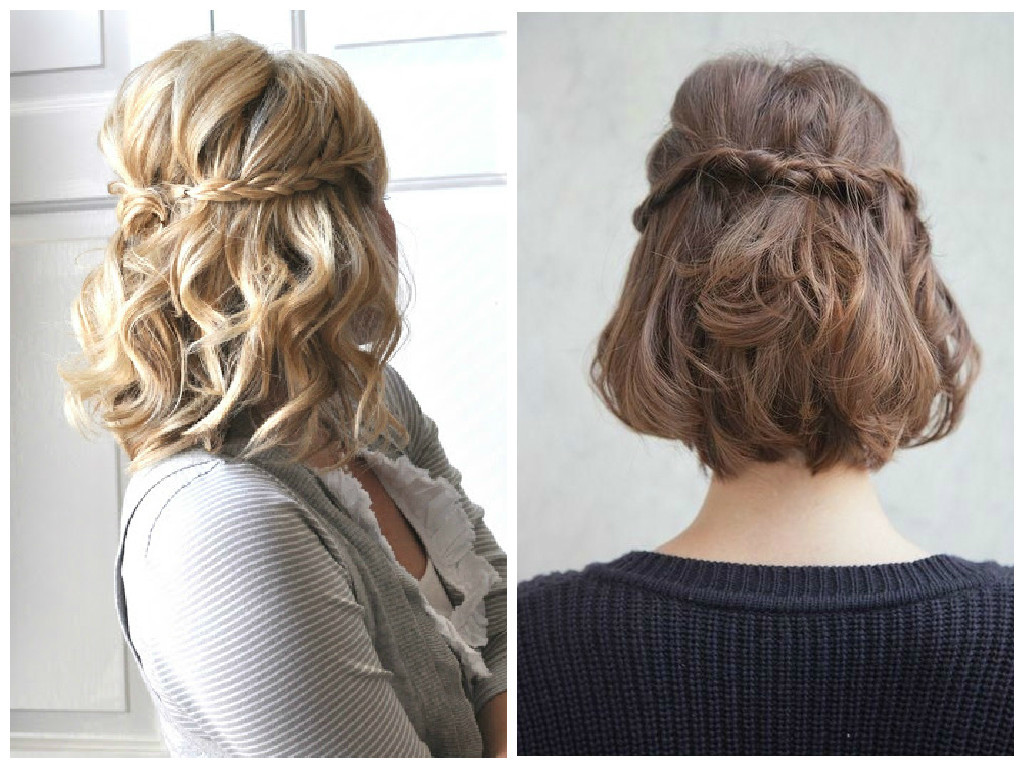 I decided to add some more images of braided halos so that you get inspired and attempt to repeat the same hairstyle anytime soon. Your medium sensational hair will benefit from a halo decorated with braids.
#11 Slanted watefall braid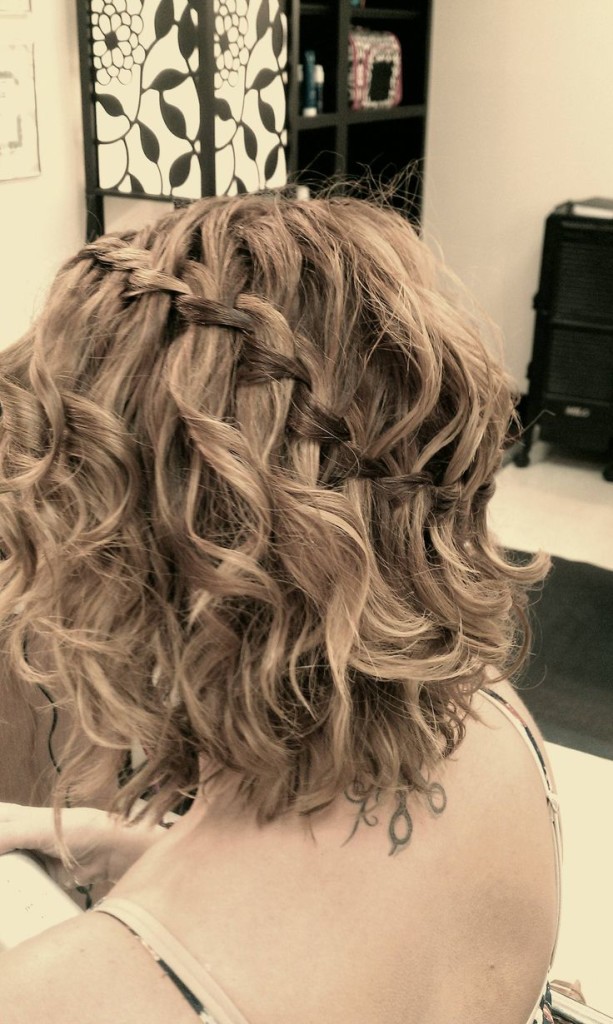 Waterfall braids are a quick catch for girls. Here is one more beauty idea for ladies with medium wavy hair. Braid a slanted waterfall plait from one temple – across the head – till the opposite bottom part.
#12 Double French braid front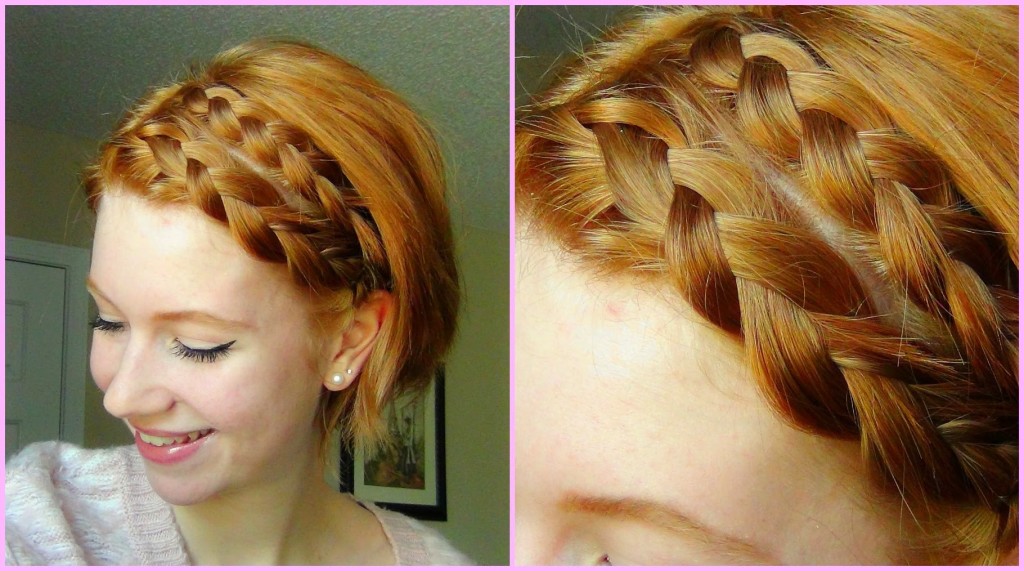 Make a side parting and French-braid two front parts of your hair like on the photo above. Secure the edges of braids with a clear elastic and hide the tips behind your ear. Tease your crown a little bit (optional) or just comb it to the back. You need just 2 minutes to look so cute – try it yourself!
#13 Gibson tuck inspirations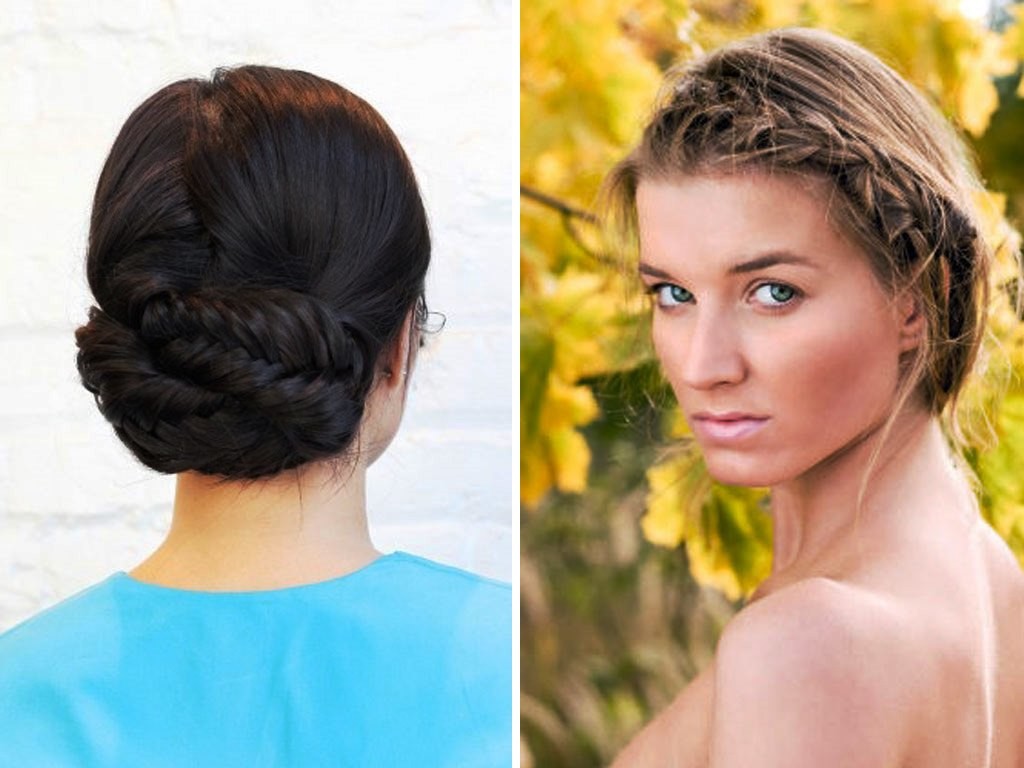 Welcome to Gibson tuck hairstyles. Unlike all other dos in this article, this one appreciates long hair (the longer you have – the better it will look). We offer you two options: 1) slick your hair back, secure it at the bottom and make a fishtail. Wrap the fishtail around itself and pin it; 2) wrap your head with a French braid and form a low bun behind. Fishtail flowers add femininity (probably, more than any other hairstyle) even if your hair length is just medium.