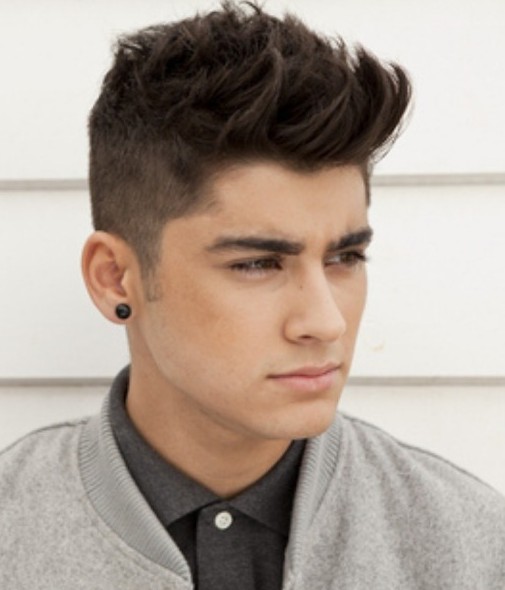 31 ways become Zayn Malik's hairstyle twin
#1 Cute as a Candy
With such a classic outfit he does not avoid cute cool hairstyles which emphasize his loveliness. Zayn's top is fixated with a gel in an upward position in several spiky layers. A top spiky mop contrasts greatly with the short cut sides and with a fine touch of a stylist it remains an excellent casual hairdo that matches all types of garments. If someone can be called lovely that is Zayn.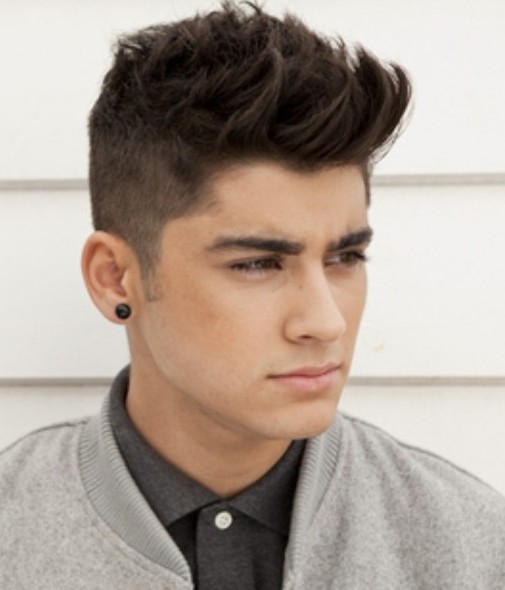 #2 Top Perk
An excellent hairdo for a guy who is planning to celebrate something! The sides are shaved clean and as you go up, you can see the perk that stands with fine spikes and can serve as fine element of male style that attracts the attention of all ladies around. The gel that is applied to fixate the hair is just something that can be used every day making it an excellent hairstyle for casual wearing as well.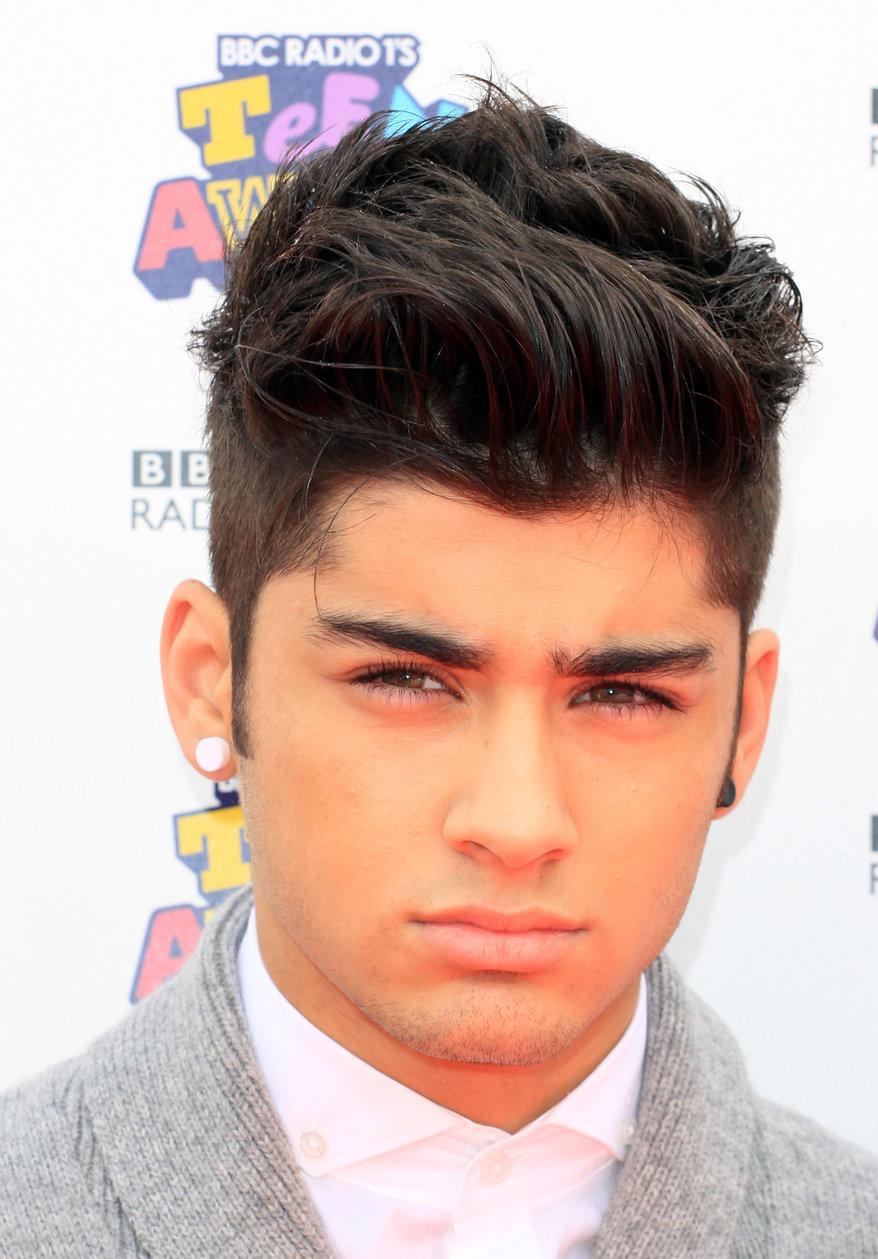 #3 Bouffant with a Colored Tip
This hipster variation of Zayn Malik's hair is something that is definitely worth trying. The top is styled in the way so that a longer front could be shaped in an attractive bouffant. In addition, the man has added a bright color to the tip of the fringe to make the hairdo look extra attractive as if it is screaming "Ladies, here I am, come and get me". A fine option for a young modern man.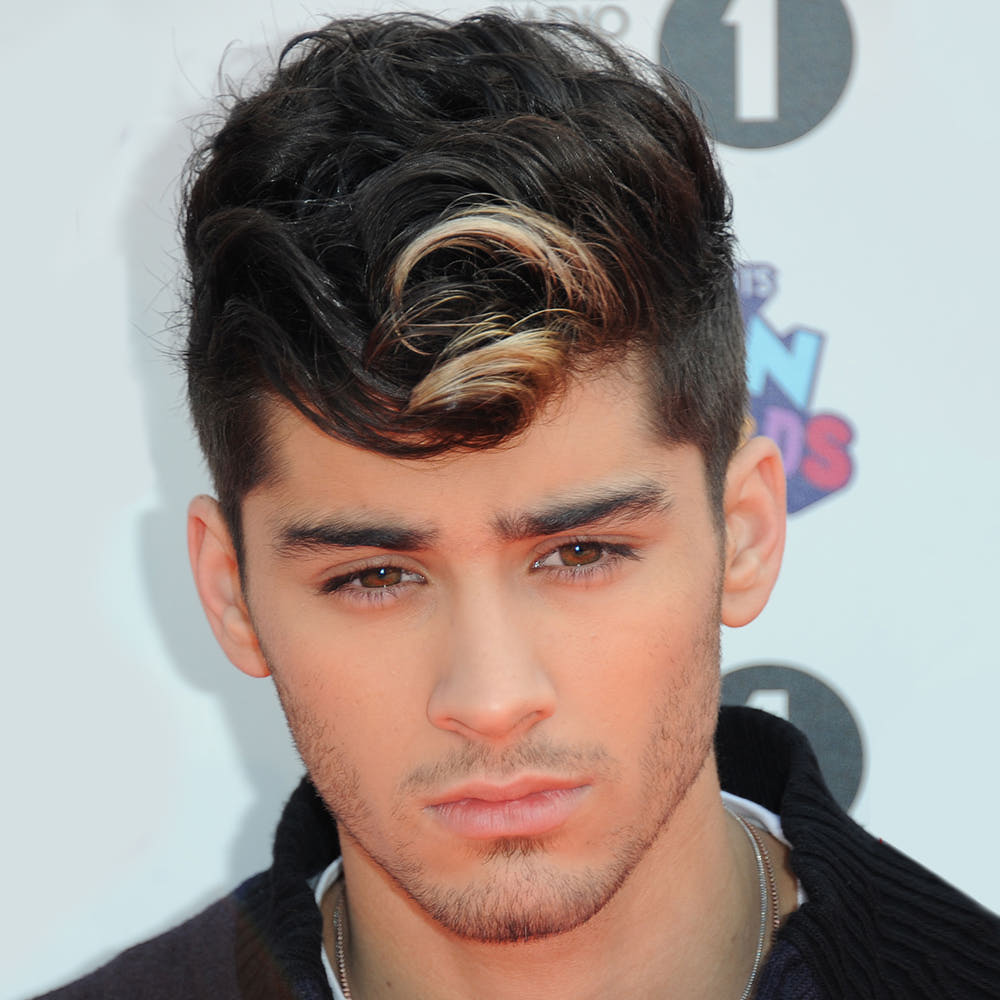 #4 A Spiky Teenage Spirit
It is the simplest hairdo that any teenager can test and try on. The hair needs to be cropped unevenly so that the spikes could be created by means of either gel or fixating foam, though guys with thin hair can style their hair in this way effortless by just washing the hair and blow-drying it with a fan as it preserves any shape given. Want to be hairstyle twin of Zayn? Check out this!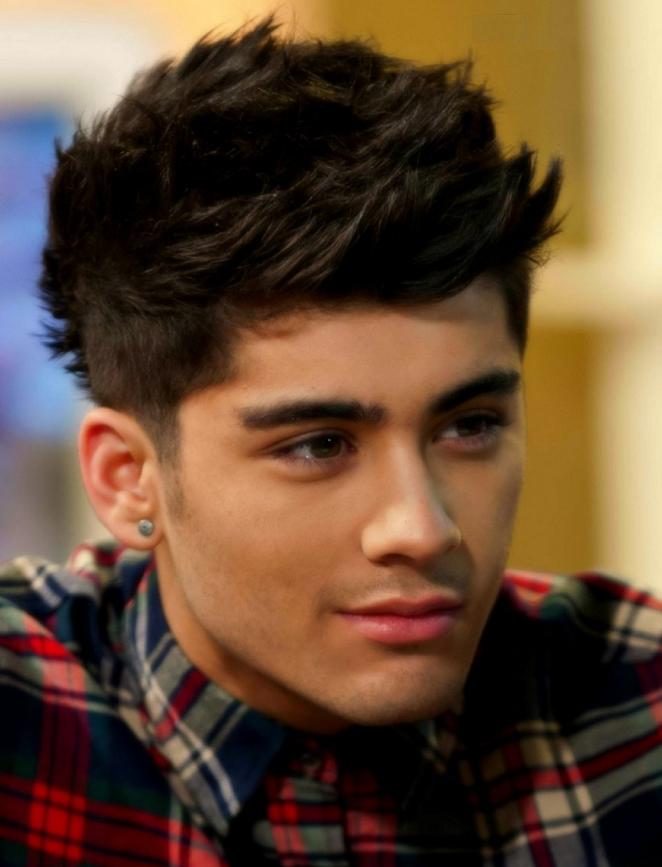 #5 Choppy Fake Mohawk
The image of a rock star flatters Zayn a lot. With an upward spiky hair and short sides he becomes an object of passion of many women. Just take a look at those spikes and the white tip of the fringe, isn't it sexy? The slightly unshaved face makes the macho image complete. So if you're searching the internet for a fine attractive male hairstyle, pay attention to this model.
#6 An Upward Turn with a Beard
The singer does really look awesome with a spiky hair that is accompanied with a beard. All together the elements of the superstar's style create an image of a modern gentleman that is hurrying for a date or a night in the club. The shave side walls that accompany the top and the beard look especially cool accenting his oval face with a fine male chin. This is just an image that all women adore.
#7 Be in Suit
This hairdo of a younger Zayn Malik is both chic and elegant for any evening and casual wearing as well. If a male wants to be attractive he just needs to test out this hairstyle. The hair updo of this type will certainly add some magical charm and masculine handsomeness to the air of the gentleman in a black and white suit. The short sides do their best to accentuate the voluminous top of the hair.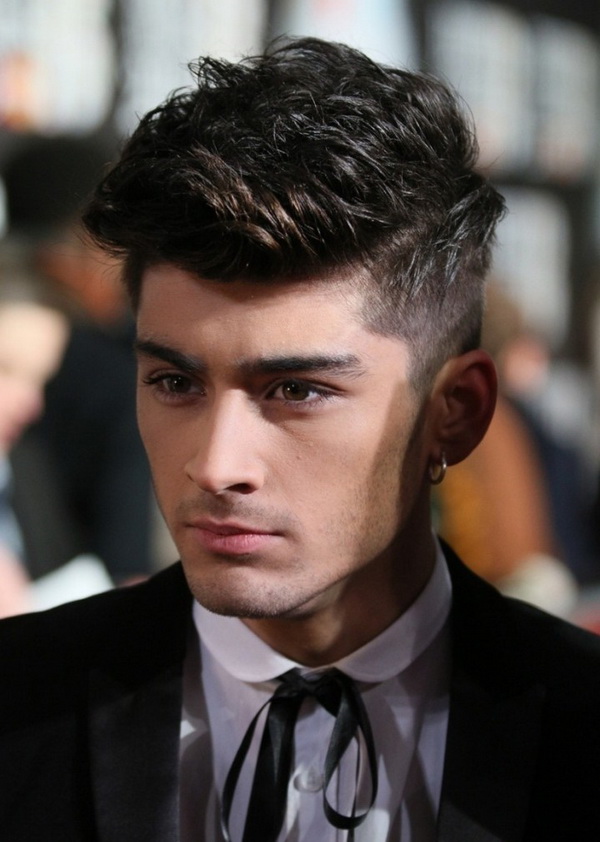 #8 Glasses and Spikes
The spike hairstyle goes perfectly with eyeglasses. The hair does not stand in the way of the eyes and the shape of the face together with a huge frame of the glasses allows using this adorable combo in the best possible manner. So if you prefer wearing large framed eyeglasses, consider the image of Mr. Malik. Maybe it will work for you as well as for the superstar.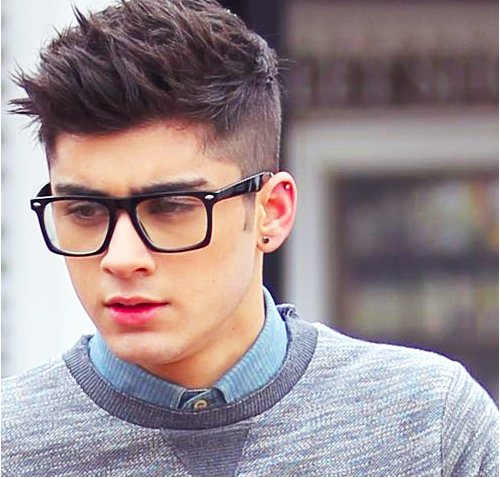 #9 Young Elvis
The King is not dead! Just take a look at Zayn, he does have a slight resemblance with Elvis, especially with this hairdo. So in case you are the fan of both Zayn and Elvis you should certainly try out this hairdo as it is really an undying trend that constantly returns to male fashion in various variations that cannot stop surprising people, reminding them of a great singer who used this model.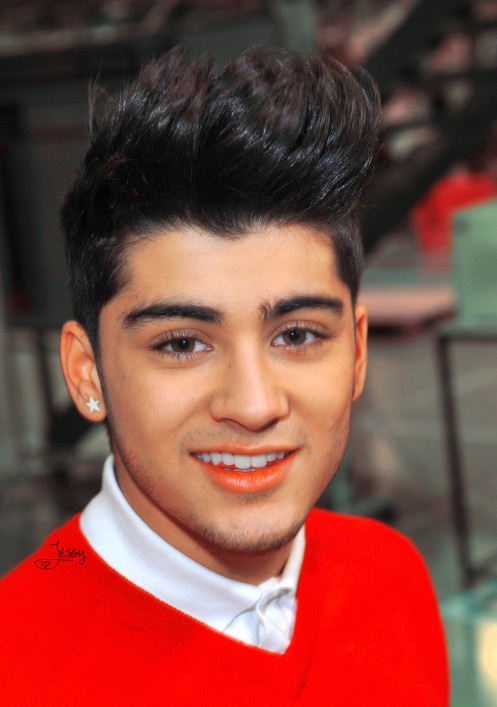 #10 School Style
Cute and simple hairdo like this will be adored by ladies around, so if you are searching for a hairstyle for your first date or just want to make an impression on some girl, check out this hairdo. With this haircut you will become a truly irresistible young man. Why do you think this is the most preferable hairdo of Zayn? – It attracts women like a magnet. Check it out and enjoy your new fashionable look.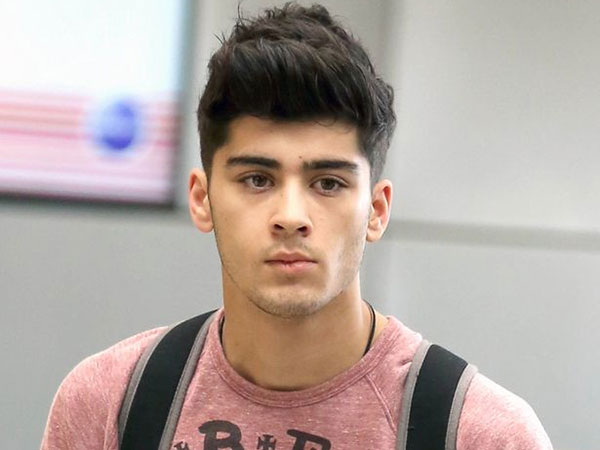 #11 Boyish Charm
Cute as an angel! With this hairdo Zayn looks like a sweet angel that has descended the sky. The only thing that he is missing in this picture is a pair of some white wings to make an image complete. However, regardless of anything he introduces a fine male hairstyle that shows us a messy hair that is currently in trend among various TV and music stars.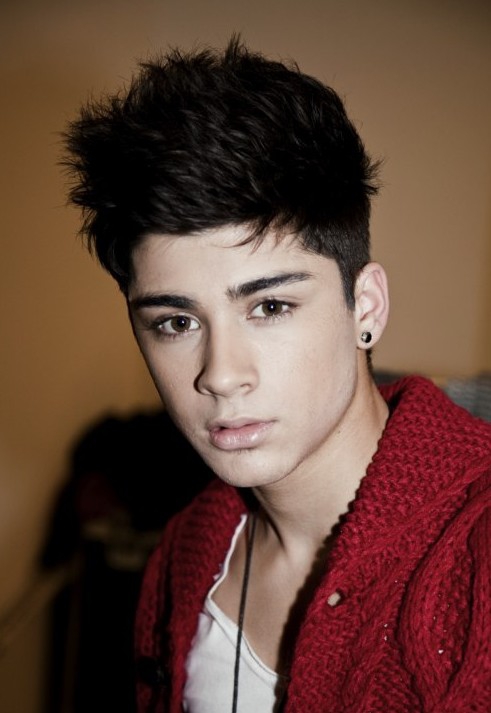 #12 Ready for the Show
"It's time for singing" – that's what this hairdo is saying. The messy spikes on the head are something that each teenager should try in his life. Short hair seems to be more practical, but the spikes on the head just rock the ground with awesomeness. If you are trying to find the coolest option for a party, pick this hairdo and it will match your cool style more than anything else in the world.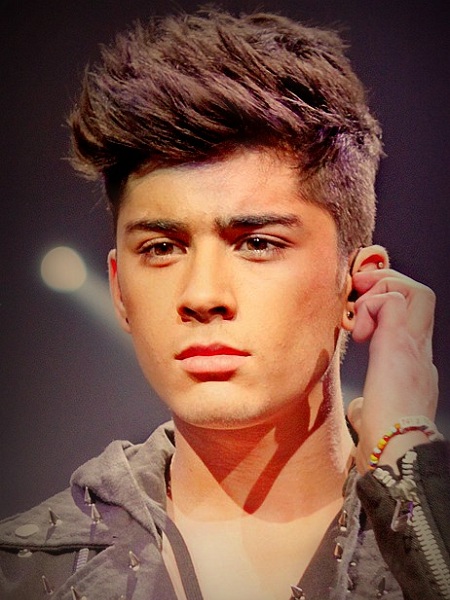 #13 Accented Tip
The short sides and the curled tip – that is the thing that will drive the attention of the fair sex. With a colored accent you will surely become a noticeable figure in the crowd. Remember that it can be of any imaginable color and still you will look handsomely awesome and popular among women. Add a beard and you will be as stunning as a bright sun in the sky.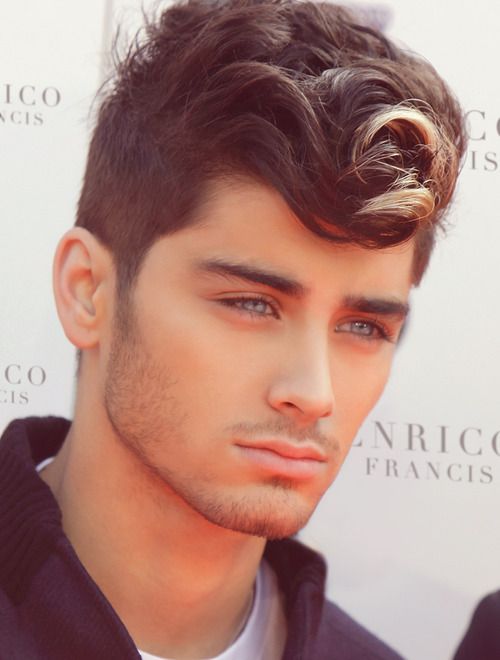 #14 Cropped Hair for an Oval Face
If you are the owner of an oval or round face, you can greatly benefit from this hair model as Zayn does. It adds some playful teenage air around you, so in case you want to alter your look and make it more modern, go for this hairstyle and you will definitely be satisfied with the future image that it will grant you. The naked shaven sides make the top look even sexier than with short rows of hair.