A manicure is a fashion accessory that cannot be overlooked. To adapt it to the colorful time of year, you just need to choose the appropriate nail art. With the New Year holidays just around the corner, it's time to add some festive glamour to our manicures. At New Year's Eve, you always want magic around you.
Just like the simplest things: to put on a cozy sweater with reindeer, not to let go of the huge mug of delicious tea and quickly decorate the house with garlands, so as to feel the atmosphere of the coming holidays. It helps to maintain the mood and a smart manicure. We don't know about you, but we're really inspired when we come across another video on social networks about how to create a New Year's Eve design on the nails. And those that can be repeated at home are more intriguing than others.
№1 Red New Year's Eve French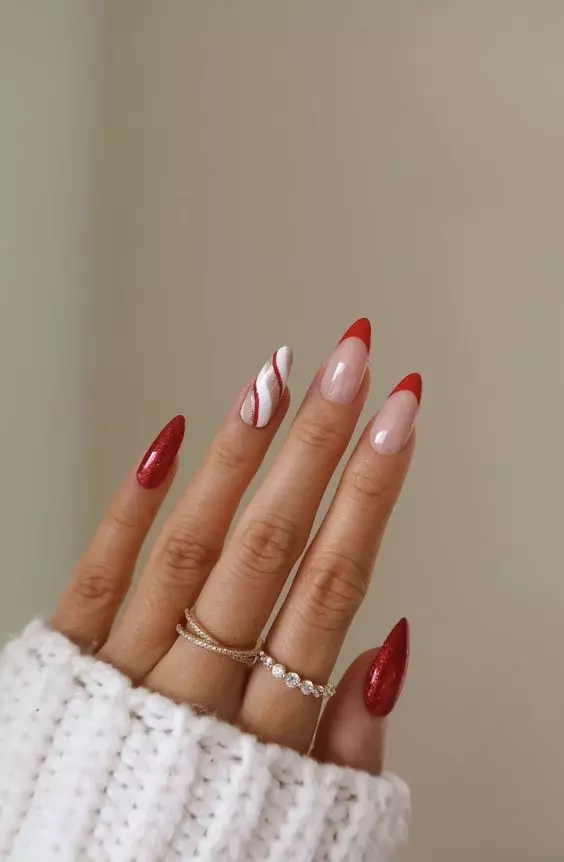 New Year's manicure can be chosen under the color of the dress, you can make a bright manicure with a drawing of New Year's themes, if you do New Year's manicure gel varnish, keep in mind that it will last more than two weeks, so it is better to choose a neutral New Year's manicure like red French, acceptable and for the New Year's party and everyday wear. Christmas trees, silhouettes of Santa Claus, tangerines, presents, Christmas toys – everything can be painted on the Christmas nails, but after all, minimalism is always better.
№2 Tender New Year manicure with snowflakes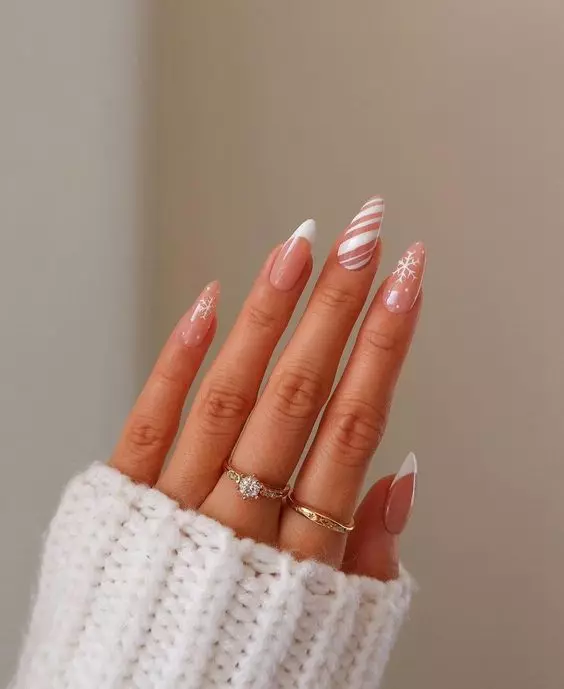 The most versatile manicure option for the New Year is still the French and moon manicure. When choosing a New Year's Eve manicure in this style, do not be afraid to move away from the traditional execution. Beautiful, neat and openwork snowflakes look great on nails of different lengths and shapes. You can make a New Year manicure with snowflakes using a dark base, decorate with snowflakes a New Year French, use snowflakes as the main or additional decor.
№3 Fashionable knitted and velvet manicure for the New Year
Among the fashionable winter nail art trends is an interesting knitted manicure, suitable also for New Year's nail design. Beautiful New Year's manicure with a knitted effect should be chosen in matte white, pink and blue. The original New Year's sweater manicure is not only a fashionable textured knitted manicure, but also the original patterns-ornamentation, which we are used to meet on winter knitted sweaters.
№4 Gentle manicure with gold sequins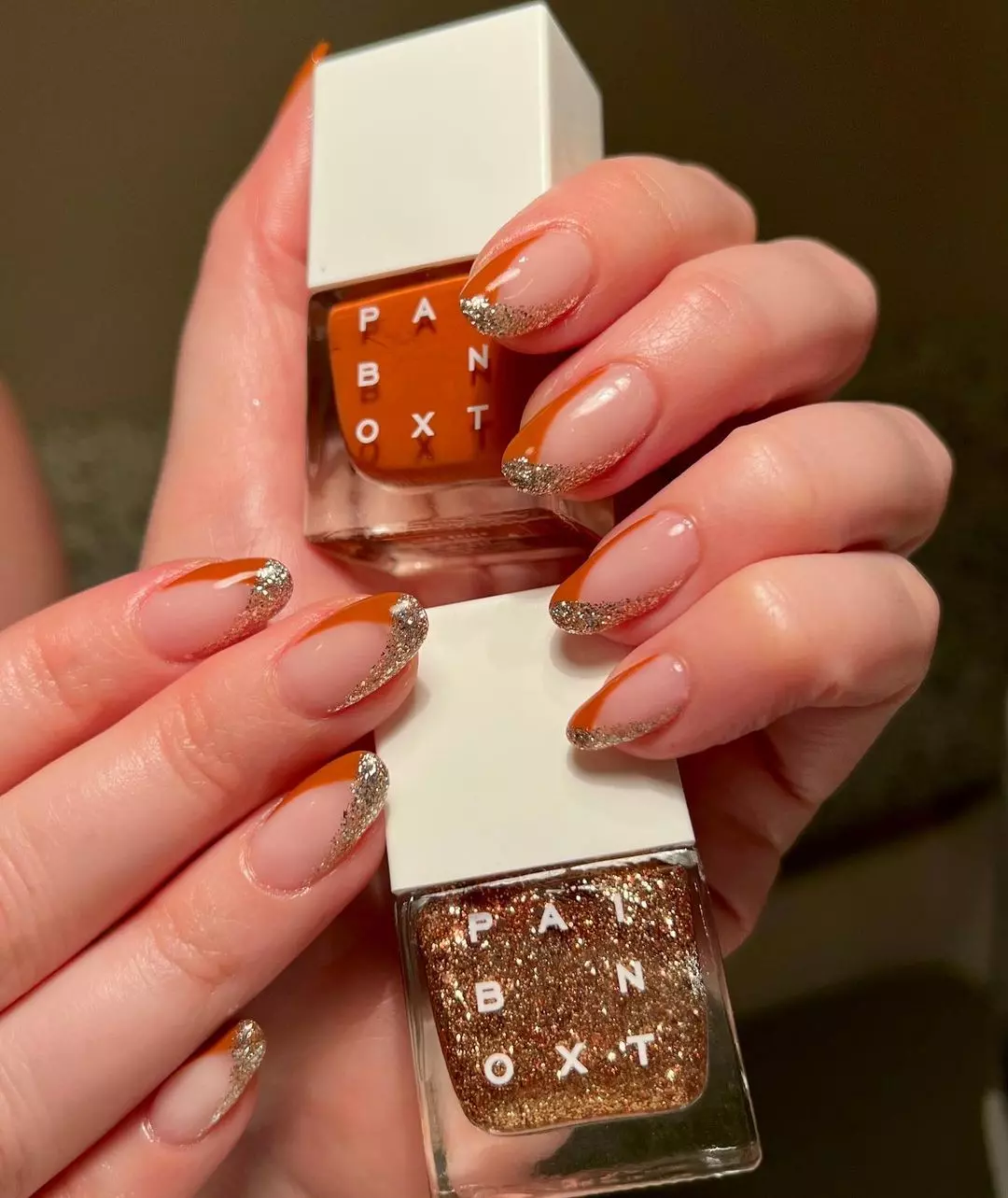 A beautiful New Year's Eve manicure is not only a monochrome winter design, glitter and rhinestones. A great addition to the design of nails will be no less bright and original New Year's drawings. In this version of the New Year's manicure as drawings are small and very cute snowflakes, they not only give a New Year's look to your manicure, but also look very nice on your nails. And the gold sequins make your nails look really festive.
№5 Gold New Year's Eve French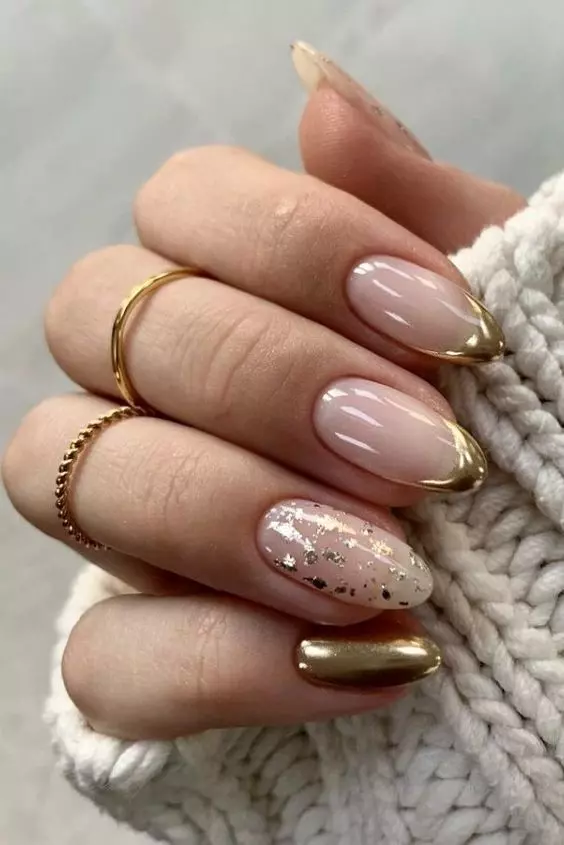 This New Year's Eve manicure looks most stylish and expensive, moreover, because it is a French manicure, it will suit any of your New Year's Eve looks and will be an excellent complementary detail. If you do not know what manicure to choose or if you just do not want to do standard nails, then this option is exactly for you!
№6 Red manicure with designs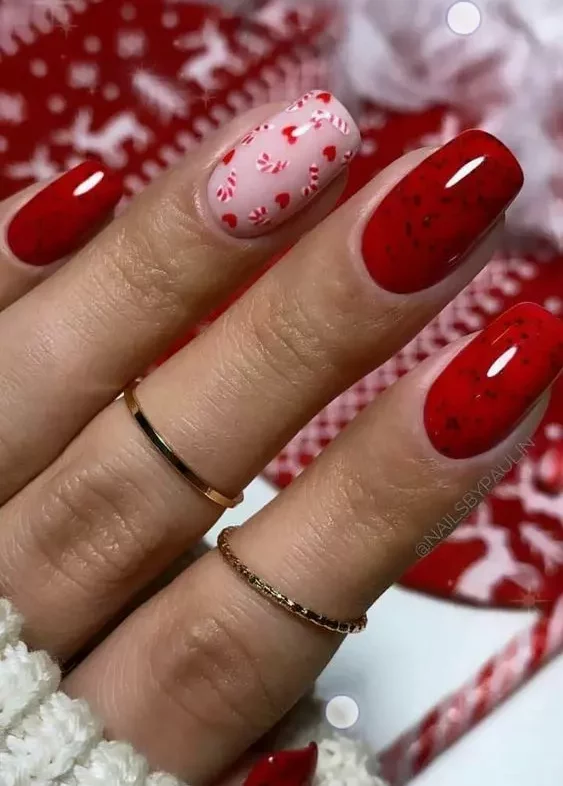 The original manicure with glitter resembling bright multi-colored confetti, as never before suitable for New Year's nail design. A beautiful New Year manicure is not only a monochrome winter design, glitter and rhinestones. An excellent addition to the design of nails will be no less bright and original New Year's drawings. What you can draw on the nails, getting a perfect New Year's manicure are these little New Year's lollipops.
№7 Red shiny nails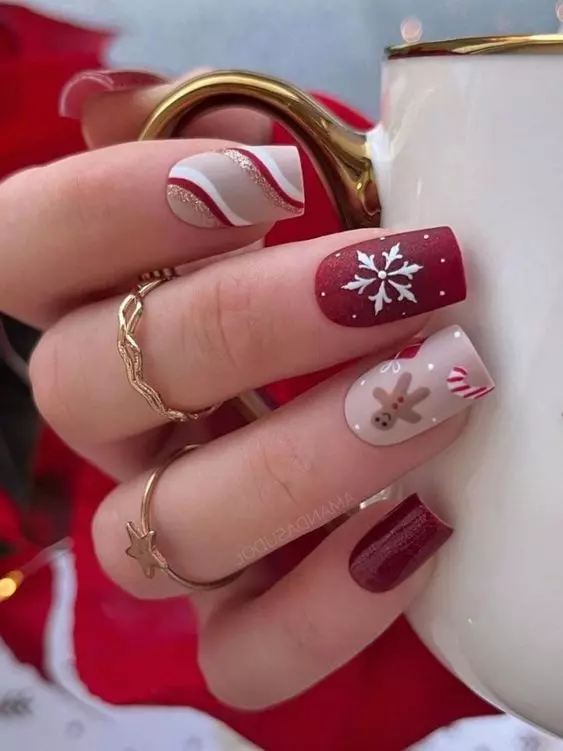 Gold and red are bright self-sufficient colors that must be competently combined. You can use a shade of red as a base and complement it with gold details. A New Year's Eve manicure with bells, patterns, fir cones, abstraction or a scattering of sequins looks gorgeous. And the drawing – gingerbread gingerbread like nothing else will perfectly convey the New Year's mood to your manicure.
№8 Nails – New Year candy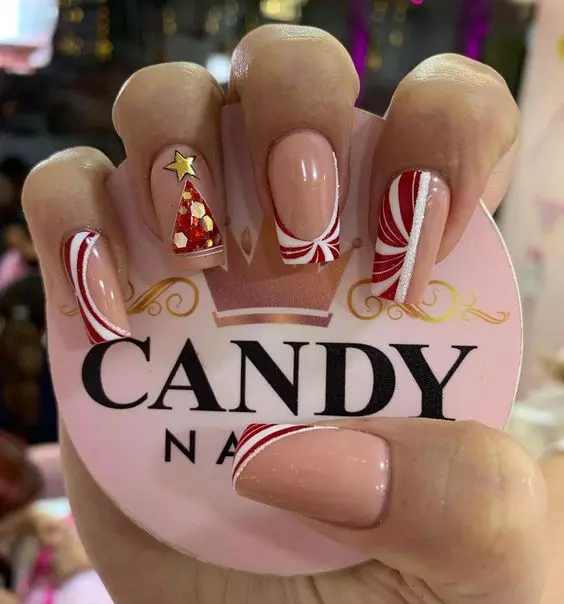 New Year's Eve candy is probably the most popular holiday candy, which means it can perfectly decorate your nails and make them look as festive as possible. Such a manicure will not leave anyone indifferent, and your hands with it will become the most New Year's Eve in the whole world! All in all, this manicure is just perfect for the holidays, do it if you want to directly completely immerse yourself in this atmosphere.
№9 Manicure with gingerbread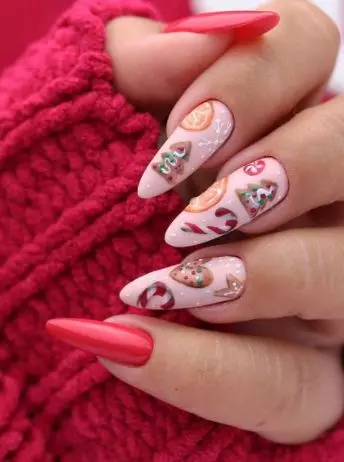 Red on New Year's Eve is the very embodiment of celebration. So it is advised to use it not only in clothing, but also in other details of the image – for example, in manicure. A red background plus a festive drawing made with white nail polish is a classic New Year's manicure. What to draw? The answer is obvious: snowflakes, Christmas decorations, gift ribbons, gingerbread. It will turn out interesting, plus it's very New Year's.
№10 Gentle manicure with design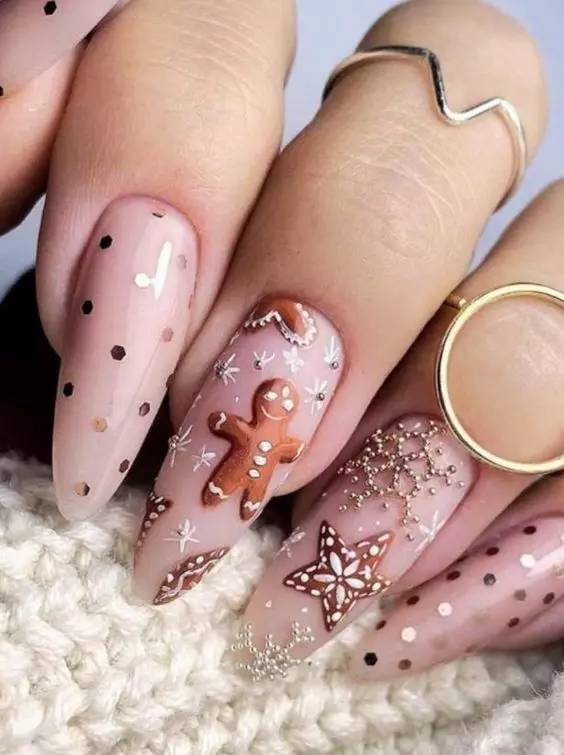 A delicate New Year manicure creates a special aura of magic. Elegant nail design involves the use of pastel colors, complementing the gel lac with themed decorations that enhance the romanticism of the image. Tender New Year's nails in the nude style are created on the basis of white, pink, gray, blue, cream shades. Such New Year's Eve manicure is suitable for those who do not like bright manicures, but still want something New Year's Eve on the nails.
№11 White and green New Year nails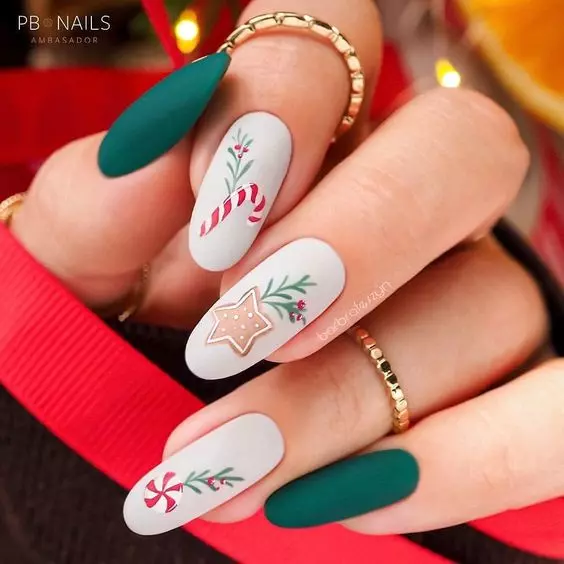 The easiest way to emphasize your excellent taste is to paint your nails green. You can also try different designs with sequins or patterns, which are so popular now – they look great against the background of green. But this option also presents nails painted with milk polish, on which various small New Year's drawings are drawn. It looks very stylish and festive.
№12 Red nails with a glass of wine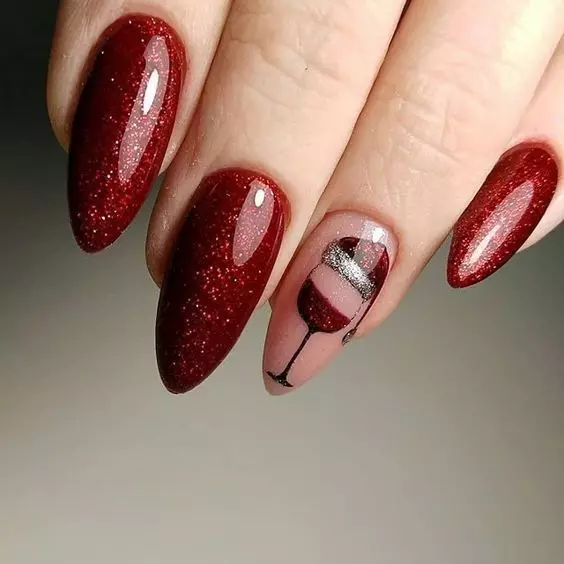 Red manicure for the new year – it's already like a standard, but you can always make them as no one else does, add your own details and they will already be special and unusual. Here, for example, as in this option, in this manicure, in addition to quite beautiful red polish with sequins, in the design of the nails still present an unusual and chic drawing in the form of a glass of wine with a hat of Santa Claus.
№13 Simple burgundy nails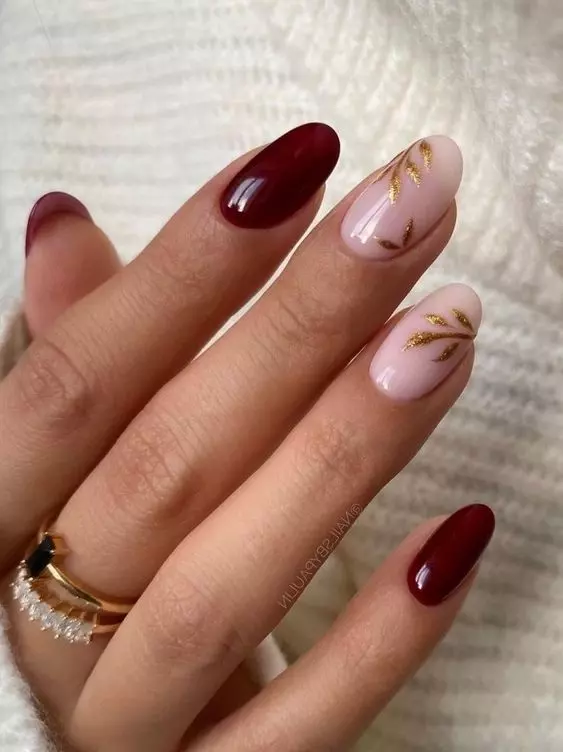 Many women avoid using bright and saturated colors for their nails for fear of making their manicure too flashy or defiant. But there are a few universal colors from the entire palette that will be appropriate for any age, work or holiday. That's exactly what burgundy is. Compared to bright scarlet or red, it is more muted, noble and refined – this allows it to constantly return to the leading positions in nail art. In addition, for New Year's Eve, the red palette of colors on the nails is particularly suitable, as it is associated with this holiday.
№14 Nails with a cartoon character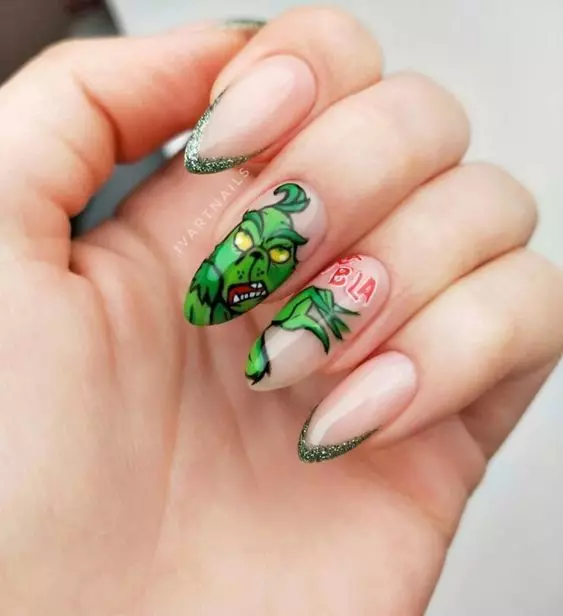 Drawing your favorite cartoon character is the best solution when choosing a New Year nail design. If you know which cartoon this character is from, that's very cool, but if not, we advise you to watch the cartoon Grinch. It takes you into the New Year's atmosphere and charges you with a festive mood for the whole winter.