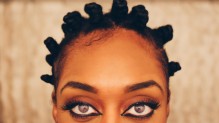 Bantu knots – 24 efficient ways to tame your curly hair to soft waves
A woman's hair gives a great impression of her beauty and look. If you are this woman who cannot compromise on your hairs beauty, and you prefer lustrous curls then Bantu knots is the best for you.
Introduction
If you are looking for the best and most efficient way to tame your curly hair to soft waves then you need the look of Bantu knots. The hair style is great for any one and gives all women a gorgeous look though famous with Africans and African- American women.
Bantu knots will work well on all the four hair types and defines and smoothens curlier tresses. Every lady is trying the Bantu Knots and actually, they fit well and give them this angel like the look.
Conclusion
Bantu knots are very cute and they are not knots. They are simply small buns coiled and secured by the head side. When you uncoil the Bantu Knots you create another curly hairstyle called Bantu knot-out. Bantu knots allow you endless options depending on your hair.