Bangs are a great ally for our hair, and it should not be any different now that so many women are wearing glasses. If you are afraid of your glasses getting in the way of your bangs, fear no more! There are plenty of ways to combine glasses with fashionable bangs.
Straight to the eyes: one of the most popular options because of the assured success it offers and will never be outdated. It is perfect with any type of hair, but you have to make sure that the shape of your glasses is a good fit for this style. Ideal for big glasses and square shaped frames.
Sideways bang: if you're looking to smoothen the factions of your face it's as simple as moving your bangs slightly sideways! This style combines perfectly with all types of glasses, since it will not cover them however big they are.
Short bangs: if you're the daring type, go for short. Because your face will be more exposed than with other options, you can use your glasses to compensate. Go for maximum size frames or with crazy shapes.
If you're wearing glasses, and want to look fabulous, don't have any hesitations in opting for bangs!
#1 Straight Hair With Bangs
Your image and style will always be on the top of fashion charts if you combine your glasses and bangs. The glasses of all frames and shapes match the hairstyle with bangs in the cutest way. There is a slight hint of French chic in this combination with bangs. You would surely enjoy this model as it is just as simple as it can be bringing you the ultimate look that can be worn day by day.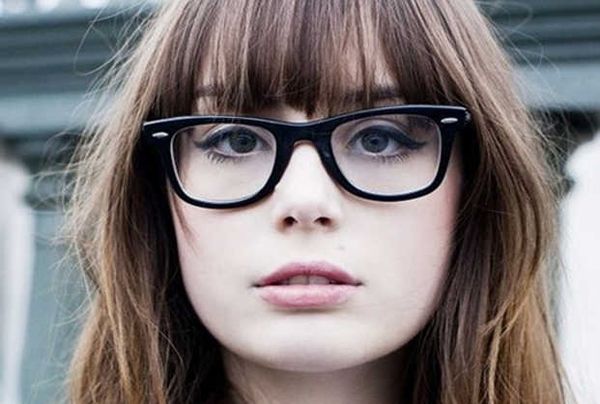 #2 Wavy Bangs with Glasses
The wavy bangs of the hair will surely complement the eye glasses of any frame shape and your general image. The straight fringe will hardly touch the upper line of the frame and will be just enough to emphasize your glasses style in the best possible way. The wavy bangs are always in trend so you will look awesome under any circumstances. Enjoy your hairstyle with cool bangs.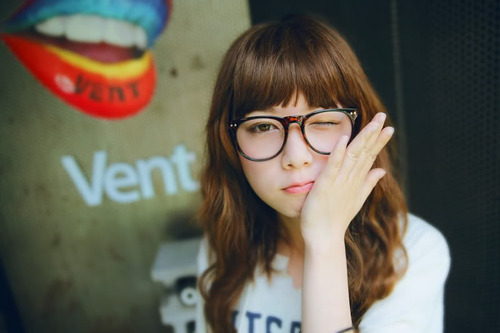 #3 Glasses with a Long Layered Side-Swept Bang
The side sweep by itself is a wonderful choice for any face type as it modifies an overall look of both round, oval and square facial types. Moreover, the side sweep will, in addition, compliment any type of eyeglasses frame. The side sweep prevents falling of the bangs onto the glasses. A diagonal fringe with a voluminous layer is just at the proper height to compliment the eye-wear.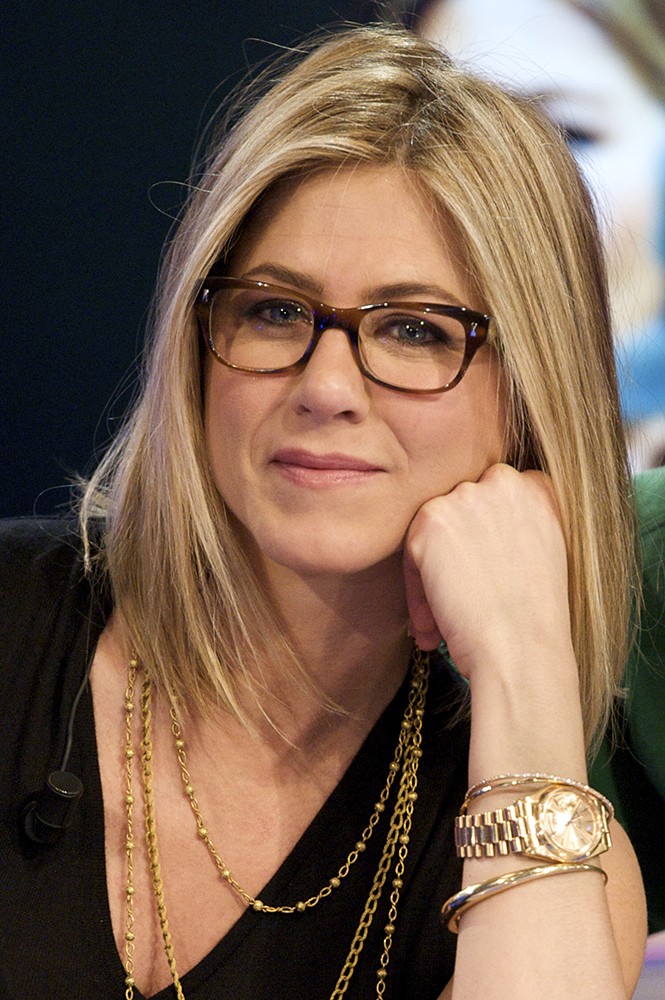 #4 Layered Bob with Bangs
If you are a woman who uses glasses, you can transform them into a stylish casual accessory by means of modifying your hairstyle. The layered top with shoulder length side bangs will rock with your eyeglasses. In general, all the banged bob styles match all face types, so you will have a universal eyeglass fitting hairdo. The only thing you will have to do is to select a fine frame that will match your shape of the face.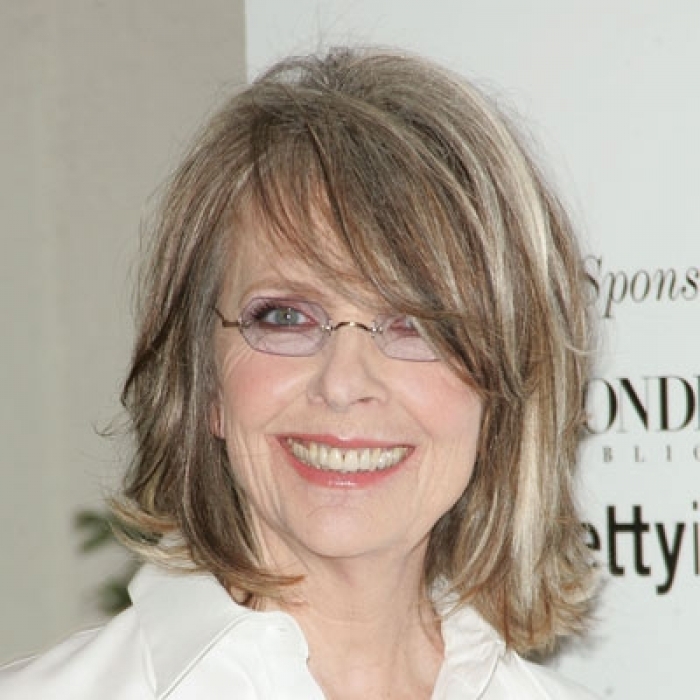 #5 Hairdo with Short Bangs
When selecting the haircut you should pay attention to the shape of the face. In case you've got a wide forehead, a messy haircut with short bangs would be a splendid option to upgrade your look and compensate the peculiarities of the face you've got. This hair look will make a splendid balance between all parts of your face and complement the glasses you wear.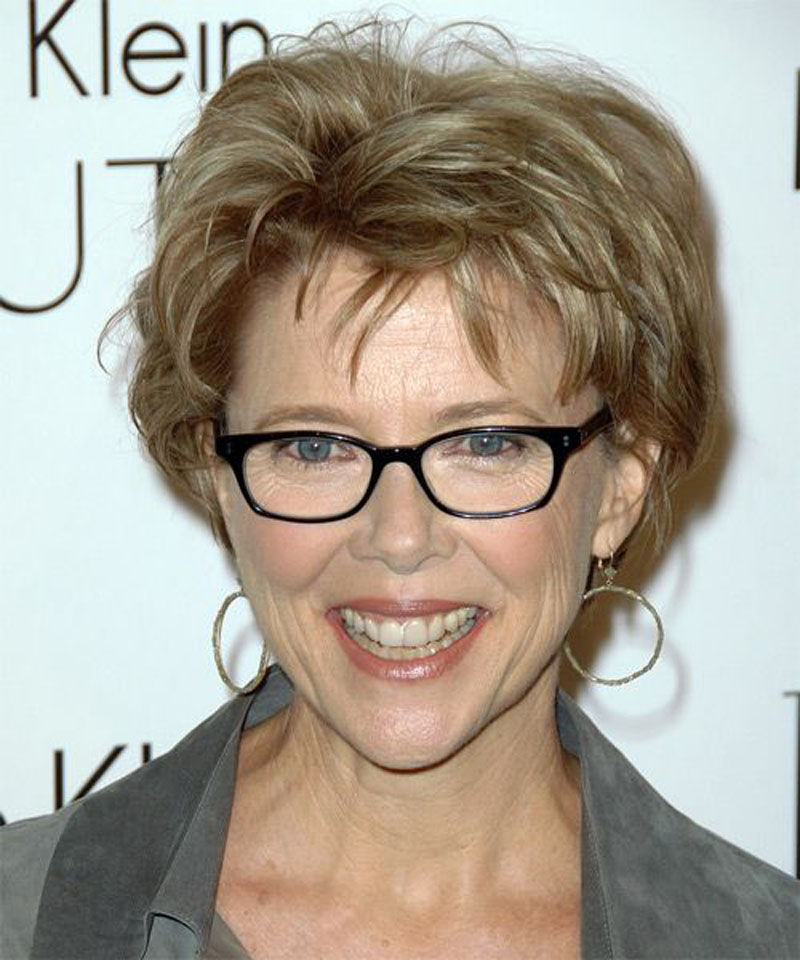 #6 Pixie Hairstyle with a Diagonal Bang
Everybody who wears glasses knows that it is very important to pick a proper shape of the frame to match the face type of the owner. However, you can balance between the glass shape and the hairstyle to achieve the ultimate result. The pixie cut with a small side bang will be the most appropriate for faces of round and oval shapes. So it is a good idea to match the glasses with this hairdo.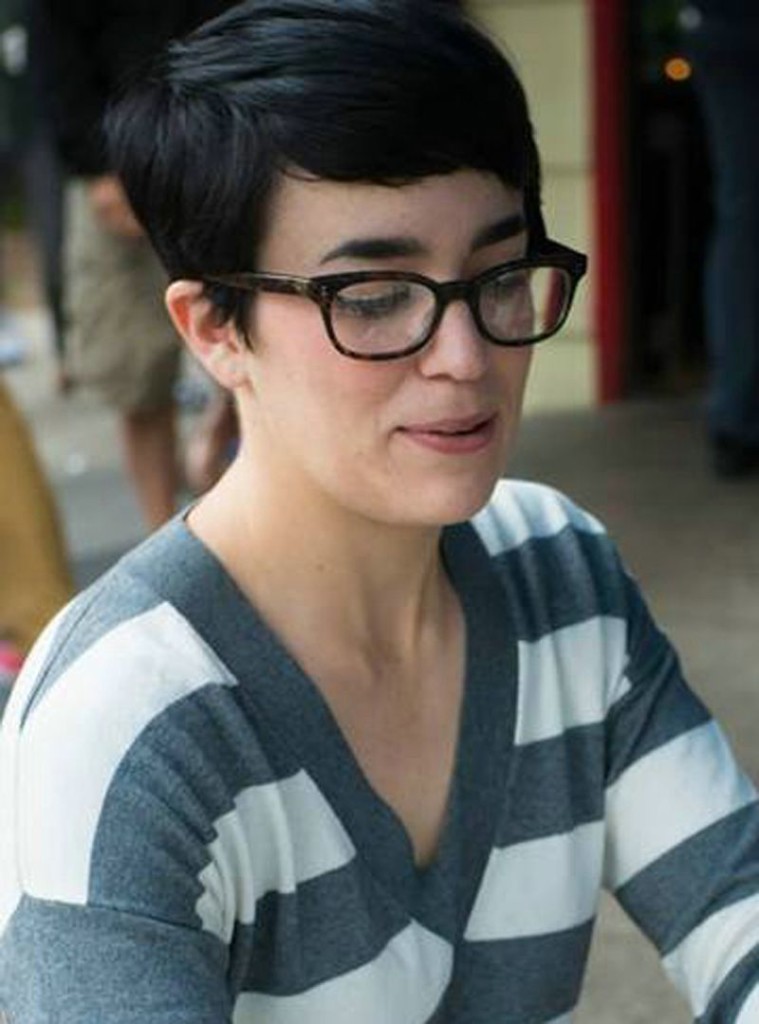 #7 Soft Messy Waves with a Big Frame
If you are a fan of big glasses frames, you will definitely like this option with bangs. It creates a marvellous oval around your face that perfectly emphasizes the frames of your newly acquired glasses and modifies an overall image of any wearer's face shape as well. The messy hair with some ombre will surely do the job and flatter you fashionable style.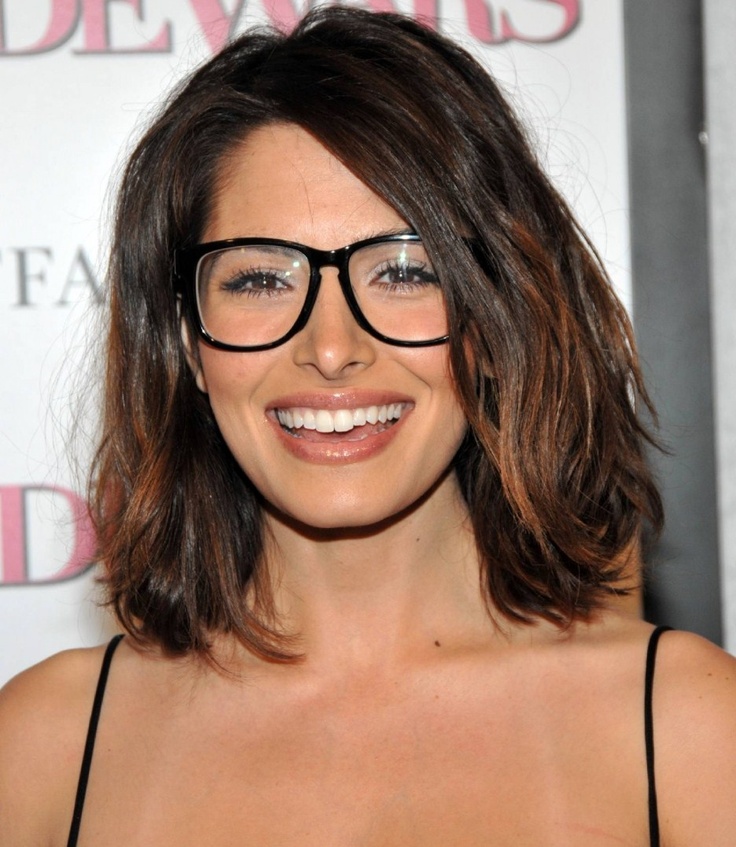 #8 Long Sleek Bangs
A pair of glasses, a hat and long sleek hair with bangs – what can be better for an awesome hipster look? The hairstyle really transforms the image of the person who wears glasses to an unbelievable extent. It really adds some sexiness and is the most practical choice that you can ever find to try on. Just choose this option if you need to get the most appropriate hairdo to complement your chic image.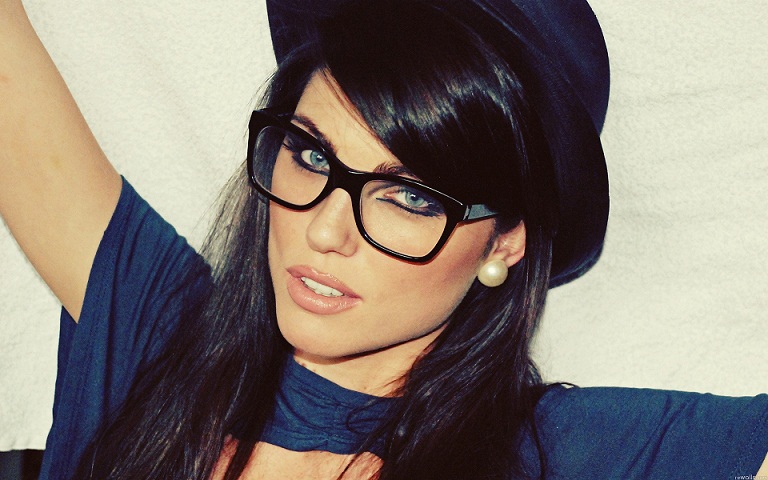 #9 Over the Shoulder Bangs
What can be said about this hairdo with glasses? It literally radiates the cuteness. These long wavy bangs and straight fringe, that is hardly touching the frame of the eyewear, complement an overall style of a modern lady. Regardless of the reason for wearing the glasses, you can turn them into a fine accessory that will serve you not as a reminder of some eye issue but as a stylish element of your visage like lipstick or mascara.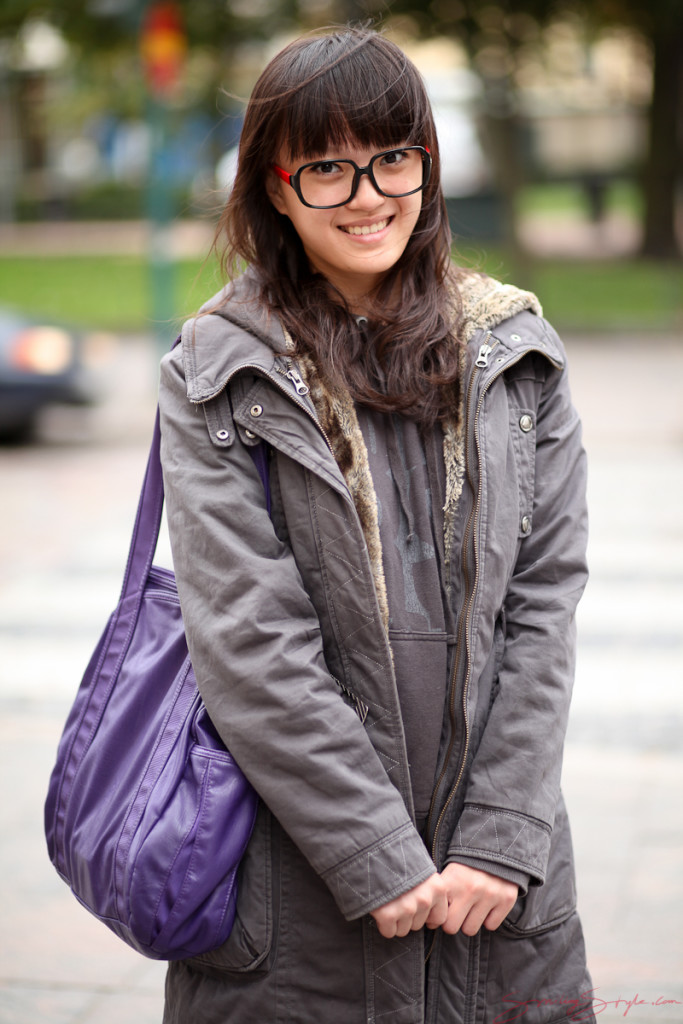 #10 Business Style
Holly Molly! That is the way in which modern business lady should look! The pony tail and the fringe with a small side bang create an excellent composition that will flatter any wearer of the glasses. It is a practical hairstyle that complements the shape of the frames, creates no discomfort during wearing and also does not fall over the glass like other long hairdos do.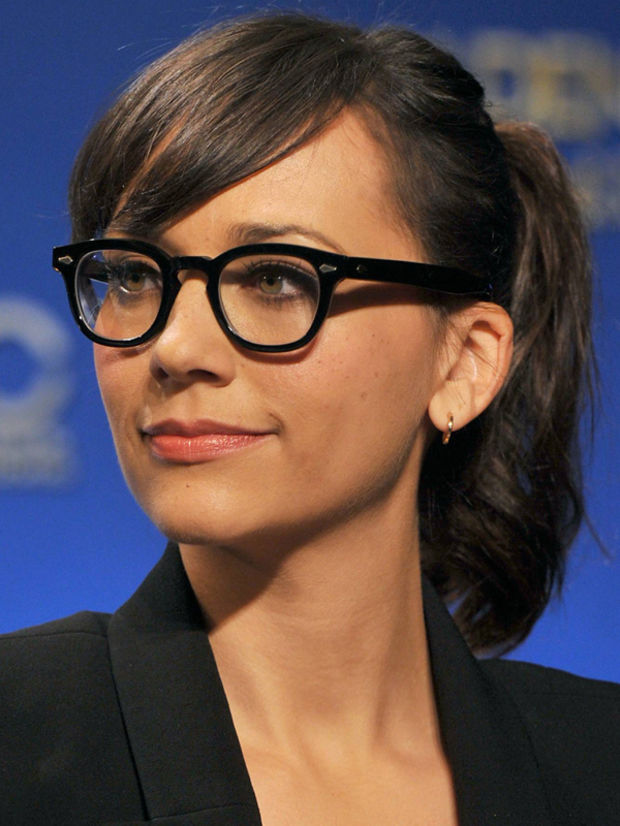 #11 Cat Shape Frame with Bangs
That is the variant of a hairdo that will impress everyone around. It introduces a retro style bob haircut with uplifted with a hair spray fringe and curled side bangs which jump every time you take a walk as if you were an actress in some hair gear advertisement. Once again a fine hair emphasizes the frame of the glasses and you can see that this cat frame is really awesome!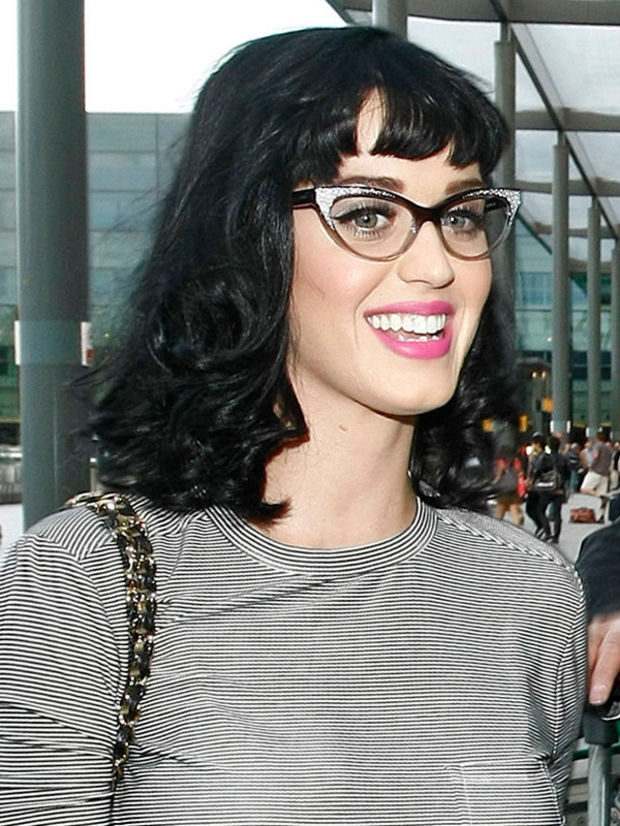 #12 Fiery Hair with Bangs
This is great that modern hair industry has got so many options to choose from when it comes to selecting the hairstyle to accompany your glasses. The slight wavy bangs match almost any face type so you will have to worry only about a decent frame that will match your shape of the face. The red colour is a great idea to contrast with a black frame of the glasses, though there are plenty of colourful frames that are currently available on the world's market.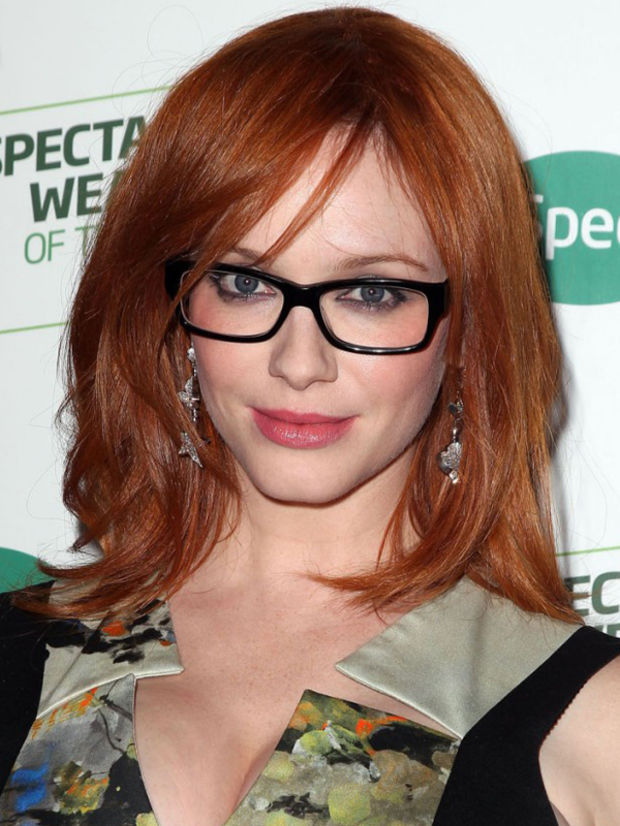 #13 Short Sassy Bangs
Check out the variation of short bangs in combination with eyeglasses. The short bangs can be equally good when side-swept and blunt placed. This option is specifically for the women who are afraid that long bangs and a pair of glasses will hide off most of their faces. The hair of such length won't mess with your eyes and preserve a clear view of everything around you.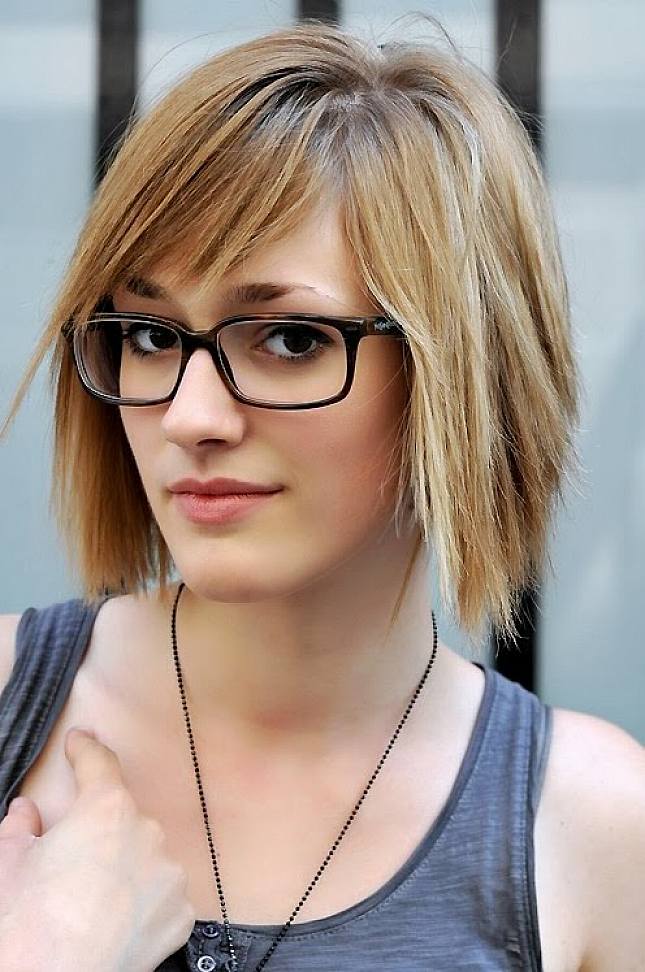 #14 Rounded Blunt Bangs with Big Glasses
This hairdo was probably inspired by a beautiful lady Zooey Deschanel! Her round big glasses with a blunt bang hairstyle became a trend in fashion. It grants a free and stylish look for anyone who tries it on. It softens the lines of the face and is a good option for women with broad foreheads or high chick bones. This is a simple and effective hairstyle for casual wearing.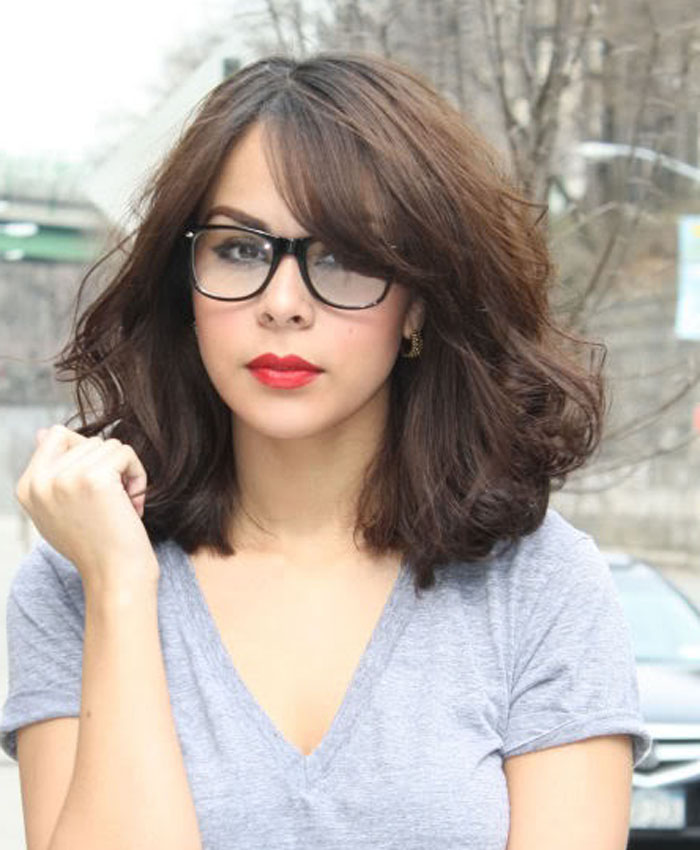 #15 Long Bangs with Glasses
Probably the best thing about long bangs is that it has got a greater styling strength than the short ones. The hair can be gathered up, placed into a pony tail, bun etc. And when you wear this hairstyle with glasses, it will transform the eye gear into a fine casual accessory of a modern lady. Just let the hair flow freely and you will see how it transforms your image.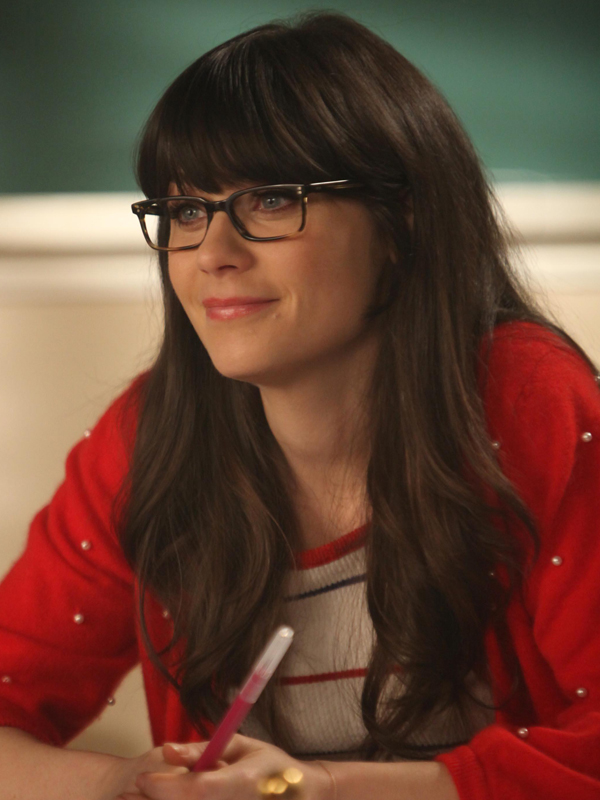 #16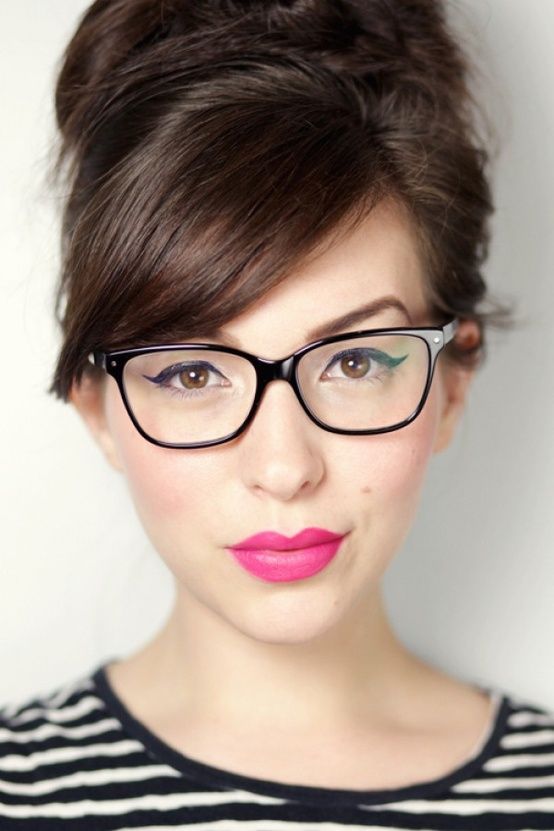 #17
#18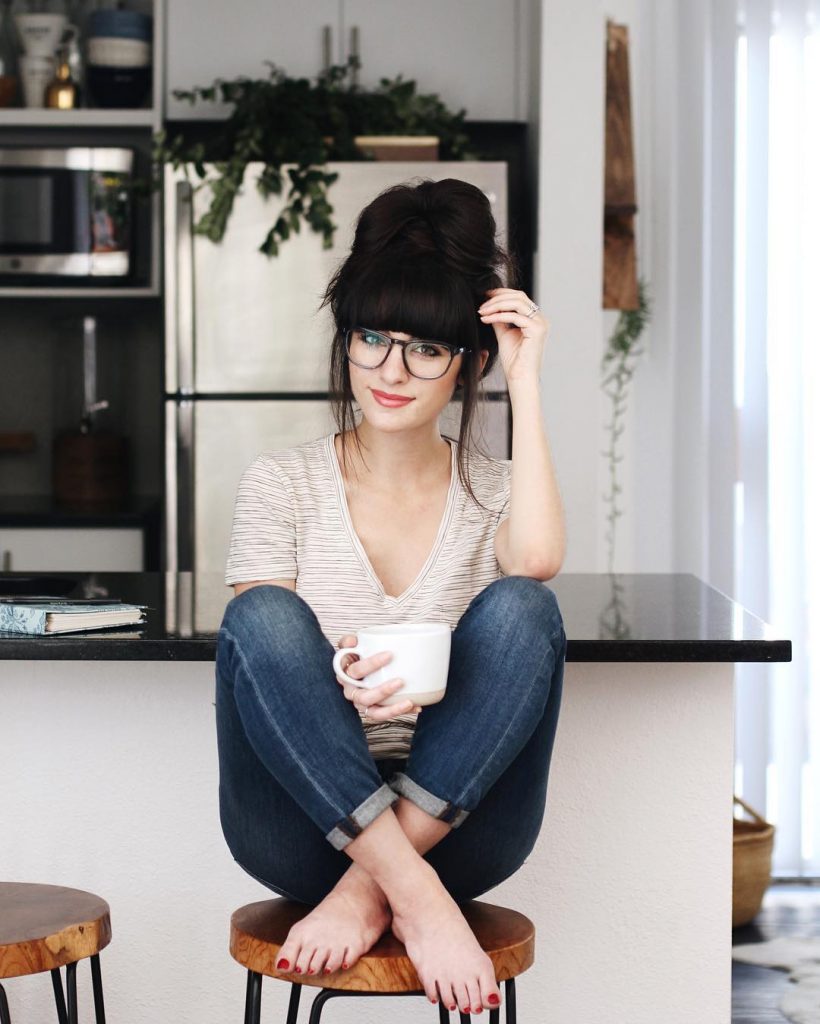 #19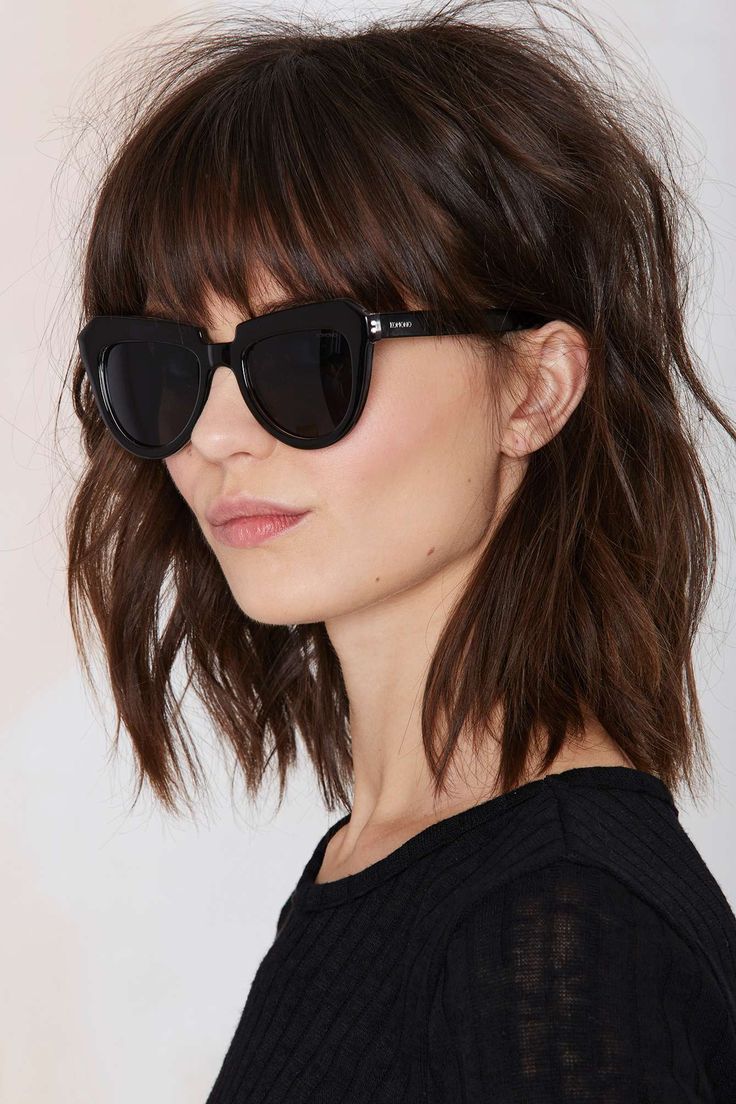 #20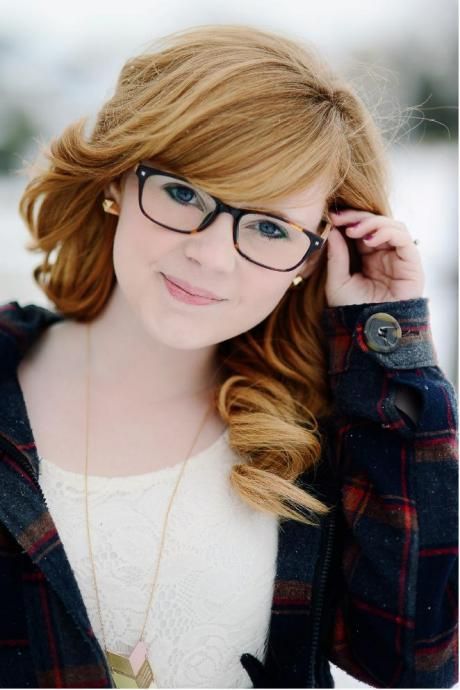 #21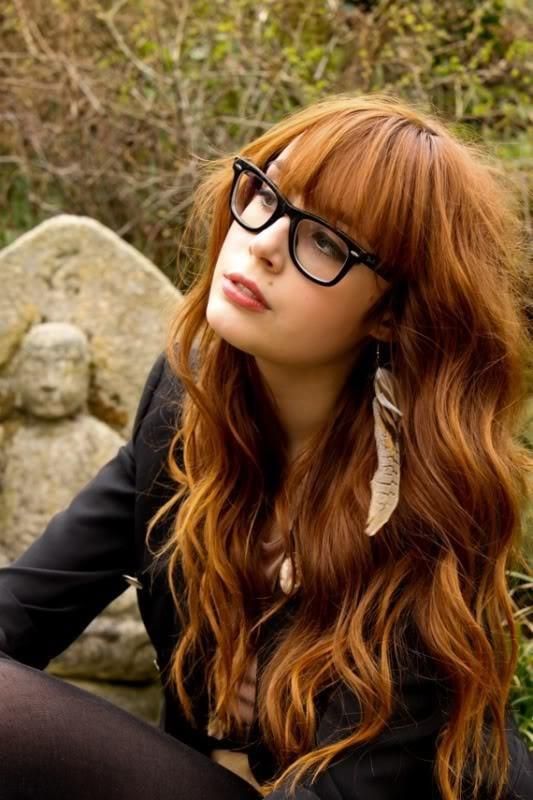 #22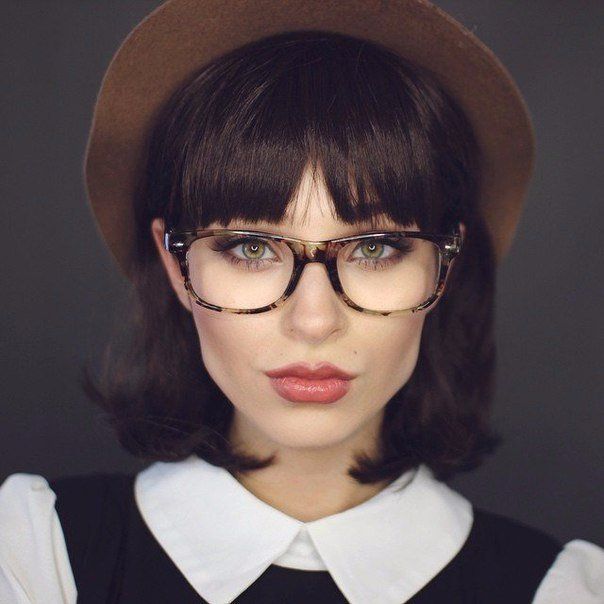 #23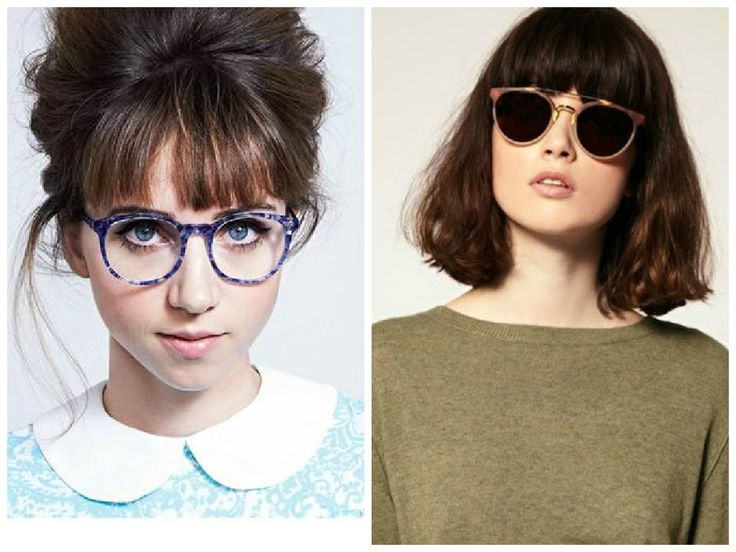 #24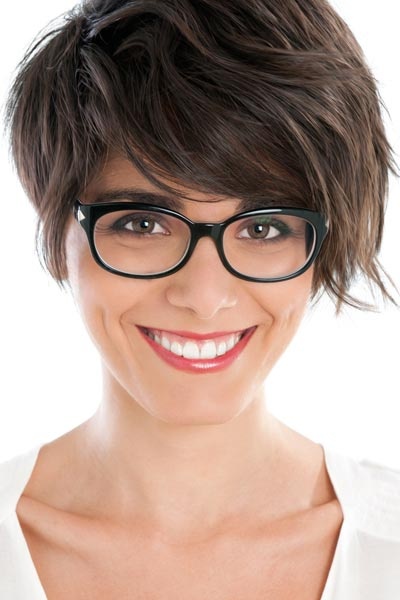 #25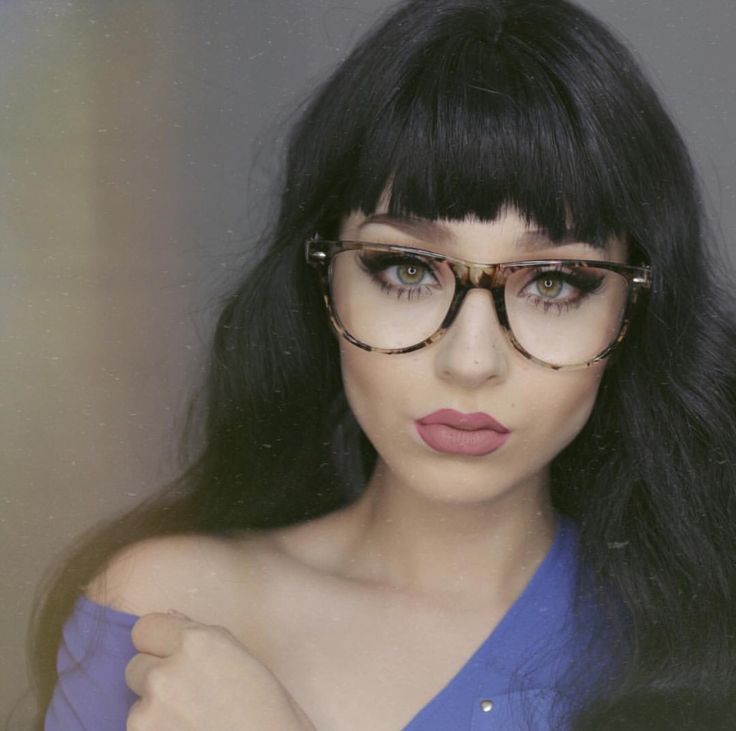 #26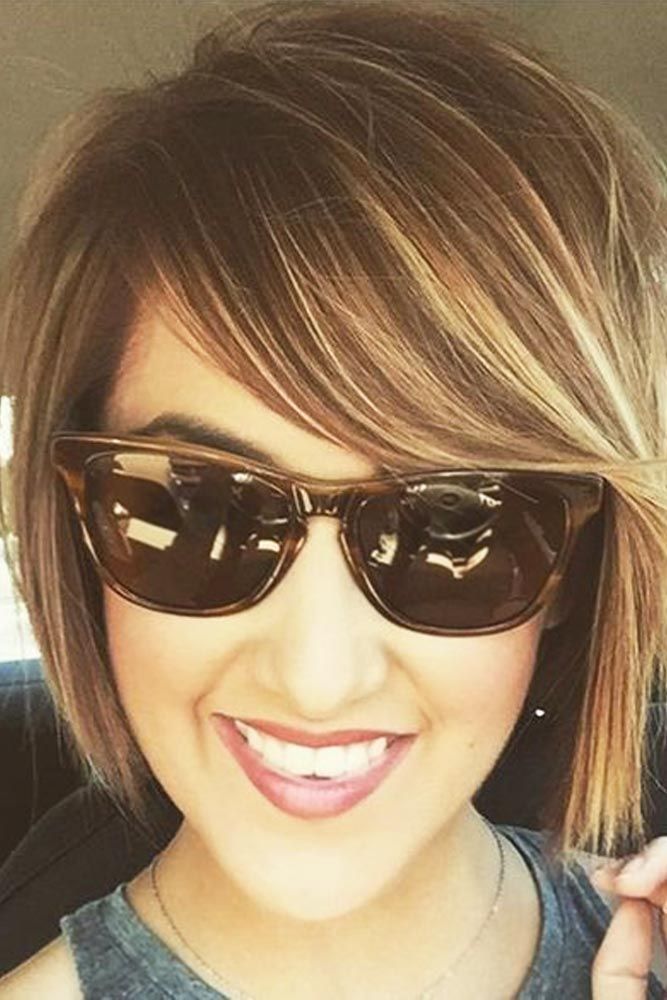 #27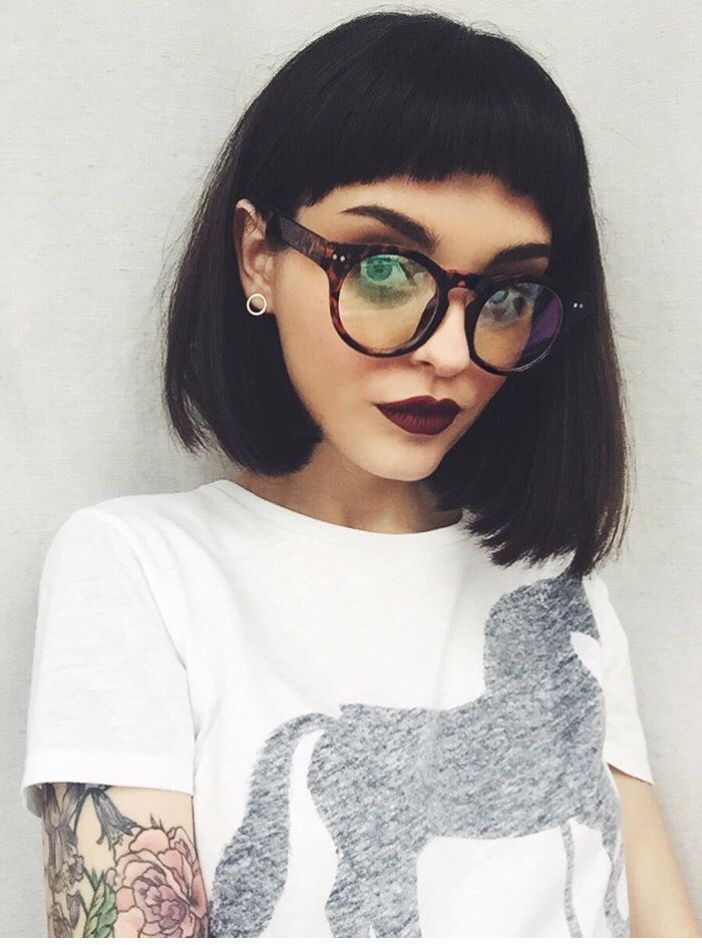 #28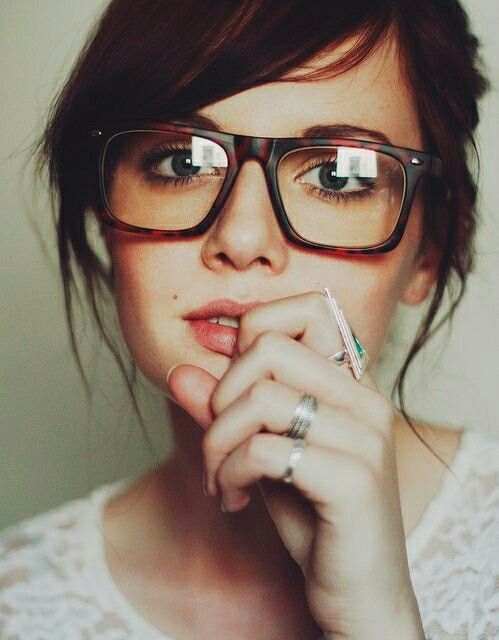 #29

#30