#1 Long Shaggy Pixie Cut
If you used to have a short hairdo and wish to grow it to a decent length, then this model is an excellent transition hairdo. The longer hair on the front grants an excellent superb image that drives attention of everyone around you. The length should be modified in the way so that it looked stylish, but didn't prevent you from seeing everything around you.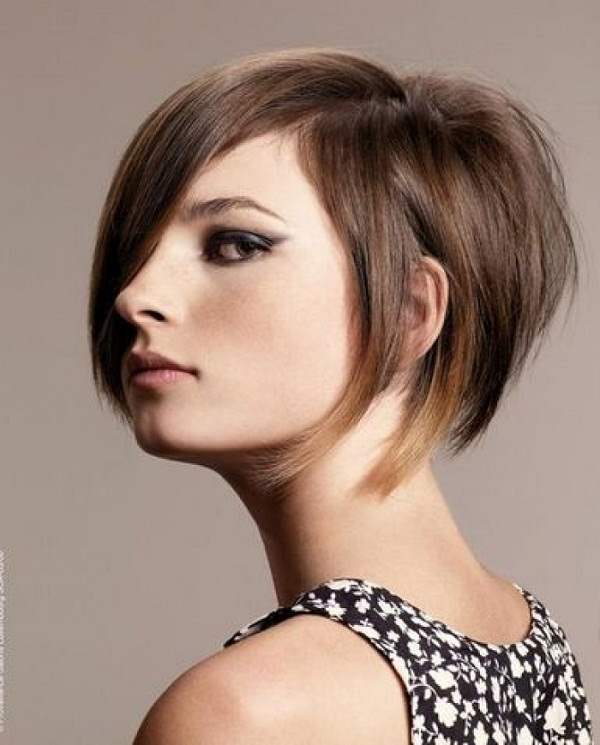 #2 A Spiky Hair With an Upward Fringe
If you are tired of the standard feminine look and wish for something out of standard, you should definitely try a total change of the image. The male design is a brand new tendency among women who are searching for new style solutions. This model introduces an aggressive spiky hairdo with an upward fixated fringe. Just use a hair spray and fixate it upstanding. It will definitely look gorgeous and quite unusual in comparison with other feminine styles.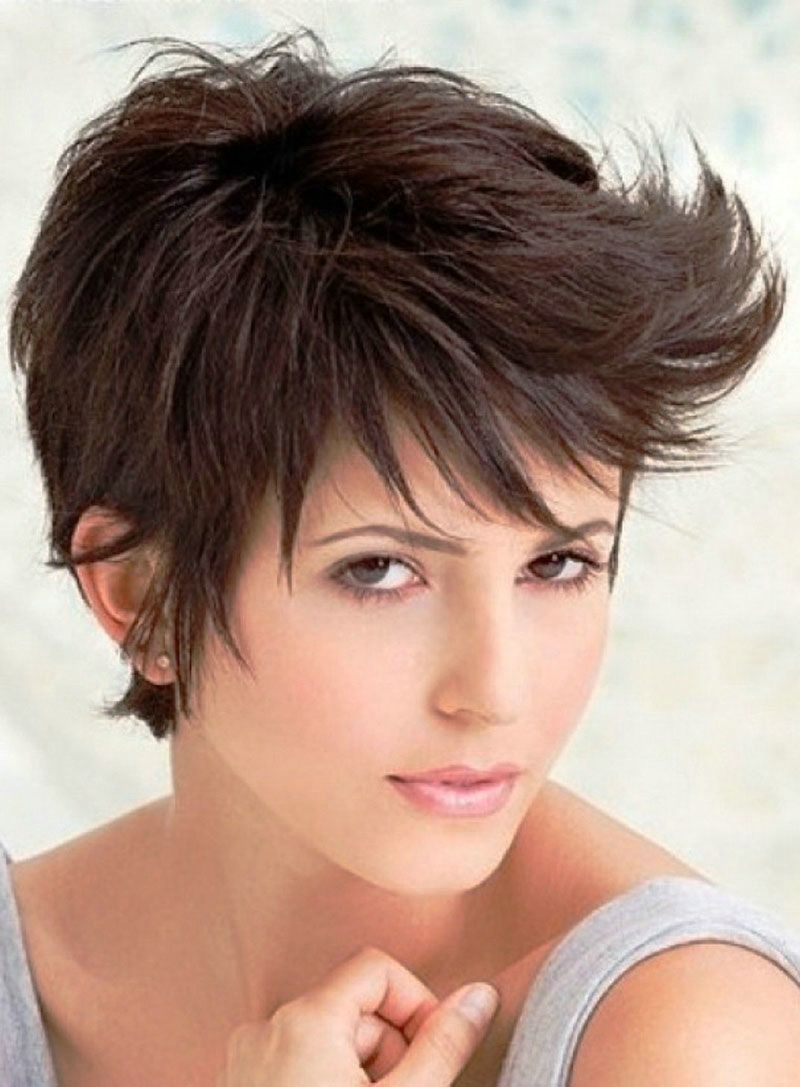 #3 Cute Choppy Cut
This haircut is just perfect for various face shapes and complexions. Need a simple chic girly hairstyle – you came to the right place. The uneven layers that will be crafted with your hair maker would add a serious portion of natural attractiveness. Regardless of the short hair length, you would have plenty of strands to try on other options of hairdos with the same hair length.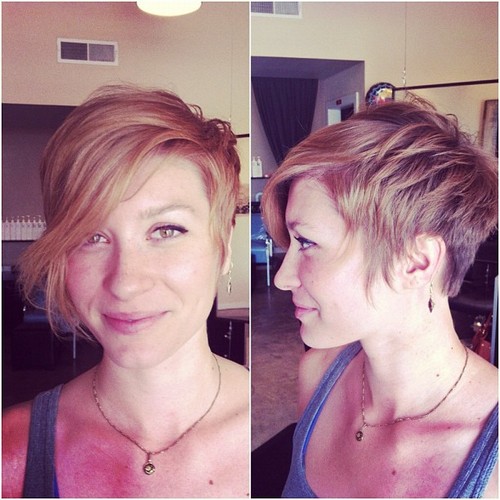 #4 Short Pixie Cut
In case you have thick hair, you can experiment with various hair lengths and all of them will be equally matching your style. The short hair options would look equally gorgeous as the long hairdos and even more girlishly cute. The hair is organized in separate feathers which are placed one upon another and are intertwined creating a stylish adorable texture of the hair.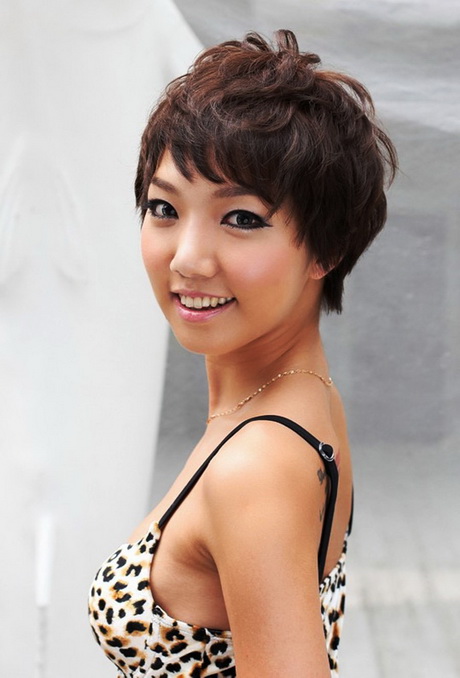 #5 Classical Blond Short Pixie
This model is a fine option among the variety of different hairdos. It has got an equally cut shape that resembles a perfect spherical shape of the skull. The peculiarity of this hairdo is a clean cut back for a greater look. It is a fine modern hairdo that has become a recent trend among the women. It carries a masculinity air and a feminine charm to equal extent.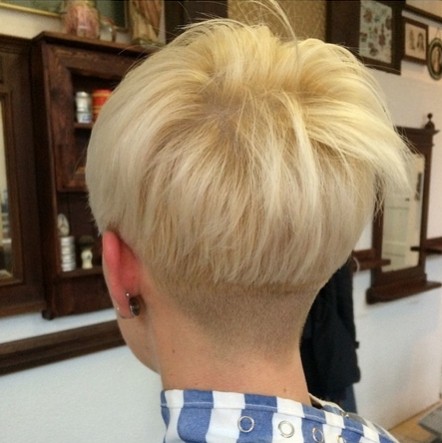 #6 Edgy Creative Mess
The hairdo can be called an imperfect pixie cut. It introduces an uneven chaotic outburst of hair that fully corresponds a creative nature of the wearer. The very peculiarity of this hairstyle is its messy look that totally corresponds a modern digital busy epoch. This hairdo will seem to be in order even under the strong mess. An attractive mess is still a mess, but a very good looking one!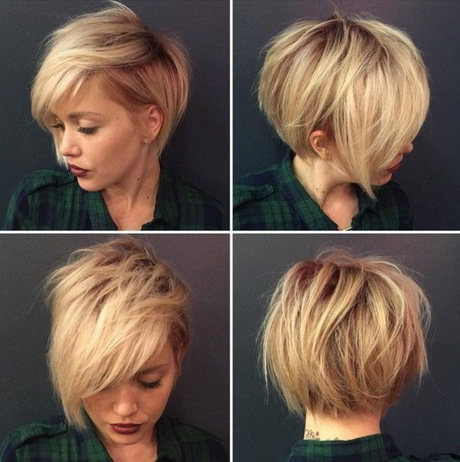 #7 Decorated Back Brushed Hair
For a brave lady, this hairdo is just the right choice. It totally describes a wild spirit of the wearer and the tribal shaving at the back of the owner looks even more eccentric. The sides are also cut short and only the top of the owner has got a decent length so that it could be brushed backwards. It is equally modern and stylish and somewhat badass.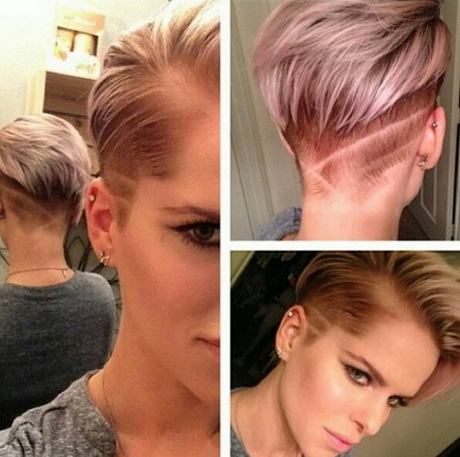 #8 One sided Asymmetrical Bob
This model shows us a double sided bob cut with straight bangs. The hair is cut on purpose into uneven parts. One is made longer to cover part of the hair while the other is shorter and less voluminous. It is greatly combinable with oval faces as it hides the size of the forehead and preserves a proportional face of the wearer. This is a very attractive look that is easy in maintenance.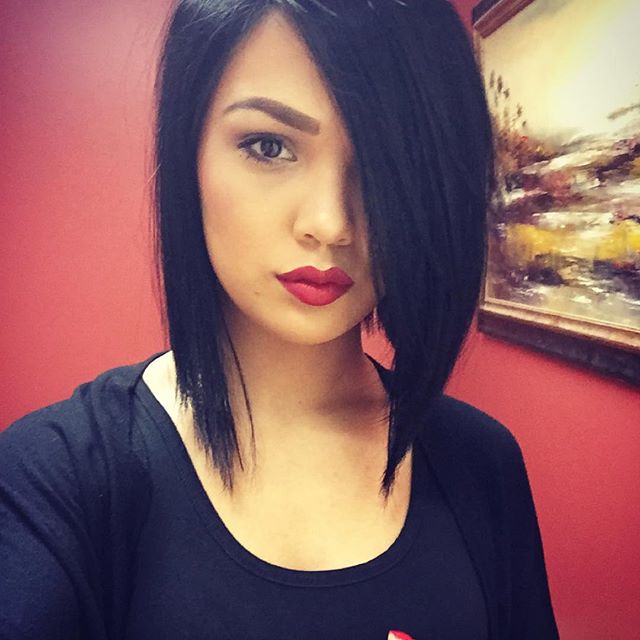 #9 Chopped Angular Pixie
Are you the fan of the straight hair? If you answer in positive, here is an all-time classic hairdo that will definitely entertain you. All the hair is sleekly organized in geometrically correct shape, while the bangs are cut in a shape of angular cascade. It is a fine casual hairdo of a modern lady that will serve you well for a long time and grant you a marvelous look.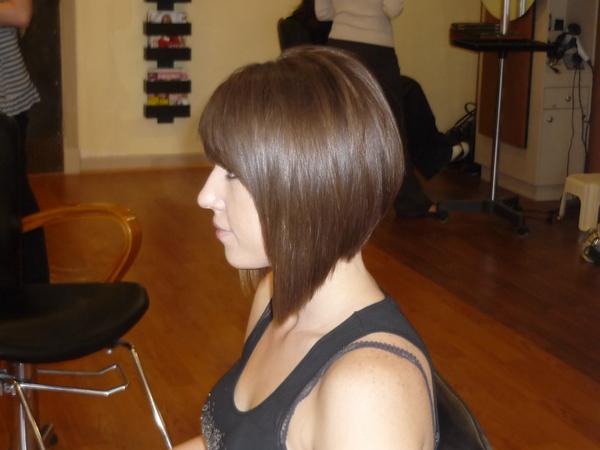 #10 Straight One Sided Hair
This hair introduces a finely chopped asymmetrical top that was brushed to the side of the owner. The fringe is cut in uneven hair strands which add some extra modern look. The version in blond appears as gorgeous as in any other hue of hair dye. The side with a shorter hair can be shaved as an alternative for adding a more unusual air. The one side hair is perfect for sporty women.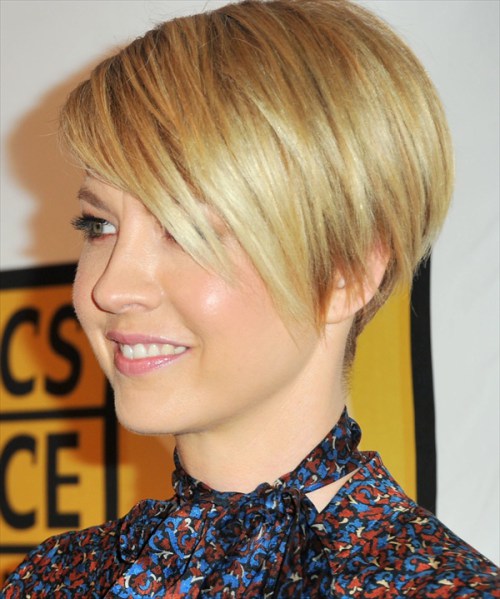 #11 Tapered Pixie Cut
What a mess! What a lovely mess! – don't you think so too?! The chocolate color hair looks cute and chic. It is a fine tomboy image that will look fabulous with both thin and thick hair. The wet short hair is styled in spikes with a gel and afterwards, is fixated with a blow drier. It contributes a daring look to your style and definitely surprises you with an attractive air that it will provide.
#12 One Sided Fringe
This cherry colored one sided bob cut is a nice option for all women who wish to be stylish and sportive. If you like rock music, then this hairdo is just the right option for selecting. It can be organized in various textures and layer thickness. The fringe can be dyed in various colors so that it could serve as a fine accent for the owner, enhancing an overall look.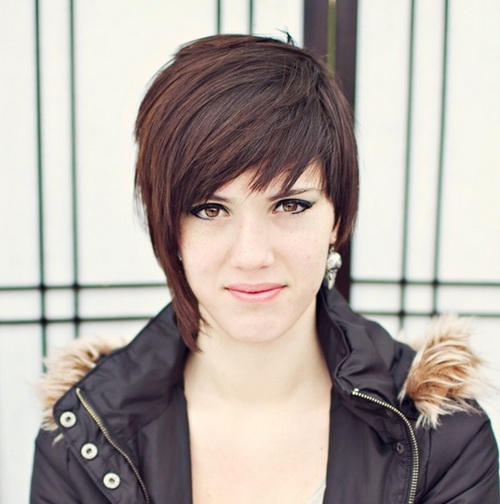 #13 Fixing a Round Face
People with round shapes often feel shy of their facial peculiarity. In this situation, short hair models will help you out. The one sided fringe will optically cut off the protruding jaw lines and make the face smoother and more oval. Regardless of the facial peculiarity, this short haircut will assist you in looking more fabulous.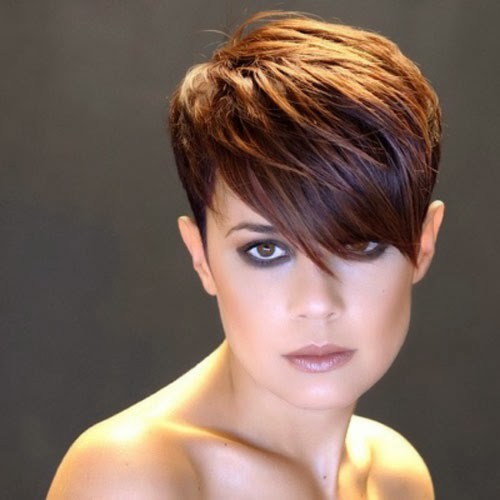 #14 Upward Standing Hair
If you are searching for a pretty looking updo that doesn't look like anything else in the world, go for a lovely spiky style. If you own a similar character like the look of the hair, it was created especially for you. The shortly cut sides and the top of the spikes look attractive and very compatible with the modern lady. It will be a very good looking model for a woman with a heart shaped face.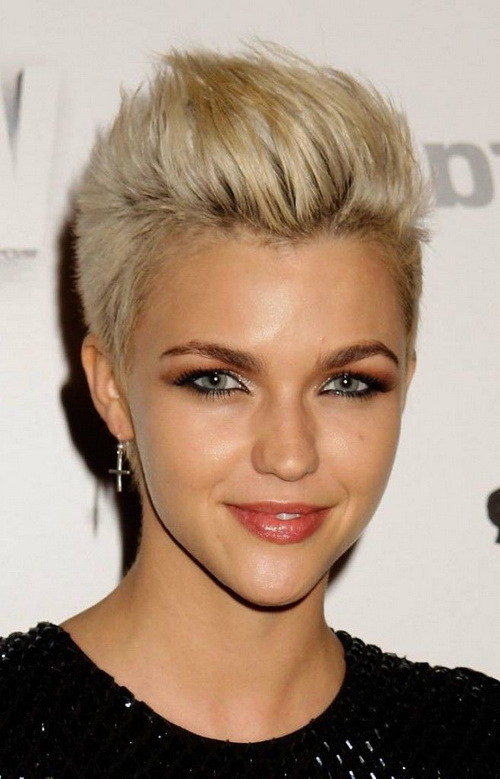 #15 Cropped Pixie Style
Select this cropped hair model if you are searching for a practical hairdo that doesn't require serious attendance and that will preserve shape under various weather conditions. It is one of the simplest and the most popular edgy short haircuts for women that can be done in almost any hair salon. A cropped pixie is a more stylish alternative to a standard straight bob cut.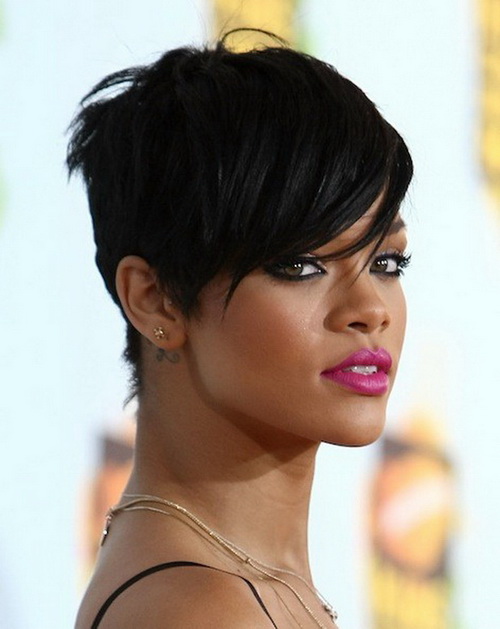 #16 Double Colored Choppy Bob
This elegant bob haircut introduces us a fine combination of black and crimson colors which look unbelievable. Just try it on yourself and during a day time your black sleek hair will sparkle with the streaks of red. This bob is a stylish classic short hairdo, while the color adds it some futuristic texture. It's a must try for every fashion following lady.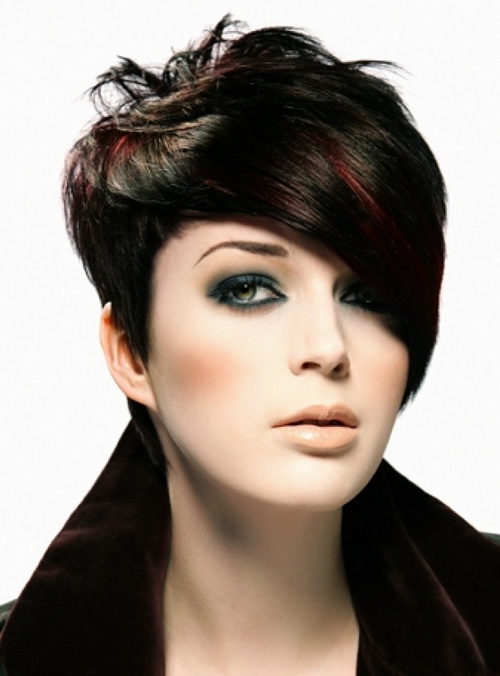 #17 Long Top with Sides
This hairdo is very similar to the short sided bob hairstyle, but all the elements of hair are left untouched. We've got here a long brushed fringe while the sides are brushed backwards with only a few lock flowing in front of the ear shell. It grants a stylish new look to a standard hairdo and makes you want to try it immediately. Be sure that after trying it, you won't wish to wear anything else.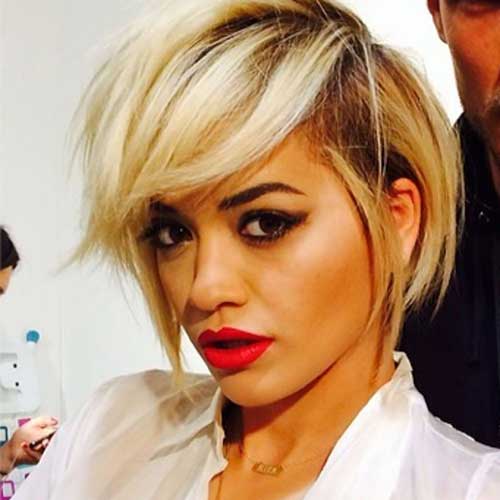 #18 Elegant Citizen
Simple and elegant for a daily routine – that is the hairdo that most of the women wish to have when they wake up in the morning and take their children to schools and go to work. Here is one of the numerous options for this case. No time is wasted as it is the most important thing for a modern business lady. Attractive haircut for casual wearing – her it is!
#19 Choppy Faux Mohawk
Mohawks can seem too radical at first, so that is why we've got this preliminary hairdo to start with. There's only one side cut shortly so that you could see a half of work done. If you feel like going deeper, you can try to shave the other side. In general, this hairdo will look awesome in both variants as using a Mohawk hairdo is the peak way to express oneself through the hair.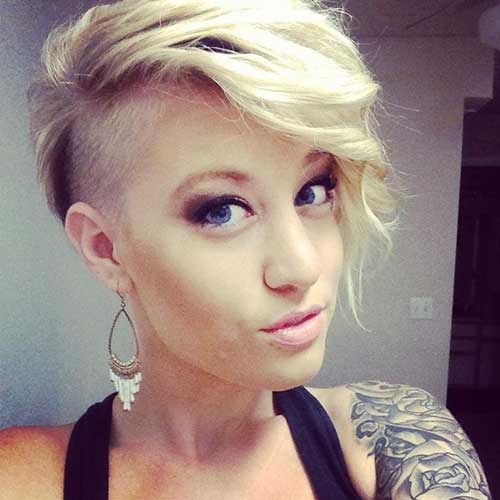 #20 Easy Side Sweep Pixie Cut
No then, for those of you who are too busy to sit in front of the mirror and want to get a fast and elegant hairdo with low maintenance level go for this side Sweep Pixie Cut. Wash the hair, organize it with your fingers and give it a little blowing and the result won't keep you waiting – a stylish fast made short haircut that is as charming as any long hairdo.