Top 16 Simplest Ways to Make the Best of Emo Hairstyles for girls
Emo lifestyle is usually associated with a deeply emotional, creative, unique personality. And emo hairstyles are a great way of showing people your uniqueness. Emo hairstyles for girls usually involve interesting styling, colors, bangs and layers. So if you are thinking of doing something fun with your hair, here are some ideas: Black & Pink.
This is one of the most classic and cute emo hairstyles for girls: long black hair with hot pink bangs. Add some volume to it and you are good to go!
Medium Angular hair. This one of the short emo hairstyles for girls with the classic long bangs and teased up
layered side pieces. And you can add more colors to it to make it even better.
Cute Peek-A-Boo. Add some styling gel and tease up your bangs to get as much volume as possible and sweep it to the side. Add some red or yellow highlights for a gorgeous look.
#1 Standard Emo Look
The mess on the top and long bangs are the main features of the emo style. The bangs are not those neat and well organized, they are chaotic and can be of different length, design or color. There's a term "emo bob" when the sides are shorter at the back grow longer and longer till the front. Some girls take chances and even shave their back though you need to be very bold to do so.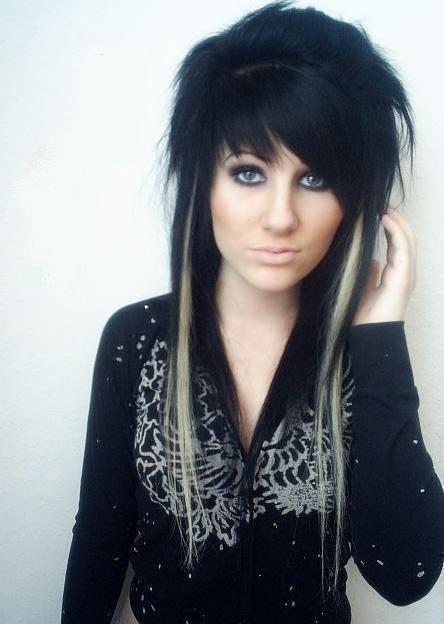 #2 Red Diva
Red and black are the best colors for emo style. The hair can totally match the color selection of the sub culture. Here we've got a set of black and red hairs that are excellently combined with each other. It is created of a wonderful red crown on the top and a stylish black veil that covers a face of the wear.  It's a simple and elegant choice for an attractive girl.
#3 Braided Emo Style
In case you want to change something in your emo look, you can try out the braiding technique if your bangs permit. Just organize the tips into the braids and a splendid look is guaranteed. Certainly, the plaiting might take some time, but in the end, you will acquire a fine seductive look that grants a new breath into your casual emo style.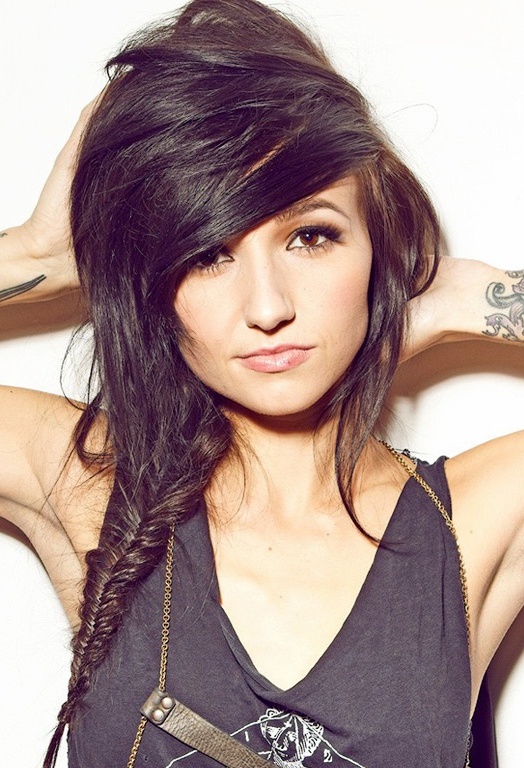 #4 White Emo Bob
White color is a rare event among emo style. It will totally change your look and offer some doll-face image. Here we can see a white emo-bob with long bangs. All parts are made in pure blond. It contrasts the make-up by underlining the features of the face. It's an unusual and bright opportunity to highlight your brightest sides!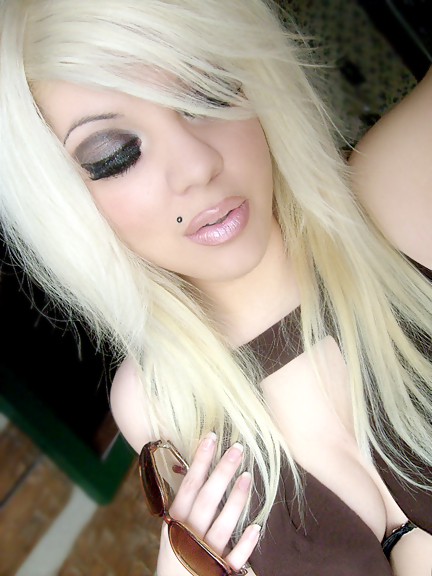 #5 A Grand Mess
This is probably among the top best emo hairstyles. It was made deliberately messy to match an overall style and ideology of the style. Such volume and overall style make the lady look awesome under any circumstances. This type of haircut prefers black as its main colour, though other options are also available depending on the tastes of the owner.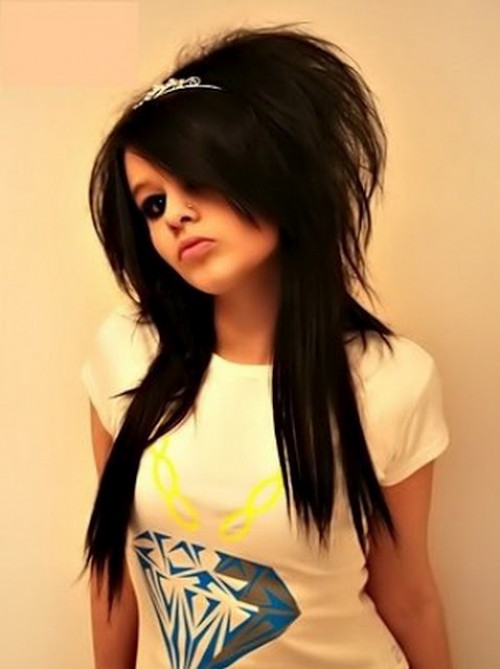 #6 Short Bob Cut
Emo hairdos can be very different starting with a total mess to some classic casual look. This is quite a simple bob haircut that is so popular among women of various ages and still, it can be combined with emo style as well as with other models and subcultural trends. There might be some color or shape modifications, but bob haircut remains a bob haircut. A universal hairdo – fast and simple.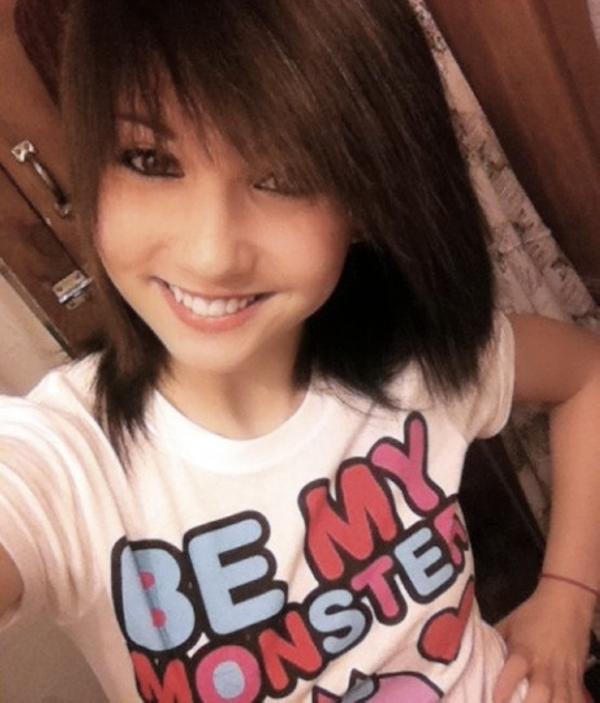 #7 Bat Wing Black Emo Style
Black is a depressing colour…but not for an emo girl. For a member of this subculture, black is a part of style and a way of life. Here you can see one of the most typical and well-known hairdos worn by emo girls. The straight short fringe and long bags make the emo style complete. In combination with proper attire, the emo lady will look gorgeous as never before. Do not like bright colors, try the black one.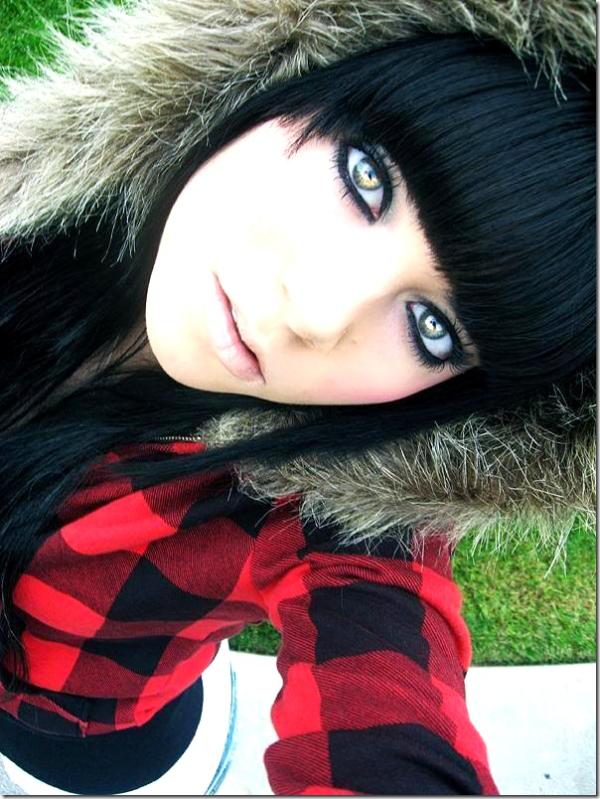 #8 Rainbow Assymetical Blast
This model offers an extra short cut top painted in various hues of blue. Regardless of their shortness, they create a volume due to the layers in which it is organized. The hair is straight and requires some slight usage of the hair spray on the top. The side bang is the single element that was left and it introduces plenty of colors which will catch the eyes of people around you when you'll pass by.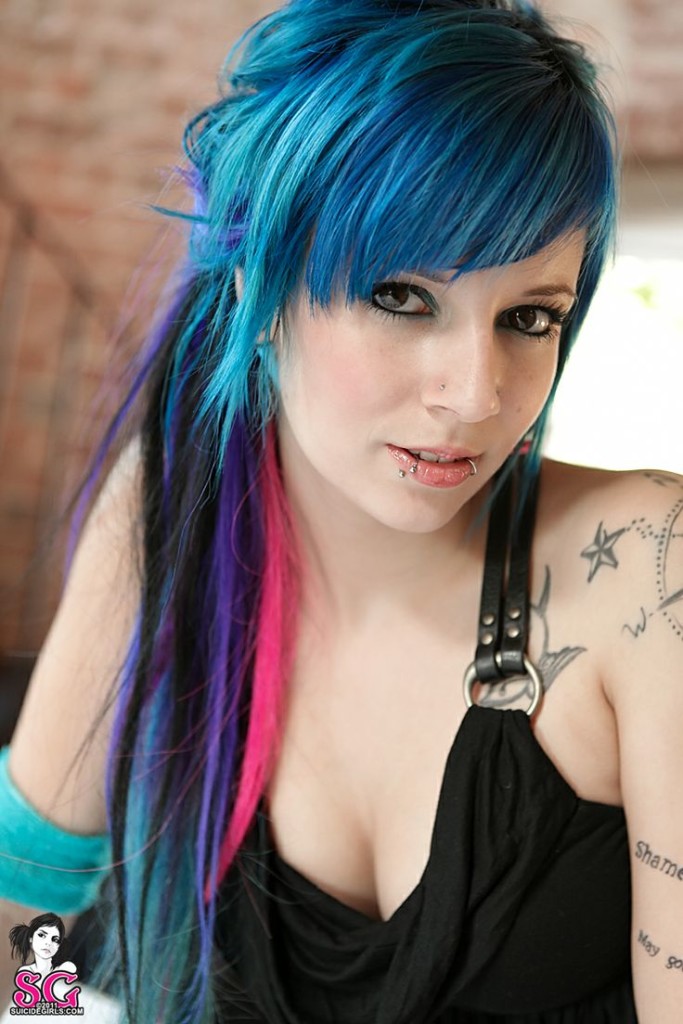 #9 Cascade Wheat Colored Hair
This light colored mane of hair offers a messy top that creates an image of a light hearted and positive personality. The color matches perfectly the pale type of complexion and adds some warmth to the image. The bangs increase their length starting with the back to the front creating an attractive asymmetry of a rebellious teenager. Simple and very convenient when it comes to taking care of this hairdo.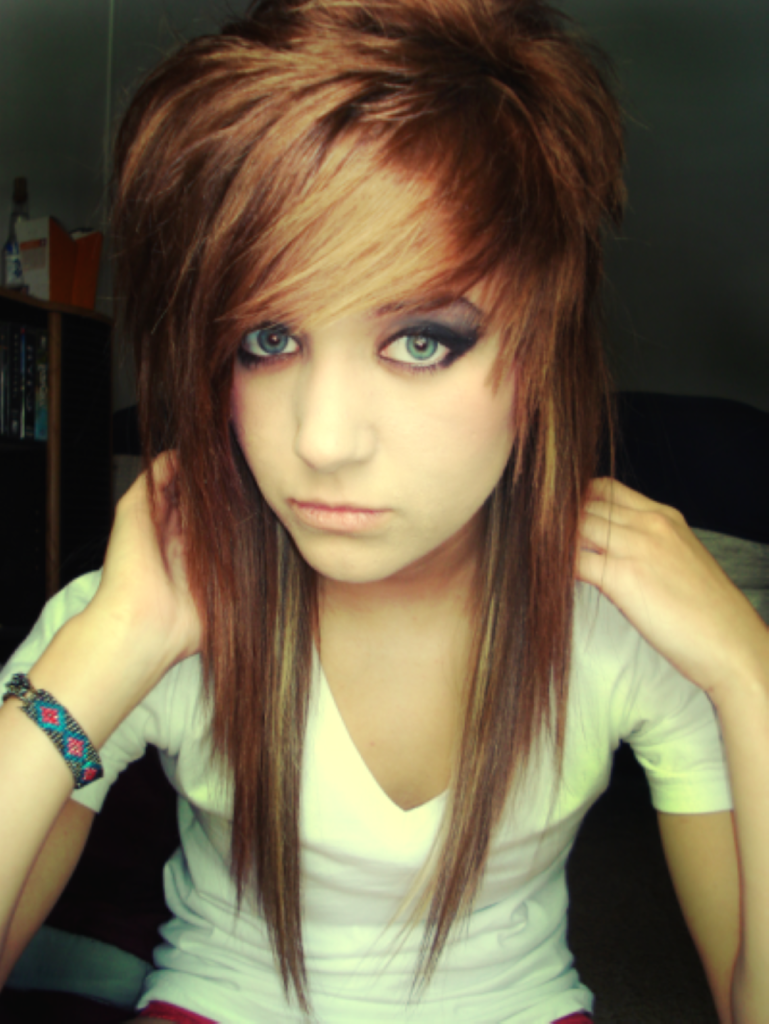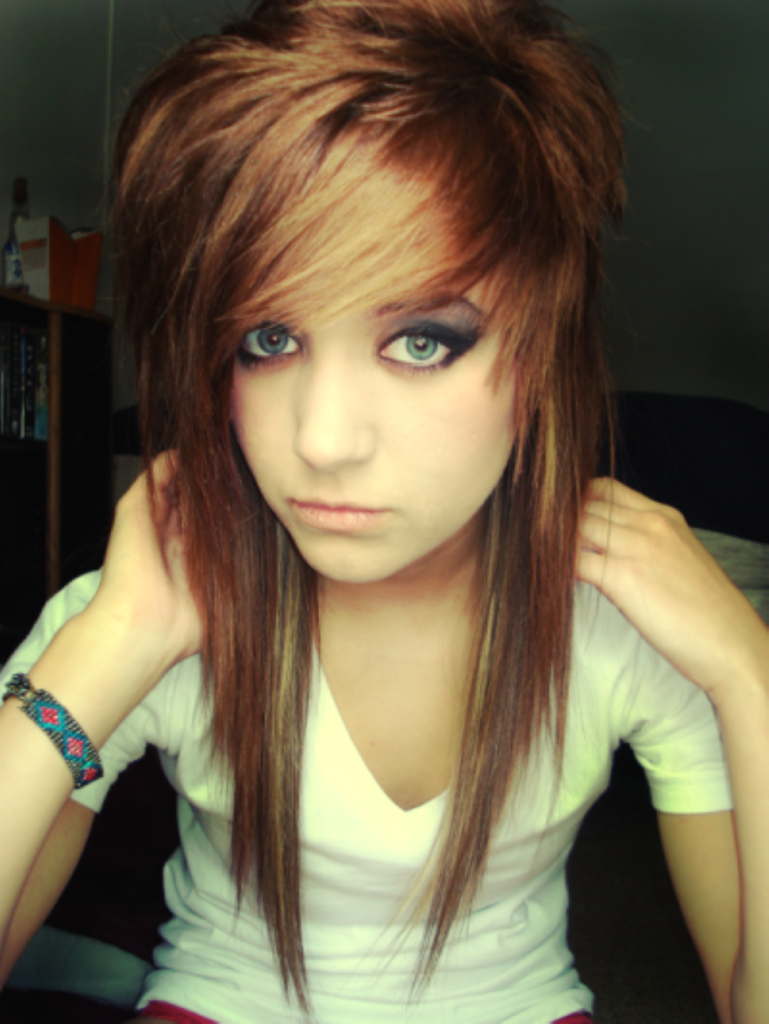 #10 Fairy Tale Bird
More colors mean better look. Application of various hair toners can change your look to something unimaginable. You can combine various hues to grant additional stress on various parts of your hairdo such as the top of the head, sides, bangs, back, and fringe. You can also take a separate lock and dye them into whatever color your soul might wish for. Here we've got a fiery top with two ombre blue bangs.
#11 Beautifully Royal Purple
The violet color and striped garments are characteristic traits of the emo subculture. This hairdo offers an attractive royal purple variant of bob haircut with long sides and short back. This model would look gorgeous and practical in summer. It grants plenty of volume thanks to the layers in which the hair strands are organized. It is an adorable royal choice for an extraordinary look.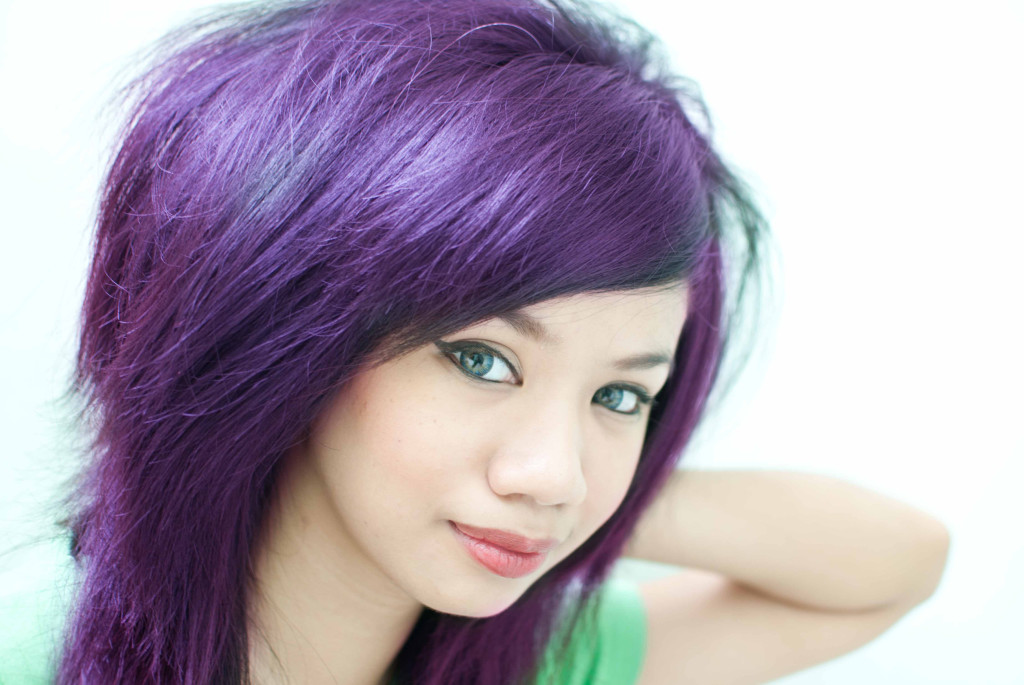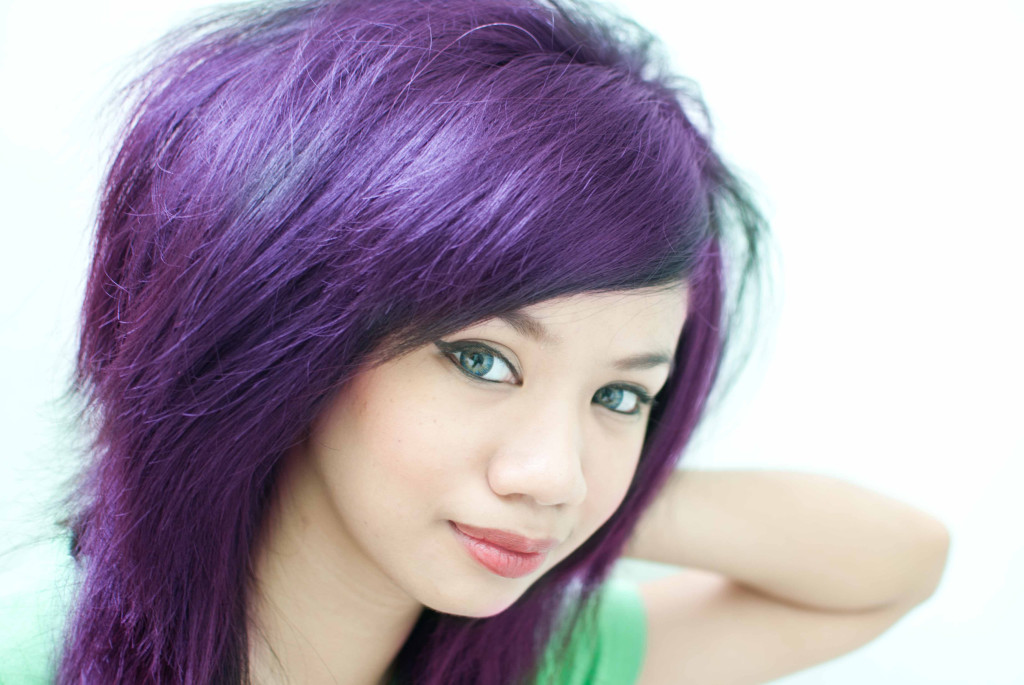 #12 Electro Blue Emo Cut
This is somewhat unusual solution for an emo hairstyle. While most emo ladies prefer various hues of red and violet in the hair texture, we've got here an option with marvelously electric blue color. It resembles some popular video game character. The hair reflects the light creating an extraordinary halo above the wearer's profile. If you adore cyberpunk, this hairdo is probably the right choice.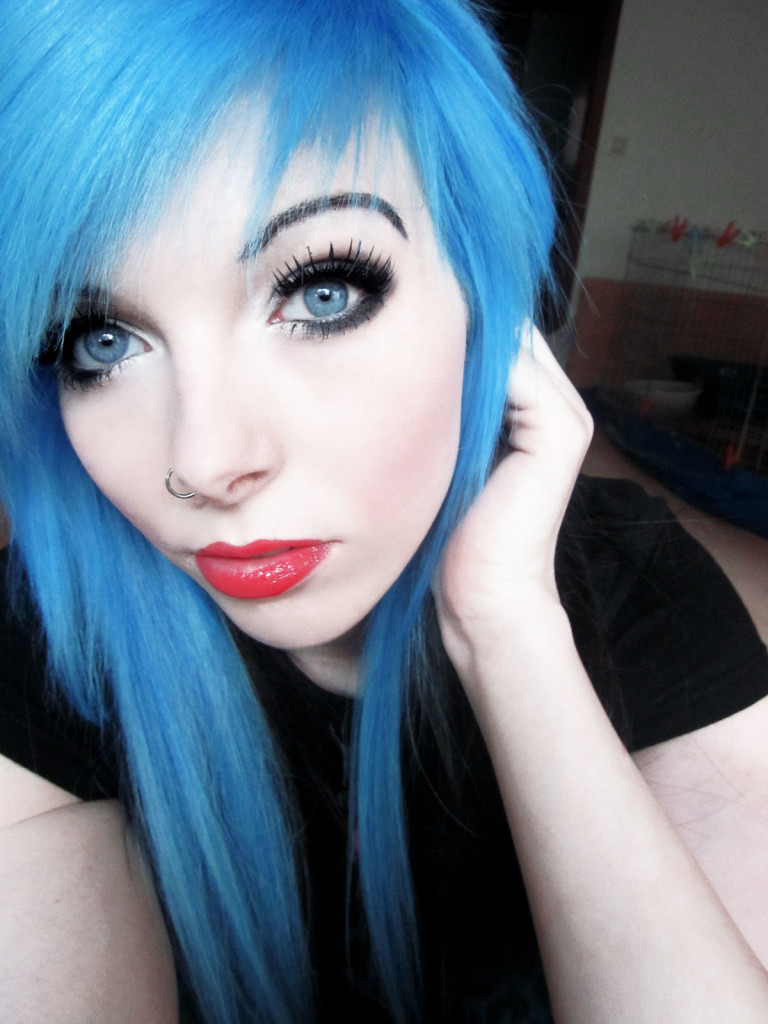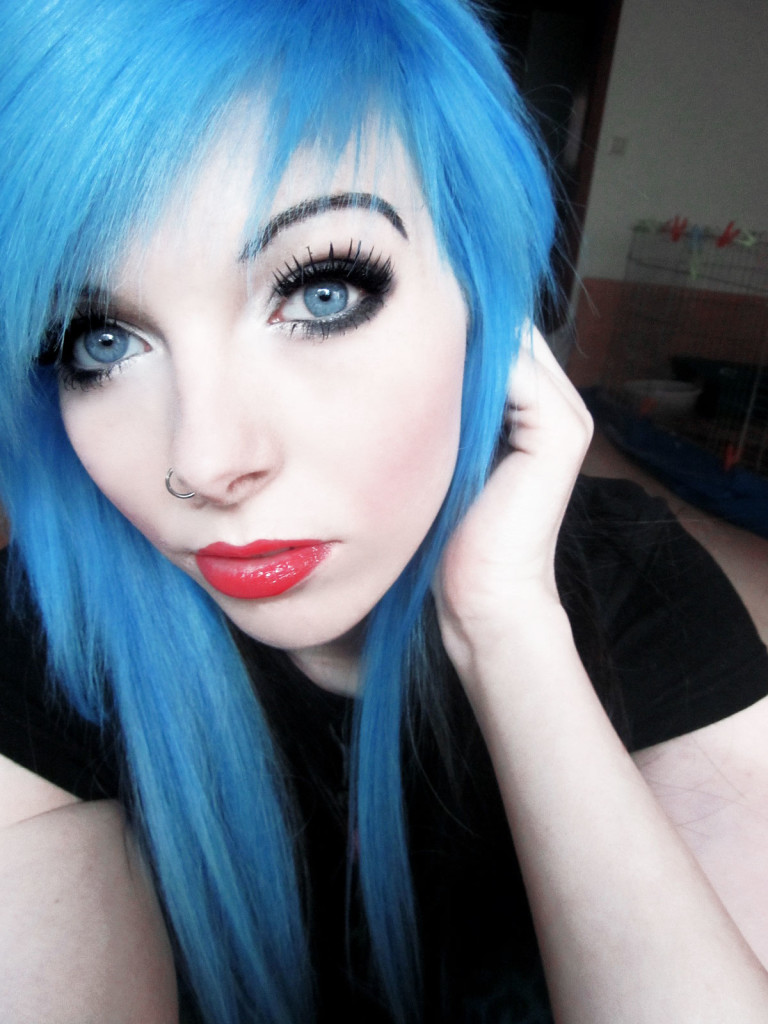 #13 Long Sided Classic Emo Style
Natural hair colour is a totally rare occasion in the world of emo. Emo boys and girls strongly prefer bright colored elements in their hair. However, the addition of some natural look can also benefit greatly to the emo style itself. The model in the picture has got brown hair without coloring and yet it preserves the characteristic shape and elements of the emo style. It is a fine emo look that preserves the natural style.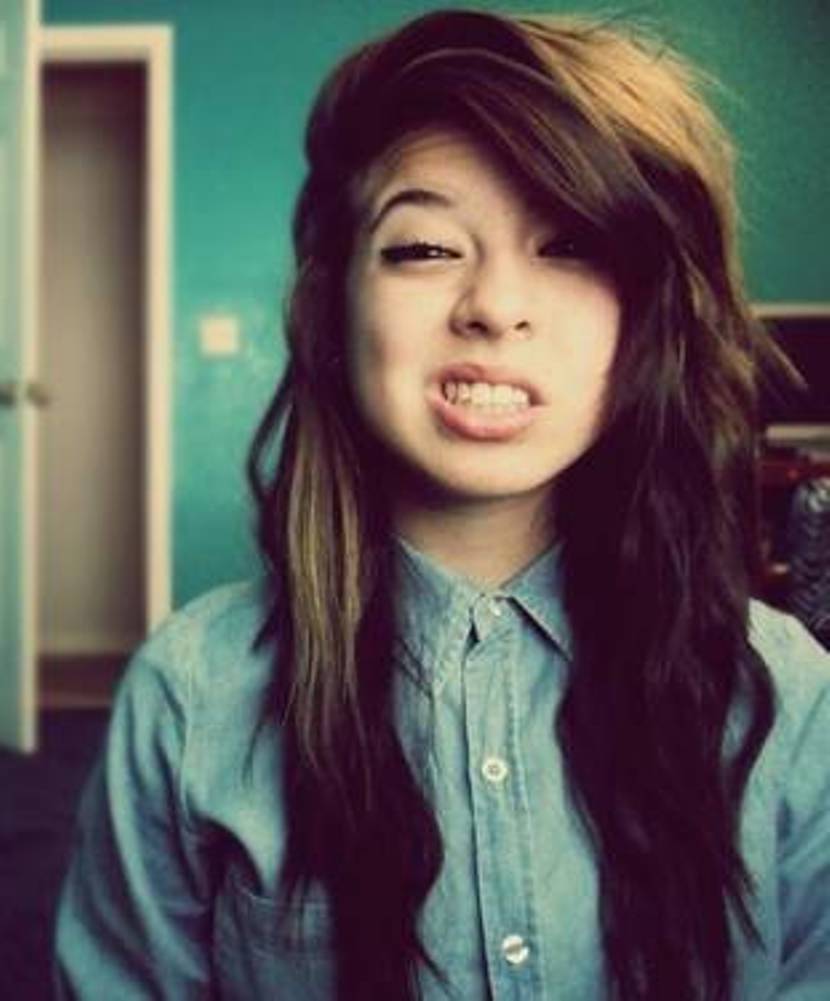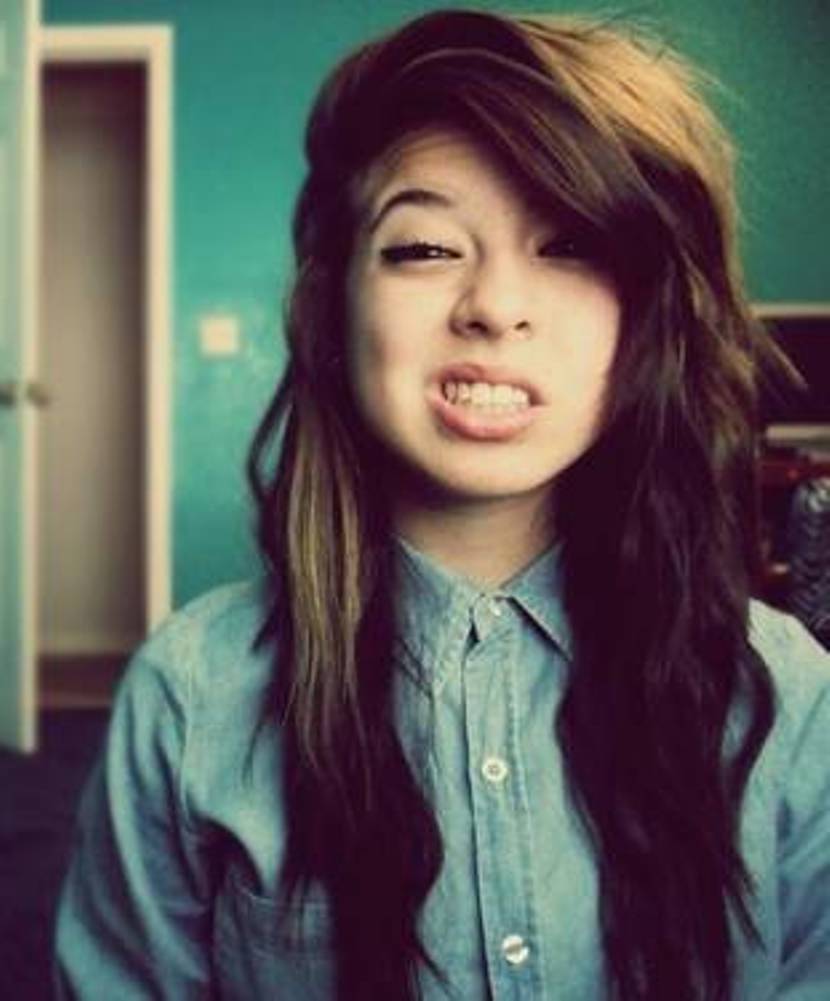 #14 Platinum Blond Hairdo
Comparing to other emo style haircuts this on is very simple in organizing and maintaining in order. The white color of the model looks very attractive, especially with pale skin. This hairdo will be a fine acquisition not only for a representative of emo subculture but also for some cold gothic lady as the color provides elegance and charm that is suitable for a classic dark subculture of sadness and sorrow.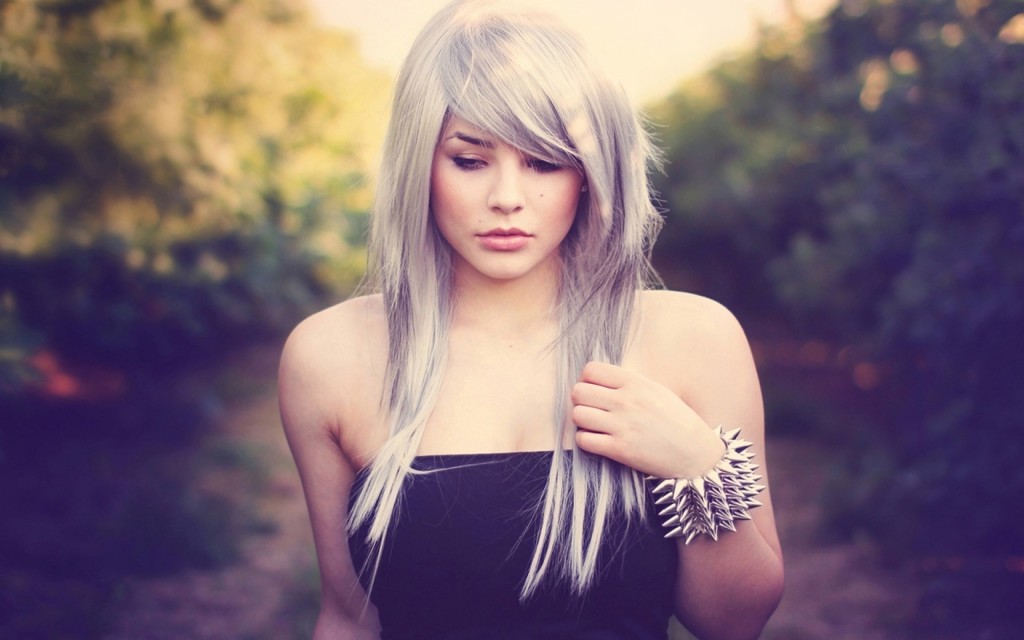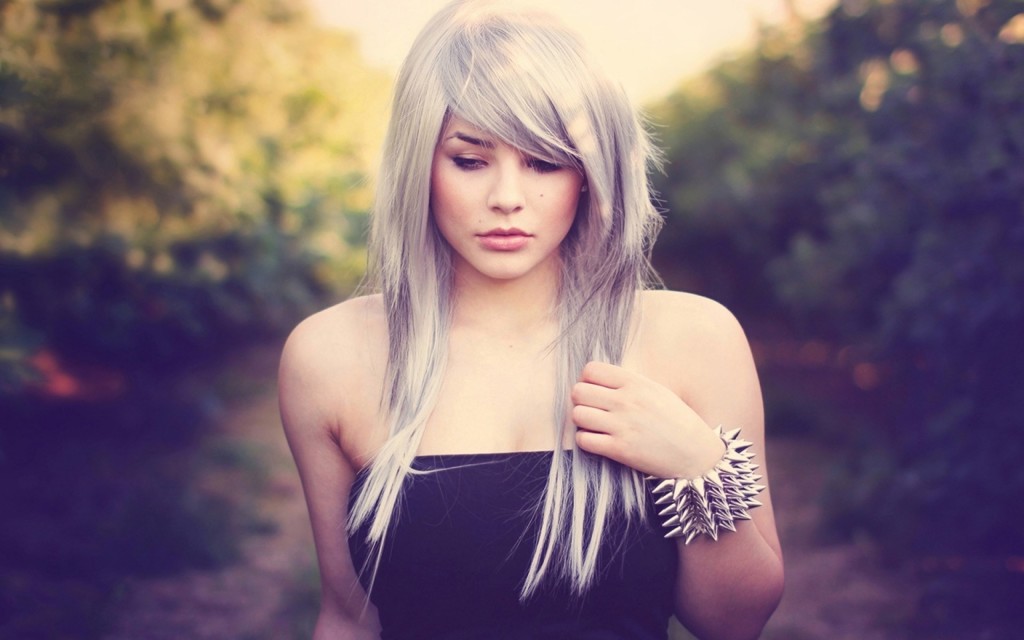 #15 Layered Azure Lob
This variant of emo girl hairdo requires mid length hair and organizing it in layers for a better look. The upper hair on top of the head is organized in layers for achieving a better volume while the side bangs hang freely underlining the shape of the face in the most attractive way. Probably, the best thing about this hairdo is the bright azure color that is the most attractive thing about it. The free spirit of emo culture is perfectly reflected in the model.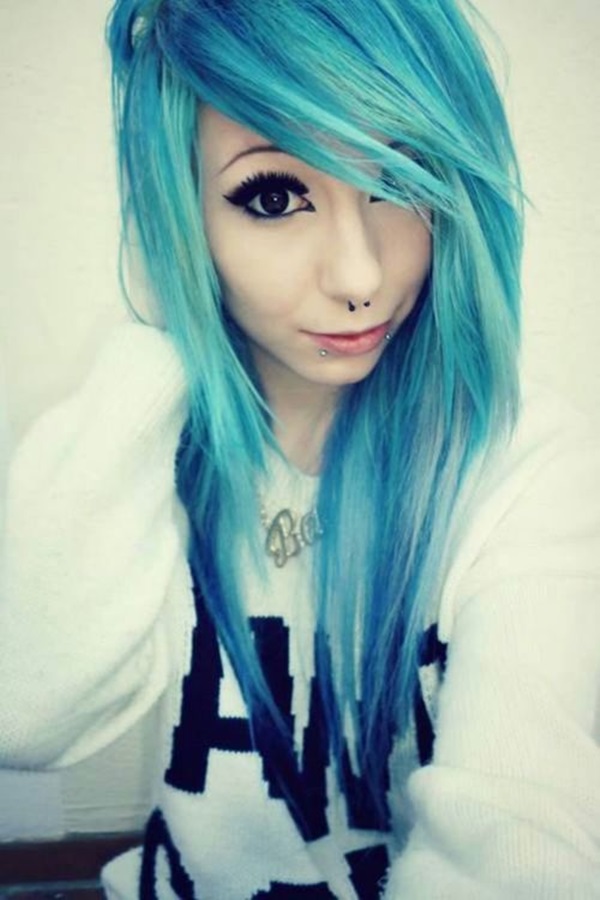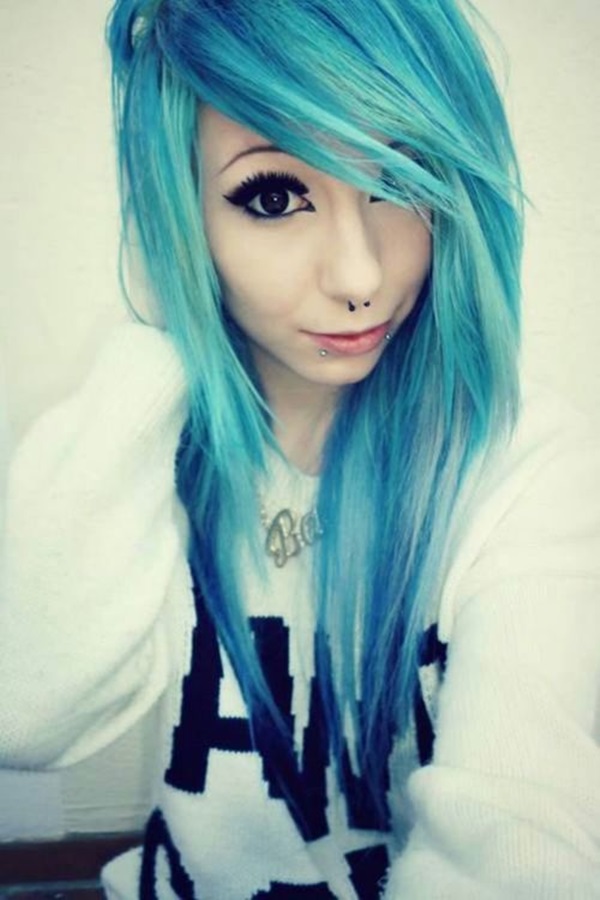 #16 Long White and Blue Emo Style
This attractive layered cut features a standard long one-sided bang that almost reaches the waist. The combination of colors presents a brand new stylish look that carries all the characteristic traits of a stylish emo girl. A gorgeous peekaboo image that is hiding behind the blue curtain of the hair finalizes the image of a modern emo teenager. Try out these unusual colors and you will surely enjoy the new look of yours.